LeVar Burton And 'Reading Rainbow' Kickstarter Raising $1 Million To Revive Classic PBS Series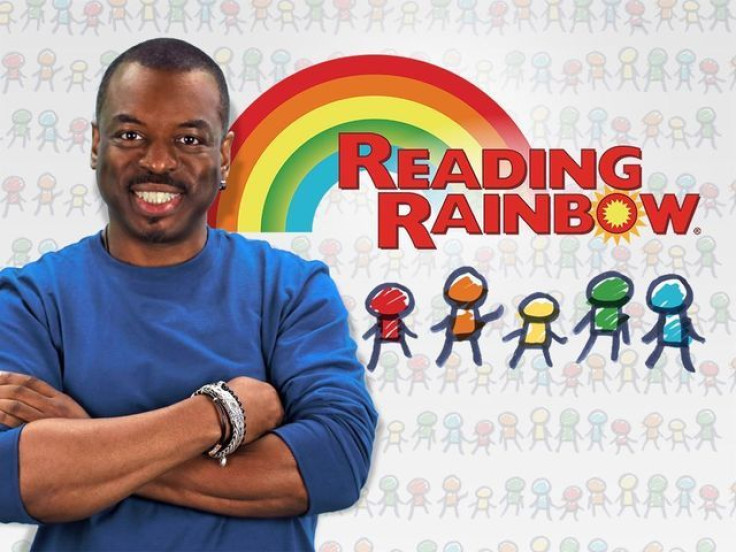 The classic PBS educational series "Reading Rainbow" has been off the air for eight years, but host LeVar Burton is hoping for an encore. The "Star Trek" and "Roots" star, who co-founded RRKidz Inc., a multimedia company focusing on children and education, launched a Kickstarter campaign on Wednesday seeking $1 million to revive "Reading Rainbow" as a Web series and a classroom tool. With more than $400,000 raised in a matter of hours, it's already well on its way to being a fully-funded campaign.
The beloved PBS series ran for 155 episodes between 1983 and 2006, with reruns airing until 2009. Throughout its 23-year run, "Reading Rainbow" received a Peabody Award for public service and 26 Emmys -- 11 for Outstanding Children's Series -- and attracted numerous high-profile guest narrators, including the late author-poet Maya Angelou, the late folk singer Pete Seeger and primatologist Jane Goodall. After the series left PBS airwaves for good, Burton bought the rights to the show and launched a "Reading Rainbow" iPad app offering hundreds of books and educational videos to kids. And, while children read 139,000 books each week on that iPad app, Burton says it isn't enough.
"First, not all families have access to tablets," Burton wrote in a statement on Kickstarter. "Our goal is to cultivate a love of reading in all children, not just those that have tablets. To reach kids everywhere, we need to be everywhere: we need to be on the web."
One in four American children grow up illiterate, Burton says in the Kickstarter statement, and most of those that lack critical reading skills also don't have access to high-priced tech gadgets like iPads. But an overwhelming majority of Americans live in areas with access to the Internet one way or another, and Burton believes that "Reading Rainbow" steps in and educates children where many schools have failed.
"We have this idea of ourselves as Americans that we offer the best education available and that we can compete on a world level with anybody, with any nation, any time, any year," Burton told The Verge. "That is, these days, much more an outdated image of ourselves rather than the reality. We are in trouble. Our educational system -- the way we educate our kids -- is failing our children."
If the Kickstarter is successful (and it likely will be, if it maintains Wednesday's pace), Burton plans to relaunch the "Reading Rainbow" series online and design specialized reading programs for the home and the classroom, including teachers' guides and interactive content. While the "Reading Rainbow" curriculum will run on subscriptions, Burton plans to distribute the program free to more than 1,500 disadvantaged classrooms with funds raised through Kickstarter.
In addition to a number of smaller rewards for those pledging less than $300, the Kickstarter incentives include private dinners with Burton, VIP meet-at-greet sessions at "Star Trek" conventions and the privilege of having @levarburton follow their Twitter account. Cashing in on his popularity as Chief Engineer Geordi LaForge in "Star Trek: The Next Generation" TV series and feature films, Burton also offered five early donors the opportunity to meet for dinner and wear his original visor from the series.
If the fundraiser raises more than its target goal of $1 million, Burton has plans for more fundraising goals going beyond his initial $1 million ("stretch goals" in Kickstarter terms) to expand "Reading Rainbow" into more classrooms.
Check out Burton's video promoting the "Reading Rainbow" Kickstarter below.
© Copyright IBTimes 2023. All rights reserved.