LG 'Project B' Smartphone Has An Extendable Screen
KEY POINTS
Samsung and other companies are busy working on foldable phones
LG is working on rollable phones with expandable displays
One such device might be released in March next year, a report says
While other tech giants such as Samsung, Motorola, Huawei and Apple are busy looking into creating the best kind of foldable smartphone to appeal to more consumers, LG Electronics is working on a different kind of device – one with a display that rolls out to offer a wider display and rolls back into the device to make it more compact, like a regular smartphone.
The new device is shown in a patent recently published by the World Intellectual Property Organization. The patent, spotted by Dutch-speaking site Let's Go Digital, describes a new device that users can expand at will by pulling the left and right sides outward.
The device, currently known as "Project B" as per Korean news site The Elec, uses a rollable display similar to LG's line of rollable TVs – with the major difference being the display size.
When in normal mode, the device has the look and size of a regular smartphone. Renders created by Let's Go Digital show a slim device that can be held comfortably with one or two hands. It resembles the look of today's flagship smartphones, albeit with a few distinct differences such as lines located at the top and bottom parts of the device.
Pulling the device on its sides will expand it. When in this "expanded" mode, the device has 100% more screen estate and resembles a tablet. Let's Go Digital's renders make it look more like Samsung's Galaxy Z Fold 2 device, but without the crease at the center of the display.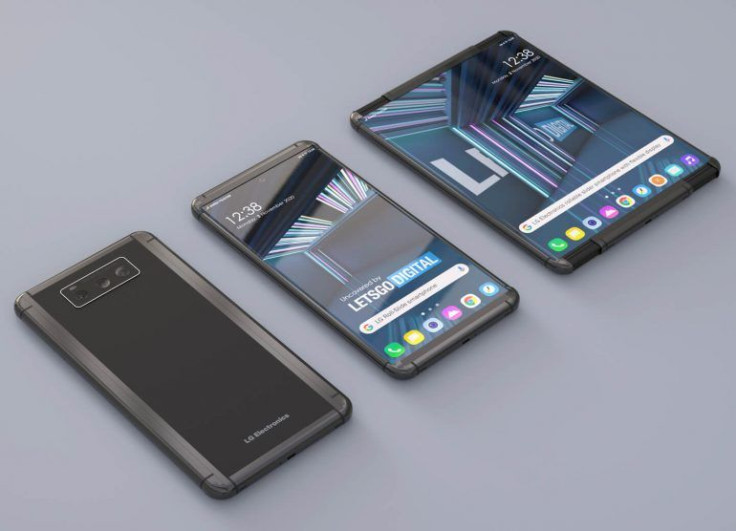 How it works
According to LG's patent, the device will have an OLED display and a metal housing. The device is said to feature a second frame that is strong enough to support the top and bottom parts of the display when pulled out but flexible enough to allow the display to roll back inside when desired. This allows the screen to maintain rigidity while also allowing the device to transform to a more compact form.
The device also features a slew of components designed to allow for smooth rolling in or out of the display. It will also include components that will prevent the screen from accidentally rolling out or rolling back in.
The patent describes a feature-packed device that far overtakes Samsung's Galaxy Z Fold in terms of design and also offers other interesting use cases. Best of all, it might be released soon – in March next year, The Elec reported.
Those who are interested in reading the patent can access it here.
© Copyright IBTimes 2022. All rights reserved.
FOLLOW MORE IBT NEWS ON THE BELOW CHANNELS