Live Blog: Fed Chair Janet Yellen Press Conference, March FOMC Meeting Decision [VIDEO]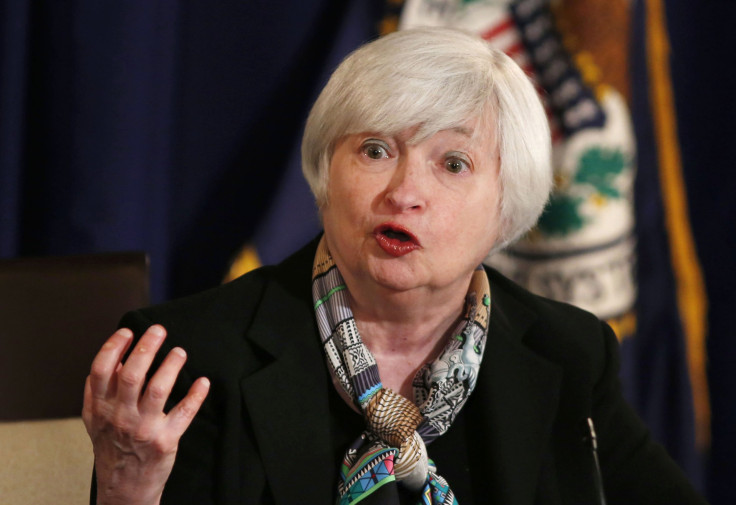 Hello and welcome to our live coverage of the Federal Reserve's interest rate decision and the press conference that Janet Yellen, the Fed's new chief, will give a bit later in Washington, D.C.
The Federal Reserve's powerful rate-setting committee concludes its second meeting of the year today. The official statement -- along with the updated survey of economic projections from FOMC participants -- will come out at 2 p.m. EDT Wednesday, followed by Yellen's press conference at 2:30. The news conference will be broadcast live on the Federal Reserve's UStream channel.
CLICK HERE to Refresh this page for LIVE updates.
****
Update 3:59 p.m.: And that's a wrap. Thanks for tuning in. Yellen's next post-FOMC press conference will take place on June. 18.
To sum up, the Fed tapered the pace of its monthly asset purchases by another $10 billion, to $55 billion, and dropped its explicit "6.5 percent" unemployment rate threshold, reverting to a more qualitative form of forward guidance in today's policy statement. However, in a somewhat surprising move, the central bank quickened the expected pace of its rate hike cycle. The median forecast of the fed funds rate rose 25 basis points, to 1.0 percent, at the end of 2015 and 50 basis points, to 2.25 percent, at the end of 2016.
In its statement, the FOMC conveyed relatively little concern about soft recent economic data, saying that "growth in activity slowed during the winter months, in part reflecting adverse weather conditions."
The vote on today's action was 8-1, with President Narayana Kocherlakota dissenting because he believed the new qualitative forward guidance "weakens the credibility of the committee's commitment to return inflation to the 2 percent target from below and fosters policy uncertainty that hinders economic activity."
Update 3:39 p.m.: Yellen spoke for an hour, but the market only heard three words: "around six months."
Judging by the market's reaction, Yellen's definition of "considerable period" is much shorter than what Wall Street had in mind.
According to the Fed's policy statement:
The Committee continues to anticipate, based on its assessment of these factors, that it likely will be appropriate to maintain the current target range for the federal funds rate for a considerable time after the asset purchase program ends, especially if projected inflation continues to run below the Committee's 2 percent longer-run goal, and provided that longer-term inflation expectations remain well anchored.
Yellen's said "a considerable time means":
Something on the order of six months, or that type of thing.
If the Fed continues on its current course, it will finish tapering its bond buying program in November, meaning that six months would fall around April 2015. Stocks plunged on her remark.
Update 3:32 p.m.: After answering a Russia/Ukraine question and another one on how she feels about all the people out there who are unemployed, Yellen has left the stage.
Update 3:25 p.m.: What did the Fed learn from the market turmoil last summer from the early taper talk?
Yellen noted that there were quite a number of things happening at that time. "I think it's probably true that monetary policy may have played a role in touching off that market reaction, but I think the market reaction was exacerbated by the fact that we had a very significant unwinding of carry trades and other leveraged positions that investors had taken, perhaps thinking that the level of volatility was exceptionally low and perhaps lower than was safe for them to have assumed.
The increase in term premia in interest rates has had a negative effect in some areas, including housing. Her lesson: The Fed will continue to try to communicate as clearly as possible, and try not to "be a source of instability here."
Update 3:16 p.m.: The Dow is now off by 170 points.
Update 3:06 p.m.: A good question: How is the new role as Fed chief different from Yellen's prior roles at the Fed.
Yellen said now "the buck stops with me" in making progress on the Fed's objectives. "I feel that weight of responsibility keenly in the new role I have."
"But in terms of the conduct of business, it's pretty much the same as usual," she said. "I'm not envisioning any radical changes in how the Fed does its business."
Update 3:01 p.m.: The chairwoman just admitted that Fed members probably aren't better predictors than others. The committee had been somewhat too optimistic in the projections about the economy.
"Incoming data since January, when our statement sounded quite an optimistic tone, were partly down due to weather and partly down because we probably overdid the optimism in January," Yellen said.
Update 2:55 p.m.: A clear message from Yellen: Don't focus too much on "dot plot."
"I would simply warn you that these dots are going to move up and down over time, a little bit this way or that," she said.
Update 2:49 p.m.: How important in the jobless rate?
Yellen told reporters that the committee has never felt that the unemployment rate is a sufficient statistic for the labor market. But if she had to choose one indicator of the labor market, the unemployment rate is probably as good a one as she could find.
Update 2:45 p.m.: Yellen is taking questions.
Update 2:41 p.m.: The chairwoman is still reading her prepared statement. She is now explaining the rationale behind the change in the forward guidance.
Update 2:39 p.m.: Yellen said it will take a major shock in the economy for the Fed to change its tapering timetable, but quickly added that bond purchases are not on a preset course, and the committee's decisions about the pace of purchases remain contingent on its outlook for jobs and inflation as well as its assessment of the likely efficacy and cost of such purchases.
Update 2:33 p.m.: Yellen said while "unusually harsh weather in January and February has made assessing the underlying strength of the economy especially challenging," the spending and production data are roughly in line with policymakers' expectations as of December. The last time committee participants submitted economic projections.
Update 2:32 p.m.: Yellen, in her introductory comments, said she will explain the change in the guidance regarding the likely future path of the short-term interest rates. Stay tuned.
Update 2:30 p.m.: Here she comes.
Update 2:26 p.m.: Yellen is on in less than 5.
Update 2:10 p.m.: The famous "dot" chart showing where each Fed official predicts the federal funds rate will be at the end of each year.
The median Fed official now expects rates of 1 percent by the end of 2015, up from 0.75 percent in December, while the median expected at the end of 2016 rose from 1.75 percent to 2.25 percent.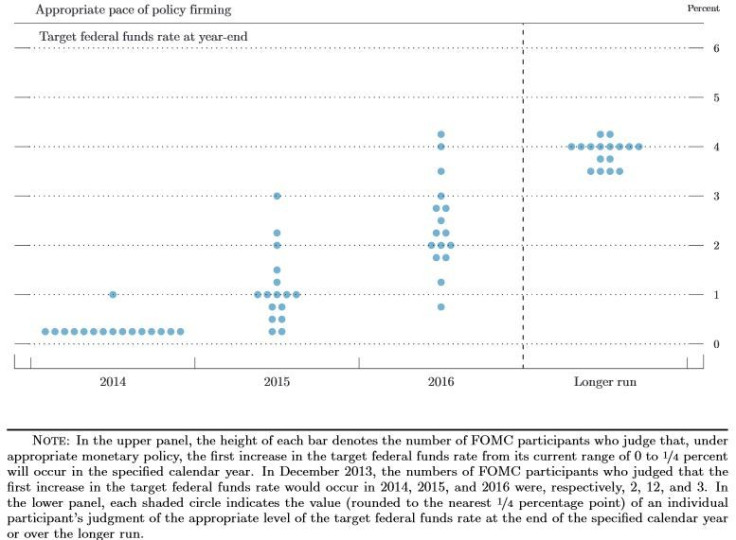 Update 2:00 p.m.: The Fed statement arrives.
The Fed said it will reduce bond buying to $55 billion per month, split as $25 billion MBS and $30 billion Treasuries. As some have expected, the central bank dropped the 6.5 percent jobless rate threshold as factor in determining future interest rate path.
The Fed said it will assess its progress toward reaching its goals on unemployment and inflation when determining when to raise rates.
From the statement: "This assessment will take into account a wide range of information, including measures of labor market conditions, indicators of inflation pressures and inflation expectations, and readings on financial developments. The Committee continues to anticipate, based on its assessment of these factors, that it likely will be appropriate to maintain the current target range for the federal funds rate for a considerable time after the asset purchase program ends, especially if projected inflation continues to run below the Committee's 2 percent longer-run goal, and provided that longer-term inflation expectations remain well anchored."
The Fed added a harsh winter slowed economic activity recently.
Read the full text here.
The Fed has also released updated economic projections.
For the full breakdown, see here.
Update 1:45 p.m.: Goldman Sachs forecasts that the Fed's portfolio will take a long time to normalize.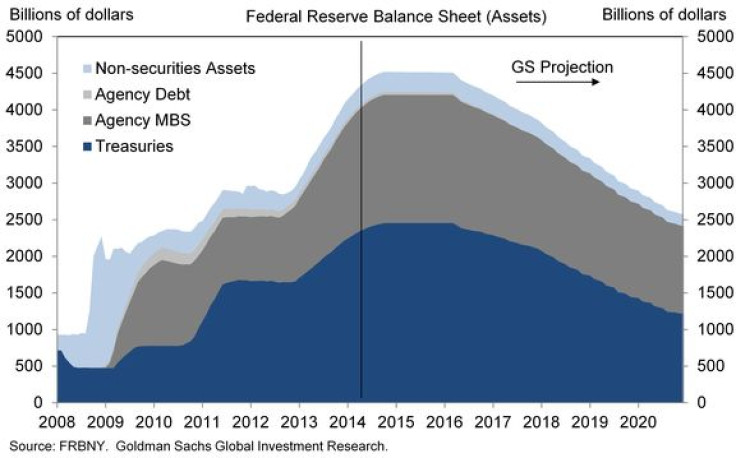 Update 1:37 p.m.:
From Nomura:
Recent statements by FOMC participants suggest that most members are not likely to try to seek to make policy notably more or less accommodative. Currently, short-term interest rates are roughly in line with FOMC forecasts. For example, the median FOMC forecast for the target federal funds rate is 75 basis points in the fourth quarter of 2015 and 175 basis points in the fourth quarter of 2016. The implied rates on federal funds future contracts for December 2015 and 2016 are 61 basis points and 156 basis points, respectively. We do not expect significant changes to FOMC participants' interest rate forecasts.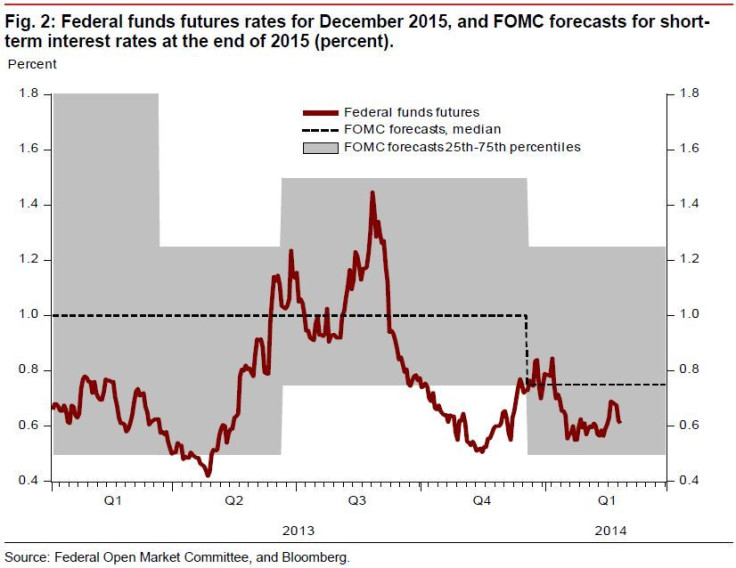 Update 1:21 p.m.: While we wait for the official statement, let's take a look at how the job market is doing.
The U.S. economy created 175,000 jobs last month, up from the 129,000 tally for January. The jobless rate climbed 0.1 percentage point to 6.7 percent, while the labor force participation rate remained the same, at 63 percent.
Update 1:13 p.m.: Stocks and bonds are little changed as investors await the Fed's decision.
The S&P 500 (INDEXSP: .INX) fell 0.91 points or 0.05 percent, to 1,871.34, but remained within striking distance of all-time highs. The Dow Jones Industrial Average (INDEXDJX: .DJI) fell 8.92 points or 0.05 percent, to 16,327.27 and the NASDAQ Composite (INDEXNASDAQ: .IXIC) dropped 5.421 points or 0.13 percent, to 4,327.892.
Update 1:05 p.m.: Most Fed watchers expect the central bank to announce today that they will reduce the size of its monthly bond buying by a further $10 billion, to $55 billion. FOMC members will likely suggest that the recent slowdown in activity is largely due to weather effects that should fade this quarter. Overall, there should be few changes to Fed officials' economic projections.
It has been 15 months since the Fed switched from calendar guidance to one based on economic thresholds. Now that the 6.5 percent unemployment threshold has become virtually obsolete, the challenge Yellen faces is how to tweak the Fed's guidance about the likely future path of interest rates.
At the post-FOMC press conference, she will probably be asked what conditions might lead the FOMC to pause tapering, the extent of slack still in the economy, the risks to the inflation outlook, how the Fed might further strengthen forward guidance, geopolitical risks, the regulatory environment and signs of financial instability, among others. Her remarks should support continued accommodation and a gradual, data-dependent exit, according to Bank of America Merrill Lynch.
(Read more on what to expect from the Fed.)
FOR FREE to continue reading
✔️ Unlock the full content of International Business Times UK for free
offer available for a limited time only
✔️ Easily manage your Newsletters subscriptions and save your favourite articles
✔️ No payment method required
Already have an account?
Log in
© Copyright IBTimes 2023. All rights reserved.