Liverpool Transfer News 2013: Soldado, Ilicic, And Cissokho Linked To Latest Rumors; Suarez To Arsenal?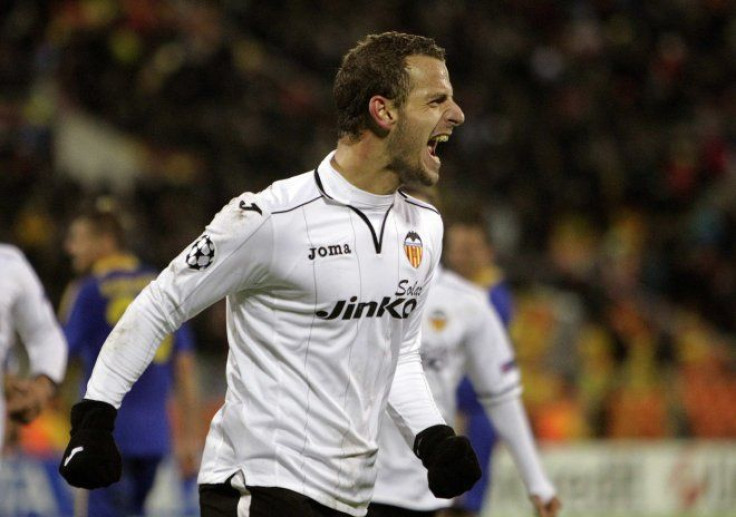 Liverpool's insistence on keeping Luis Suarez has resulted in a very high asking price for the in-demand Uruguayan striker, and now frustration appears to be at an all-time high.
Months of speculation and denials have apparently reached an impasse, as the Merseyside has reportedly told eager Arsenal that they have a week to consider a £50 million valuation for Suarez, as reported by The Express on Friday.
The same report stresses that boss Brendan Rodgers is trying to end the Suarez situation quickly, so the drama does not bleed into next season. Rogers wants to keep Suarez and the valuation is £10 million above Arsenal's original offer, which could scare the Gunners off.
Though talented and at times electrifying, the baggage associated with Suarez has left him with few choices outside of the Anfield. He reportedly wanted a switch to Real Madrid, but the Spanish giants are no longer as keen as they once were.
Rodgers and Liverpool officials do have backup plan should Arsenal relent and pay the Suarez ransom.
The Anfield side have thrown their hat into the bidding for Valencia striker Roberto Soldado, who would serve as direct replacement for Suarez. Tottenham were expected to sign Soldado, but Valencia are asking as much as £26 million for the 28-year-old Spanish international, according to Daily Mirror.
That's about two million more than Soldado's perceived market value, but Valencia might use Liverpool's interest to drive up Tottenham's offer.
In all competitions since 2010, Soldado has appeared in 121 total matches with Valencia and the Spain national team, and netted an incredible 88 goals. That kind of production could absolutely make up for the possible loss of Suarez.
Liverpool also had their eye on Slovenian midfielder Josip Ilicic before Serie A's Palermo swooped in earlier this week with a reported £8 million fee, according to Sky Sports News.
Ilicic would have fit in nicely in Rodgers's attack as the lead playmaker, but for now Liverpool will focus on adding to their back line.
Liverpool are reportedly in separate talks with Valencia for 25-year-old French defender Aly Cissokho. The clubs are reportedly working on an initial loan fee of £850,000 and next summer will iron out a £3.5 million purchase, as reported by the Daily Mail earlier this week.
Valencia would clear a little more than half of the £7 million they paid Lyon for Cissokho, and the Reds would gain a more than capable left defender to fortify a line that will miss Kolo Toure. The Ivory Coast star is 32, and recently signed a two-year deal.
© Copyright IBTimes 2023. All rights reserved.