Liverpool Vs. Arsenal: Prediction And Tactical Analysis; Can The Reds Cope With The Gunners' Midfield?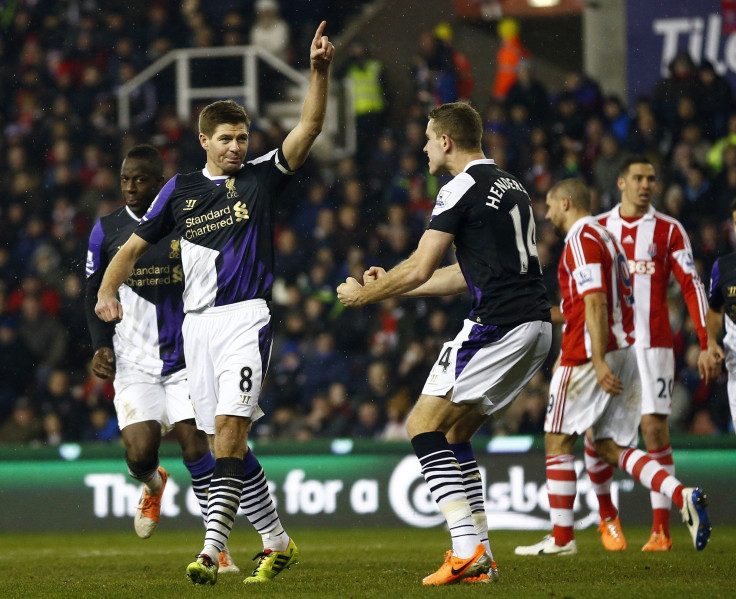 When Liverpool traveled to take on Arsenal at the Emirates Stadium three months ago there was much expectation for a top-of-the table clash that would tell us much about the credentials of both teams going forward this season. It did exactly that with Arsenal going on to win 2-0 with a performance that was, if anything, more dominant than the score-line suggested.
Since then Arsenal have continued to confound the expectations of many by remaining top of the Premier League, while for Liverpool, even if they may not concede it, the objective has become firmly to hang onto the final Champions League berth.
Yet, Liverpool will be aiming to prove that, back at Anfield, they can genuinely mix it with England's best. Following their loss at the Emirates, Liverpool went onto suffer defeats at the home of the other title contenders Manchester City and Chelsea. Brendan Rodgers is undeniably doing an excellent job, but the reality is that they aren't quite there yet.
Going forward, Liverpool can match any team in the league. Luis Suarez and Daniel Sturridge are enjoying phenomenal seasons, but against the best teams they lack the support from elsewhere. And one of the conundrums for Rodgers has been getting the best out of the duo while maintaining a balanced side.
At the Emirates that involved utilizing a 3-5-2 formation, yet it left Liverpool both exposed down the flanks and outnumbered in the middle. It was no surprise that Rodgers switched to a 4-4-2 at half-time and the team was slightly better as a result. Since Sturridge has returned from injury, Rodgers has used a different approach with either the former Chelsea man or Suarez, moving over the left of an attacking midfield three in a 4-2-3-1. In a 1-1 draw with West Brom on Saturday, this was slightly modified to a 4-3-3, with Philipe Coutinho moving to the right of a midfield three, with Jordan Henderson on the left and Steven Gerrard as the central pivot.
The key problem for Rodgers is trying to prevent Liverpool from being passed around in midfield, an issue that is of course particularly relevant against the better teams. With the personnel at his disposal, though, he may be fighting a losing battle. Gerrard has many outstanding qualities, but he lacks the natural awareness in that deep-lying role, while struggling now with the legs to regularly hunt down the ball.
Even with the only natural holding midfielder in the Liverpool squad, Lucas Leiva, alongside him, the midfield has often struggled. Without him, as they will be on Saturday, it is mighty difficult. It will surely be a consideration to bring Joe Allen into the midfield and add extra security.
Especially given that Arsenal are ripe to expose that key area. While Mathieu Flamini and Aaron Ramsey are still out, Arsenal could well have Jack Wilshere back to battle it out for a place with Alex Oxlade-Chamberlain, who scored twice on his first Premier League start in five months at the weekend.
In front of them lies the key to the Arsenal side. There is an array of attacking midfield talent at Arsene Wenger's disposal, although he is likely to opt for Tomas Rosicky, Mesut Ozil and Santi Cazorla at Anfield. All three have a natural tendency to come inside, even when deployed out wide and that should enhance Arsenal's dominance in the center of the pitch.
Liverpool simply cannot match that quality at this stage of their evolution. What will be interesting is whether Rodgers is prepared to break with his philosophy and cede possession to Arsenal, while trying to strike on the break by getting the ball quickly to Suarez and Sturridge. It means, with Liverpool sitting deeper, that Gerrard is less exposed with players running by him.
It was a strategy that worked a treat against Everton when their Merseyside neighbors enjoyed 61 percent possession but were on the back of a hiding courtesy of Liverpool's forward duo. A similar approach may well be Liverpool's best chance of success against Arsenal. However, it is difficult to see Arsenal's defense being so acquiescing and error prone as was Everton's.
Per Mertesacker and Laurent Koscielny have arguably formed the Premier League's best defensive partnership this season. While it is possible to run in behind Mertesacker, the German's positioning and Koscielny's speed in covering for him has generally prevented that from happening. That will be fully tested at Anfield, with perhaps no-one better than Suarez at using his pace and intelligence to get in behind defenders. He will surely create at least a chance or two doing just that.
Mikel Arteta will be crucial in ensuring that it is no more than that. Like Gerrard, the Spaniard is no natural as an anchorman, but he did an admirable job closing down the space in front of the back four against Liverpool first time around and will have to do likewise to prevent Coutinho, in particular, from getting the space to supply Suarez and Sturridge.
Ultimately Arteta will be guarding a defense far more solid than the one Gerrard will be protecting. Rodgers has been unfortunate with injuries to Mamadou Sakho and Daniel Agger, but the signing of Kolo Toure has in many ways gone as many thought it would. The former title winner with Arsenal has brought plenty of experience, but he is capable of spectacular errors, as he showed when giving away and equalizer against West Brom. Alongside him Martin Skrtel can be guilty of rash decision making while Aly Cissokho has not covered himself in glory since his arrival.
There looks set to be goals at both ends, but ultimately quality should win out, allowing Arsenal to maintain their momentum in what is a crucial stretch of fixtures.
Prediction: Liverpool 1-2 Arsenal
© Copyright IBTimes 2023. All rights reserved.