'Living Hell:' Afghan Evacuees Face 'Terrible' Conditions In Qatar After Harrowing Evacuation
KEY POINTS
A leaked email revealed details about the housing conditions that Afghan evacuees are experiencing at the temporary evacuation site in Qatar
The Pentagon has acknowledged the "terrible conditions"
The Al Udeid base in Qatar reached max capacity Friday
The Taliban recently said they are unhappy about Afghan evacuations and will no longer permit the evacuations except for foreign nationals
The sweltering air base hanger in Qatar that's housing thousands of Afghan evacuees has been described as "a living hell" covered in "trash, urine, fecal matter, spilled liquids and vomit," according to internal emails sent to State Department and Pentagon officials, and acquired by Axios.
The conditions at the Al Udeid Air Base in Qatar were described in the emails sent by supervisory special agent Colin Sullivan under the U.S. Central Command to the Pentagon and State Department officials, Axios reported. In the email -- with the subject line "Dire conditions at Doha" -- Sullivan said, "these human beings are in a living nightmare," adding that in the hangar, there was "a rat problem."
Evacuees from troubled Afghanistan after the Taliban takeover were transported to the Al Udeid Air Base in Qatar as it was one of the first destinations for people leaving the capital of Kabul.
The Pentagon admitted Tuesday that Afghan evacuees transported to Qatar temporarily have experienced "terrible" conditions at the Al Udeid Air Base, but added that some of these conditions have started improving, CNN reported.
Pentagon spokesman John Kirby said during a media briefing that they have been made aware of "what had been some terrible sanitation conditions at Qatar that were facilitated by the sheer numbers and the speed with which those numbers got there."
Kirby said Tuesday that the conditions are "improving now," but "they're not" perfect. "I'm not going to stand up here and tell you that they're perfect, because they're not," he added, CNN reported.
A State Department spokesperson told Axios that work is being done to "alleviate current conditions" in Qatar. The Pentagon told the outlet that it will install more than 100 toilets to improve the overall situation for Afghan evacuees. It added that 7,000 traditional Afghan meals, three times a day, are also being offered.
The agreement between Qatar and the United States was to transport 8,000 Afghans with a Special Immigrant Visa application as well as their families out of Kabul. The Al Udeid base reached maximum capacity late last week, resulting in evacuation flights being halted for eight hours.
In photos compiled by the New York Post from the Qatar base, evacuees can be seen lying in beds pushed closely against each other. In one single-bed, four people, including three children, could be seen sitting together.
Kirby said the U.S. military has worked with other countries to find temporary evacuation sites for Afghans. The locations include bases in Bahrain, Spain, Italy, and the Ramstein Air Base in Germany.
President Joe Biden previously admitted that the ongoing evacuations were "one of the largest, most difficult airlifts in history."
Meanwhile, the U.S. is faced with another stumbling block in quickly getting vulnerable Afghans and Americans out of Afghanistan as the Taliban warned they would "not allow the evacuation of Afghans anymore." The militant group said the U.S. should keep its promise of getting all military presence out of the country by Aug. 31.
Taliban spokesman Zabiullah Mujahid said Afghans will not be allowed to travel into the Kabul airport anymore, and only foreign nationals will be permitted to pass through. Mujahid noted that the Taliban are "not happy" with the evacuation of Afghans.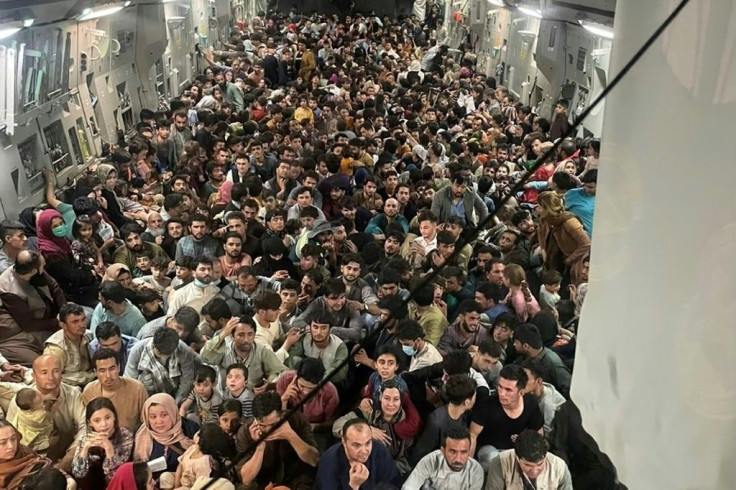 © Copyright IBTimes 2023. All rights reserved.