Long-Haul Flights May Be Starting At LaGuardia Airport, Reports Wall Street Journal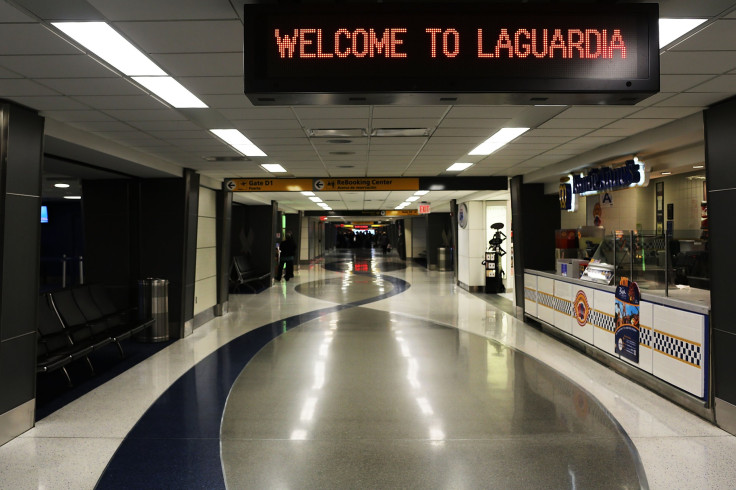 New Yorkers may be able to catch a flight to the West Coast from LaGuardia Airport for the first time in decades. The Port Authority of New York and New Jersey is considering allowing flights longer than 1,500 miles out of LaGuardia Airport, according to a report in the Wall Street Journal. Regulators are examining whether the restriction "remains in the best interest of the region's air travelers."
LaGuardia has long been governed by a so-called "perimeter rule" that restricts, for the most part, airlines from operating flights to cities that are more than 1,500 miles away. (Denver is an exception, and the rule isn't actually in effect on Saturdays, either.) Going as far back as the 1950s, the Port Authority limited flights out of LaGuardia to desinations within 2,000 miles. In 1984, it formalized the rule and shrunk the distance limit to 1,500 miles. The restriction arose out of a desire to steer travelers to Newark Liberty and JFK airports -- but those weren't as conveniently located for people living in Manhattan.
Opening up LaGuardia to long haul flights could prove lucrative for the airlines that already operate out of it. Flights to Los Angeles, San Francisco, Seattle and Las Vegas are routinely packed out of JFK and Newark Liberty. Delta Air Lines controls 40 percent of the departing flights out of LaGuardia, while American Airlines is in second place with 28 percent. JetBlue and United have a presence there, but have concentrated most of their flights out of JFK and Newark Liberty airports respectively.
The addition of long haul flights out of LaGuardia would likely result in flights to smaller cities getting short shrift, given that gate slots at airports are highly limited and difficult to acquire. "The mix of flights at La Guardia would change materially," aviation consultant Mike Boyd told the WSJ. "Why would you have a 50-seat jet going to Charlottesville when that slot can be used for a 150-seat jet going to Seattle?" Long haul flights are more profitable for airlines.
It's not just West Coast flights that could be added to the mix. The runways at LaGuardia are long enough, at 7,000 feet, to support jets that can fly to some intercontinental destinations including London, Paris and Mexico City. The problem, however, with that scenario is that there is no federal border-clearance facility at LaGuardia, which is required for accepting flights from most airports around the world. Other international cities, however, such as Vancouver or Dublin, clear U.S.-bound travelers at departure, per agreements with U.S. border officials.
It's unclear whether lifting the rule would result in improvements to LaGuardia Airport, which Vice President Joe Biden famously described last year as seeming like "it's in some third-world country." Another long-awaited terminal renovation project at LaGuardia was recently stalled, reportedly because the Port Authority is still reviewing contest submissions for the redesign.
Discussions to lift the perimeter rule begain in 2014, according to unnamed sources cited by the Journal. Delta Air Lines, which stands to gain the most from the rule reversal, reportedly lobbied the Port Authority to initiate the change, though the airline has not commented on the matter. It already operates a flight from LaGuardia to Aruba on Saturdays.
But not everyone is as thrilled at the prospect. Rob Land, senior vice president of government affairs at JetBlue, which has a minimal presence at LaGuardia, said that adding long-distance flights to an airport that's already bursting at the seams would be a mistake.
"The deplorable conditions at LaGuardia from a customer perspective as well as an airline perspective operationally are only getting worse by the day and we have yet to begin the yearslong 'pardon-our-dust' period that is the Central Terminal Project," Land told the Journal. "It would seem the last thing we want to do is add more crowds to LaGuardia until we appropriately address capacity issues."
© Copyright IBTimes 2023. All rights reserved.