Los Angeles Olympics 2024: After Successful 1984 Games, Can LA Pull It Off Again?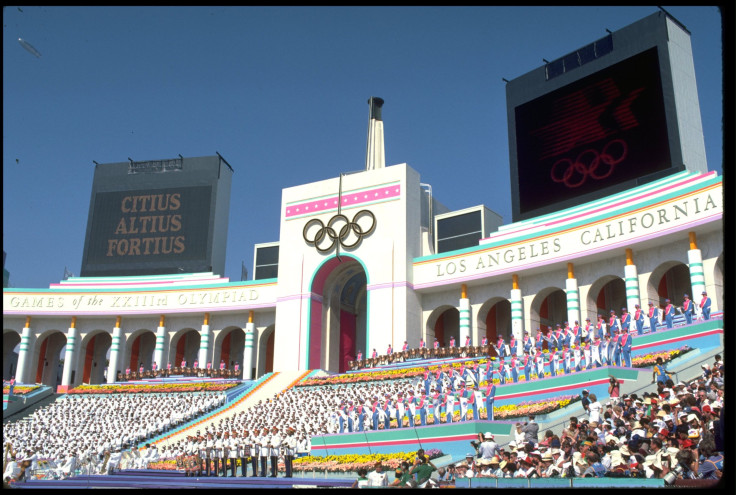 Los Angeles' 1984 Olympics are widely ranked as one of the most successful games on record. Civic pride and revenue burst from the Southern California city's hills, and its palm-tree lined streets still pay homage to the legacy the games left behind. Yet since rumblings began this week that LA would be a serious contender to host the 2024 games, Angelenos have not been the most ardent supporters of an Olympic bid.
And with the Olympics costing more than ever, can Los Angeles be blamed? Before the spotlight shifted to California, money worries were enough to send Boston running from the International Olympic Committee this week when its residents became skeptical of what plans would mean for their own wallets. Meanwhile, Athens is still reeling from the 2004 games as Greece suffers one of the world's worst financial crises.
Sochi's 2014 Winter Olympics ran Russia more than 1,000 times the price-tag for the 1984 Olympics. During the 2012 London games, security measures cost more than $1 billion. Keep in mind that American cities, not the federal government, would be required to foot the bill of any overspending -- a gamble when it comes to the budget of such a complex, wide-scale project.
"It is unlikely that there is going to be an economic benefit after it all," said Andrew Zimbalist, professor of economics at Smith College in Massachusetts, who noted that Los Angeles did not experience any long-term economic benefits from hosting the 1984 games. "There is a considerable risk and there is also a lot of time and energy involved."
The cities in the running to host the Olympics must prove to the International Olympic Committee that they are willing to build massive new stadiums and venues, as well as convince residents that the games are worth the expenses, which may end up having to be covered by tax dollars. Cities must also account for operations, security, reliable transportation and parking.
A group of Boston residents filed a petition when the city pursued the Olympic bid to voice fears of the strain the games would have on taxpayers. "It is time to end the political gamesmanship over the paying for the Olympics. We should not be gambling with billions of tax dollars. The people of Massachusetts deserve better," said state Rep. Shaunna O'Connell, who co-chairs the group called Tank Taxes for Olympics, in a statement.
Los Angeles was criticized in 1984 for being too spread out, financially unstable and unprepared to hold the Olympics, but the city prevailed and established itself as a glitzy, entrepreneurial metropolis. As the show business capital, LA was the first to sign a deal for television rights with a station, a lucrative venture which made the sporting event $225 million in advance of the games.
But this time around, Los Angeles does not have some of the advantages it had then. The 1984 Olympics were the first American games to not be funded by the federal government, and critics of hosting the games recognize that the City of Angels had a different bargain then than it would likely receive now.
With the financial collapse of the Montreal 1976 games, there was not much competition to host the Olympics, so Los Angeles was able to get the International Olympic Committee to agree to a unique deal. If the games saw any profits, the city would give 60 percent back to the U.S. Olympic Committee and keep 40 percent for Southern California. In the end, the region earned $93 million. However, this was the last time the Olympics saw such a deal.
A recent poll found roughly 75 percent of Los Angeles-area residents supported hosting the 2024 Games. But Los Angeles Mayor Eric Garcetti has been reluctant to commit. Still, his staff has said that if LA does move forward with a bid, money won't be a problem. "If we bid, our city's existing world-class venues would make an Olympics in Los Angeles profitable, just as it was in 1984 and 1932," said Jeff Millman, a senior Garcetti aide, in a statement to the press.
Prospective host cities should consider whether their economy can withstand the expensive sporting event, but think beyond profits, said Kenneth Shrophire, a business professor at the University of Pennsylvania.
"It shouldn't be all about 'We're not going to host unless it makes money for us,' "said Shropshire who wrote "Sport Matters: Leadership, Power, and the Quest for Respect in Sports." "That's not what cities do. Cities build roads and pick up trash, and that doesn't make them money. You have to think: 'Is it something that is going to be good for the city?' "
But Shropshire said cities do need to evaluate whether they can meet the International Olympic Committee's costly demands. New infrastructure often must be built and media broadcast centers erected.
"The IOC is like anybody else where they want to get the best deal," said Shropshire. " Whether it is the federal government or a city, they want to see who will build these facilities and which is going to be better."
While Boston and Athens lacked many facilities, Los Angeles already has a lot in place, therefore making the city a safer bet against financial restitution. The city's 1932 and 1984 games both fared well in part to the many sports teams and colleges in the area.
"LA has the same components that has previously made it a good Olympics city two other times," said Amy Bass, professor of history at the College of New Rochelle in New York. "They have a sporting community. They have a lot of Olympic pride there and they have a lot of geographic space that works for the Olympics."
In addition to infrastructure and security, the inflation in the Olympic budget has been attributed to the pressure to dazzle fans as the bar rises with each passing Olympic season. The 1984 games were the first to be applauded for an opening ceremony of Hollywood blockbuster proportions. The show included 84 pianists in Los Angeles' Memorial Coliseum and a flying man equipped with a jet pack. Beijing's 2008 Olympics has since surpassed those expectations with a spellbinding show featuring 2,008 drummers and a field of fireworks at a cost of more than $100 million.
"I think that the spectacle bar has been set and reset over and over again," Bass said.
© Copyright IBTimes 2023. All rights reserved.