'Love & Hip Hop: Atlanta' Star Stevie J Explains Why He Lied About Marriage To Joseline Hernandez On Season 5, Episode 12 [RECAP]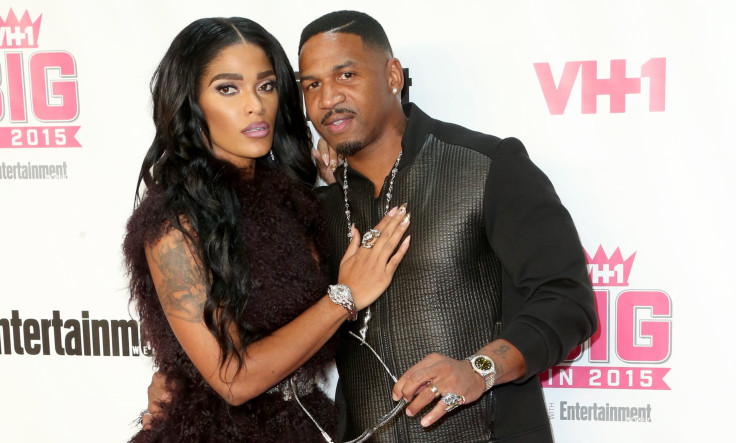 The truth has finally been revealed about Stevie J and Joseline Hernandez's "marriage." On Season 5, episode 12 of VH1's "Love & Hip Hop: Atlanta" Stevie explains why he lied for so many years about his and Joseline's relationship.
The episode kicks off immediately after Stevie does a radio interview where he reveals that he never legally married Joseline. In his confessional, the producer explains that it all started when Hip Hop Weekly magazine printed a story about them being married. Stevie says he and his "wife" decided to run with it even though they had never wed. "I thought it was a forever thing," Stevie says about his relationship with Joseline. According to Stevie, he kept up the lie for five years because Joseline wanted to be married and he wanted to make her happy.
.@hitmansteviej & @MsJoseline were never married! @LoveHipHopVH1 with the major cliffhanger! Almost time! #LHHATL pic.twitter.com/zkyXpDvIVV

— Whipclip (@whipclip) June 27, 2016
While Stevie is discrediting their marriage, Joseline is doing red carpet interviews telling reporters that she and the music producer are a legally married couple. Joseline insists Stevie's lying, and claims to have proof that their marriage is real.
When Mimi Faust hears about Stevie's radio interview, she confronts him and demands he tell her why he lied to her. Stevie once again says he did it to keep Joseline happy, but now that they're having problems he's ready to tell the truth. Stevie apologizes to Mimi, but she still tells her ex to pack his bags and get out of her house.
Dang @MsJoseline throwing major shade at @hitmansteviej "You haven't been on the radio since the 90's!" #LHHATL pic.twitter.com/8mOJrpFZdQ

— Whipclip (@whipclip) June 28, 2016
Stevie and Joseline aren't the only ones who are dealing with some serious relationship drama. J-Nicks and his girlfriend Amber Priddy are having issues over his alleged cheating and her constantly flirting with other men, including his friends. At a poker night at J-Nicks' house, Amber stirs up a little drama when she openly flirts with singer Bobby Valentino and Yung Joc. Amber and J-Nicks gets into an argument and she tells his friends that she knows he's seeing someone else. It was previously revealed that J-Nicks had his eye on Scrapp DeLeon's ex, Tiarra. On Monday's episode, J-Nicks takes Tiarra out on a date to see if they could be more than just friends. Based on how well their date went, it seems their friendship could be turning into something more romantic.
Another couple going through some issues is Tammy Rivera and rapper Waka Flocka Flame. During the show, Bambi stops by Tammy and Waka's house to talk after she reads a blog about the rapper being unfaithful. Tammy gets emotional as she tells her friend that she knows Waka messes around with other girls while he's on tour. Tammy says she's not sure what the next steps are for them but she knows she can't keep going through the same drama.
@MzFlame86 opening up to @AdizBambi about her relationship #RealFriends #LHHATL pic.twitter.com/RUcg9mwE2g

— Whipclip (@whipclip) June 28, 2016
© Copyright IBTimes 2022. All rights reserved.
FOLLOW MORE IBT NEWS ON THE BELOW CHANNELS