Low Oil Prices Vex Economists As Boon For Consumers Is A Bane For Crude Producers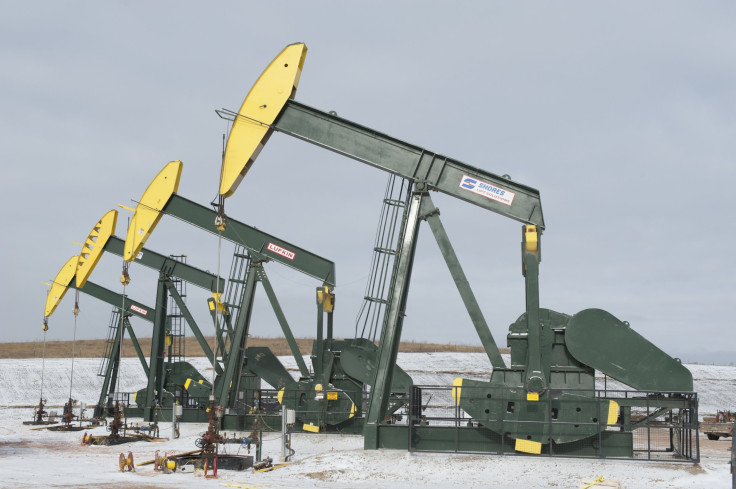 In the United States and much of the world, low oil prices used to brighten the economic horizon by giving households more money to spend on everything besides energy. Now, thanks to a cohort of American consumers traumatized by the Great Recession and job losses in the new oil patch, that once-unbreakable economic axiom has been bent dramatically.
There's a debate among economists about whether low oil prices are not the good thing they once were, and the verdict isn't clear.
The price of oil, now hovering around $30 per barrel, is weighing on employment in the United States. It's also costing recession-bound Brazil, and weighing on state finances in Saudi Arabia. Lower fuel prices would juice spending by U.S. consumers, but they've been squirreling away cash or retiring debt in the wake of the worst economic downturn since the Great Depression.
Jan Hatzius, the chief U.S. economist at Goldman Sachs, has acknowledged the shift from other phases of low oil prices, and argues that the result is a wash, at least in the United States.
"The commodity price plunge is a problem for the oil exporters, but it is either neutral or positive for most advanced economies," Hatzius wrote in a research note. "In the United States, the growth impact is probably around zero as the — admittedly sizable — negative effects on the energy-producing sector are roughly offset by the positive effects on the consumer."
NYMEX WTI Crude Oil Futures #1 (Settle) | FindTheData
Most economists got it wrong last year. JPMorgan Chase estimated a 0.7 percentage point add to U.S. growth in 2015 thanks to lower oil prices; it ended up a 0.3 percentage point loss. And Goldman admits that capital expenditures for energy production — the hardware needed to get oil and gas out of the ground — subtracted 0.3 percentage points from the economic expansion in the United States last year.
The dramatic change in the United States, thanks to the shale fracking revolution, has been that it no longer simply wins on the side of the ledger in which consumers have more money to spend. It has also lost as layoffs among fracking companies, oil services firms, geology consultancies and other associated industries destroyed purchasing power.
The shale revolution gave American workers more in common with their Russian, Saudi, Brazilian and Venezuelan counterparts than ever before. Graves & Co., a Houston research firm, concluded in November that 250,000 people have lost jobs since 2014 thanks to lower prices. And more layoffs are likely, Graves concluded.
James Glassman, JPMorgan Chase's chief economist for commercial banking, chalks up the U.S. dynamics to the savings-minded U.S. consumer.
The personal savings rate in the United States, after scraping 2 percent in 2008, has moved up steadily to near 6 percent in 2015, a trend that drew money out of the consumption-driven U.S. economy. It wasn't all bad, since consumers needed to retire debt and save for tougher times.
Now that U.S. incomes are rising faster than still-low inflation, households will be readier to spend than they were in 2015, Glassman argues.
"Household energy bills have plunged by $150 billion annually and, because they are slow on the draw, saving has climbed by $150 billion," Glassman wrote in a research note. "Nonetheless, consumers are pretty good at knowing what to do with a windfall like the drop in energy bills and that usually doesn't mean letting it sit in savings accounts."
For oil producing countries like Brazil and Venezuela, the picture is far grimmer. Facing recession and high budget deficits, they can't rely on petroleum revenue as a cushion, or a way to climb back to growth.
"Ultimately, oil producing states in the region will have to resort to a mix of budget cuts and borrowing on international capital markets to address the impact of low crude prices," Harold Trinkunas, director for foreign policy at the Latin America Initiative of the Brookings Institution, said.
Financial markets have hammered oil exporters like Russia by sucking money out of those countries relentlessly in a ringing vote of no confidence. Abdallah Salem El-Badri, the secretary-general of the oil cartel OPEC, warned this week that exporters can't rely on markets to spring back the way they used to.
"They have to find another source of income," El-Badri said at a conference in Houston this week. "The situation has changed."
FOR FREE to continue reading
✔️ Unlock the full content of International Business Times UK for free
offer available for a limited time only
✔️ Easily manage your Newsletters subscriptions and save your favourite articles
✔️ No payment method required
Already have an account?
Log in
© Copyright IBTimes 2023. All rights reserved.