MacBook Pro 2016 Features: 5 Things We Want To See In Apple Inc.'s Next Wave Of Notebooks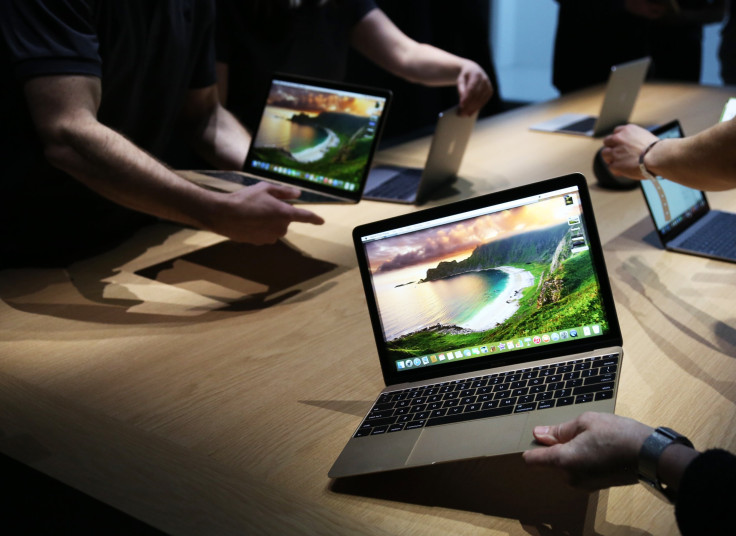 The iPhone 7 is the headliner for Apple Inc. in 2016, and the iPad Pro, Apple Watch and Apple TV are the supporting cast. But the aging MacBook Pro — the core of Apple's laptop line — hasn't seen an update in four years, save for a 12-inch MacBook in 2015.
That could all change in June when Apple is expected to deliver ultra-thin 13-inch and 15-inch MacBooks, likely in line with its annual Worldwide Developers Conference. While Apple is not in the business of telegraphing future products, we have a wish list for the next evolution of the company's top-of-the-line laptops:
Ports, Ports, More Ports
When Apple introduced the 12-inch MacBook in 2015, there was one feature that was immediately noticeable — the lack of ports, save for one reversible USB type C slot. While the new port has the ability to handle charging, connecting to devices or a secondary display, it can only do all of those at the same time with an additional $79 adapter. Adding at least one more port could make it easier for those who want to connect multiple devices. Or, at the very least, consider including the adapter as part of the purchase price — at least until USB-C completely replaces the old nonreversible rectangular USB connectors.
Odds: Flip a coin. If it ends up on the side you didn't call, flip it over again and then once more after you realize it was on the right side up the first time.
Throw Gamers A Bone
Better yet, Apple should also consider throwing in Intel's Thunderbolt 3 into the mix. To put it simply, it's a connector technology that can handle fast data transfer speeds of up to 40 gigabits-per-second while using the same USB-C port used in the 2015 MacBook. That's about four times faster than USB 3.1. Thunderbolt 3's extra speed could also be used to bring another feature to the MacBook and MacBook Pro: support for external dedicated graphics cards.
One drawback to the MacBook and MacBook Pro line is if you want access to a dedicated graphics card for gaming or other high-performance applications, you'll have to shell out for a mid to top end model, easily tacking on a few hundred dollars, if not more to the final price of the laptop. By supporting external graphics cards, Apple could give its customers the option to access better graphics processing power when they're at home, while maintaining the portability and performance of its notebooks. Razer, a PC gaming hardware company, is one of the first to demonstrate its feasibility in the slim Razer Blade Stealth notebook. So it's not necessarily out of the realm of possibilities.
Odds: Possible but unlikely, since Apple isn't known for letting its customers swap out parts on their devices easily.
Bump Up The Storage
While a lot of data is stored in the cloud, not everything lives up there just yet, which means apps, movies, videos, and pictures can still take up a lot of space. To accommodate this, Apple should consider bumping up the base flash memory storage on its 13-inch MacBook Pro to 256GB, which would at least match the 12-inch MacBook and the 15-inch MacBook Pro. That said, this is the company that still offers 16GB as the base storage for its iPhones.
Odds: Maybe it will see more storage before the iPhone.
MacBook Pros by Highest Storage Capacity | SpecOut
End The Password, Now
If Apple fans already use their fingerprints to unlock their iPhones, maybe it's time that extends to the MacBook and MacBook Pro with Touch ID. Not only could it be used to access the laptop, but it could also be used in other applications, such as authentication for a password manager or perhaps even authorizing a purchase. That feature isn't on the Mac just yet. But it could find its way onto the iPhone and iPad via Apple Pay. Apple is planning to expand the mobile payment service to mobile websites later this year, Re/code reported. It has also considered expanding the capability to its laptops and desktops, but it's not known if it will launch that with that feature.
Odds: Can't quite put our finger on it just yet.
Hey Siri
Now, talking to your MacBook may not be the first thing you want to do while you're in a coffee shop. But having to the ability to say "Hey Siri" and ask your Mac for weather, sports scores or other information could be a great feature for when your hands are full. While it's not on the MacBook right now, Apple actually could roll out the voice assistant to the next version of OS X, 9to5Mac said.
Odds: Siri could possibly spill the goods if we pester her enough.
FOR FREE to continue reading
✔️ Unlock the full content of International Business Times UK for free
offer available for a limited time only
✔️ Easily manage your Newsletters subscriptions and save your favourite articles
✔️ No payment method required
Already have an account?
Log in
© Copyright IBTimes 2023. All rights reserved.