Macy's Thanksgiving Day Parade Facts: History, Balloons, Accidents And Other Things You Should Know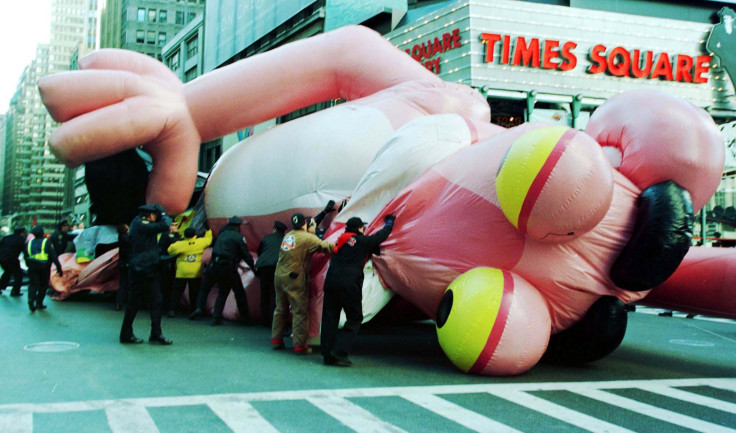 Throw the turkey in the oven and turn on the TV -- Thursday morning is all about the Macy's Thanksgiving Day Parade. Watching the annual New York City event is a tradition for more than 50 million people across the country. But how much do you really know about the parade's backstory? Here's some history of the Macy's Thanksgiving Day Parade:
The Origins
The first Macy's parade wasn't even on Thanksgiving -- it was held on Christmas Day in 1924. Employees in clown and cowboy costumes walked 6 miles with floats, musicians and animals from the Central Park Zoo. About 250,000 people attended, according to NYCTourist.com.
The Balloons
There weren't any balloons until three years later, when Anthony Frederick Sarg created a huge Felix the Cat balloon full of air, not helium. At first, parade balloons were let go into the sky to deflate and disappear, but a few years later, they got safety valves that let them float through the streets for people to catch. If a New Yorker caught one and returned it to Macy's, the store would give him or her a $50 gift. This practice ended in 1932 when a pilot almost crashed trying to catch a balloon on his plane's wing, according to How Stuff Works.
These days, Raven Aerostar makes the balloons, some of which require 90 people to walk along the parade route. Over the years, characters have included Popeye, Donald Duck, Hello Kitty, Snoopy, Curious George, Kermit the Frog, Pikachu, Shrek, Buzz Lightyear, Spider-Man and SpongeBob SquarePants.
The Music
Almost all the musicians who ride on floats lip-synch because the wireless microphones can malfunction while moving. Artists and celebrities from the past 10 years included Hilary Duff, Ryan Cabrera, Julie Andrews, Bindi Irwin, Neil Diamond, Johnny Weir, the cast of "Duck Dynasty" and Kareem Abdul-Jabbar.
The Numbers
The 2013 Macy's Thanksgiving Parade featured 11 marching bands, 16 balloons, 30 floats and 900 clowns. Full-size balloons require 90 handlers, while smaller ones need only 30, according to NBC. About 4,000 volunteers regularly help put on the three-hour parade for about 3.5 million people who line the 2.65-mile route and the 50 million who watch from home. Actors have performed scenes from more than 60 Broadway shows; this year's event should feature five shows. The parade takes 18 months to organize.
The Accidents
In 1927, Felix the Cat caught on fire. Superman got his hand torn off in 1986. A few years later, New York police stabbed the Pink Panther because they were worried the winds would make the balloon hit lampposts and injure the audience. In 2000, Bullwinkle had to go on alone because Rocky deflated, and, in 2011, the Kool-Aid Man tipped over.
© Copyright IBTimes 2023. All rights reserved.
FOLLOW MORE IBT NEWS ON THE BELOW CHANNELS