'Mad Men' Season 7 Spoilers: Episode 3 Synopsis Leaked Online; What Will Happen In 'Field Trip?'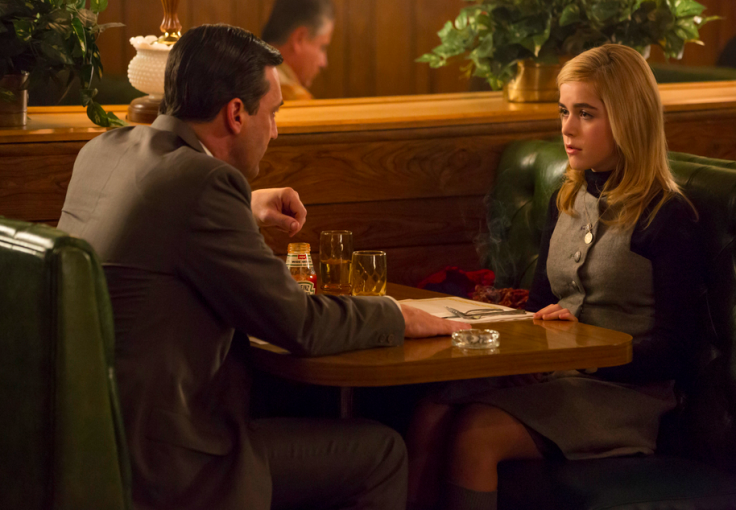 "Mad Men" will be airing its third episode of Season 7 on Sunday, April 27, at 9 p.m. EDT. And we have to admit, we're totally counting down the hours until "Field Trip" makes its way to the small screen—especially after last week's jaw-dropping episode. Seriously, can you even believe what Peggy did? Talk about embarrassing.
[If you didn't see "A Day's Work" make sure you read out recap of the most important moments so you can get all caught up before episode 3 airs.]
So, what can fans expect from the new "Mad Men" episode, written by Heather Jeng Bladt and Matthew Weiner? Well, according to the vague synopsis, Don will take a trip, Betty will dine with a friend, Harry is going to be promoting a cause, and the partners will be considering an asset during "Field Trip." Leave it to Weiner to give us such an ambiguous summary.
But thankfully, fans of the show were teased with an equally confusing trailer to help us piece clues together.
"This is a very enviable piece of PR," the leaked promo begins, with Harry talking to who we believe are the partners of SC&J. What information could Harry be talking about? And is it big enough that the advertising agency might never need Don again?

The last time we saw Mr. Draper, he had just patched things up with his daughter. But just because his relationship with Sally is flourishing doesn't mean every other aspect of his life is equally successful. Don is waking up at noon, eating meals consisting of Ritz crackers, and enjoying the company of cockroaches who crawl around his apartment. In simpler terms—he's a mess.
But it seems like depressed Don will find the sunlight—and maybe even a comb—when he asks a mystery person out for dinner on the phone.
"Are you there?" he questions. The next thing we see is Don solemnly hang up the phone. Yikes. We hope he wasn't dissed in his vulnerable state. Who do you think he's talking to? Could it be an employee at Sterling Cooper? Or perhaps Megan? Our bet is that it's Sylvia. Reason being is fans were told that Linda Cardellini would be reprising her character in the final season of "Mad Men."
In a leaked promo that gave fans a look into Season 7, we saw that Don and Sylvia would rekindle their attraction for one another in an upcoming episode. However, we don't exactly know when their love affair will occur. In the trailer we hear Sylvia tell Don that she prays for him to find peace amid the couple's steamy scene.
What do you think will happen in episode 3 of "Mad Men"? Sound off in the comments section below with your prediction.
© Copyright IBTimes 2023. All rights reserved.