'Magic Mike XXL' Pleases In All The Right Ways With Stars Channing Tatum And Joe Manganiello [REVIEW]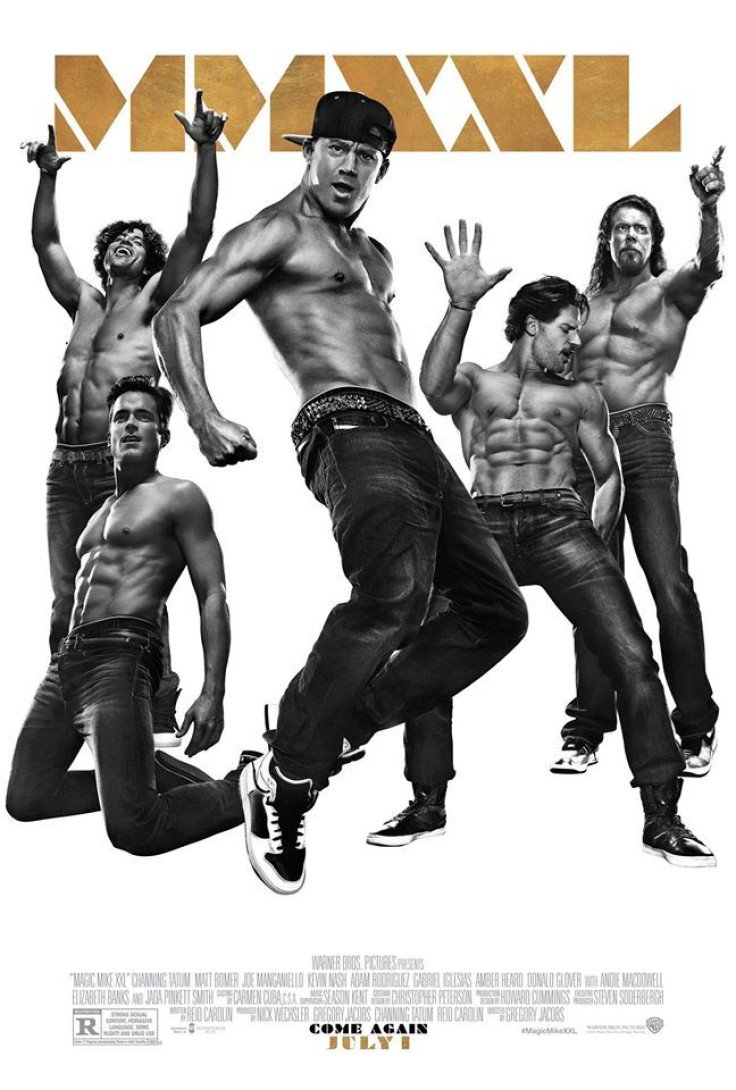 You know why you bought a ticket to see "Magic Mike XXL." Perhaps you loved the first one, and there was no question as to why you're in line for popcorn minutes before the sequel starts. Maybe you're there for curiosity, having missed out on the first one and want to see what the shirtless fuss is about with your giggling friends. You could be purchasing a Wednesday night ticket for one, for no other reason than to see Channing Tatum dance, bump and grind his way through a polished, nearly plotless movie built by and for pleasure.
And that is your pleasure.
In "Magic Mike XXL" it's potentially the last dance for the Kings of Tampa, and while not everyone's last three years have gone smoothly, the remaining members Mike (Channing Tatum), Big Dick Richie (Joe Manganiello), Tito (Adam Rodriguez), Ken (Matt Bomer) and Tarzan (Kevin Nash) have rallied together for one more show at the annual stripper's convention in Myrtle Beach. However, they'll need some help from Mike's former flame, Rome (Jada Pinkett Smith) and two of her strippers, Malik (Stephen "tWitch" Boss) and Andre (Donald Glover), if they want to go all out for their last "Pony" ride.
While "Magic Mike" sold a darker, cautionary tale alongside the fantasy of a buddy band of strippers, "Magic Mike XXL" makes it all about the fun. There's no character development, no threat or real sense of conflict. Hell, it's not even clear why the boys are road tripping to a stripper's convention other than an almost arbitrary deadline to the end of their careers. But who cares? The professional dancers in the movie, Tatum and tWitch, have upped the ante of their routines, including their duet teased in the trailer. As so joked about in "22 Jump Street," Tatum even incorporated a few parkour steps to his already smooth moves.
Unlike the dude heavy world of "Entourage" and even "Ted 2," it's the ladies who are at the center of attention of "Magic Mike XXL." The guys scoff at other men who don't ask their partners how they want to be pleased. More than on the hunt for cold cash, this pack is on the prowl for warm smiles (including one hilarious bit at a gas station set to Backstreet Boys' "I Want It That Way"). It's how they know they've done their job.
Emcee Dallas (Matthew Mcconaughey in the original film) has been replaced by Rome, and she constantly refers to female clientele as queens. At the grand finale, not only is it established that she is the boss over the boys, but she invites the audience to "be worshipped" by the men she presides over. What other movie of the summer so squarely puts a woman on a pedestal to have Channing Tatum or Joe Manganiello perform for her?
And it's not just the ideal, Amber Heard type (she plays Zoe in the film) who is invited to be worshipped. More so than in "Magic Mike," a variety of women receives their share of attention. Black or white, tall or short, skinny or not, it matters that these are the kind of women audiences don't usually see getting attention or getting to act on their attraction to men like Mike or Malik. These are normal women in Spanx whistling and enjoying strippers with no shame heaped upon them. While I wish one of these women could have joined the cast with a speaking role, I'm pleased at the concerted efforts to invite all (heterosexual) women to indulge in their pleasures.
The film is just the kind of fluffy escapism that would perfectly weld together a love story, taking Molly in the morning, "Twilight" jokes and overhead Busby Berkeley shots like it's no big deal. Stripped down to its basic premise of "a stripper movie," "Magic Mike XXL" is still more than what it seems. This sequel, in a manner like "Mad Max: Fury Road," dares to include women in its worldview and dignify them with the wants and needs so long denied them in mainstream media. It's cute and dirty, and baby, "Magic Mike XXL" knows what it's doing.
"Magic Mike XXL" hits theaters Wednesday.
© Copyright IBTimes 2022. All rights reserved.
FOLLOW MORE IBT NEWS ON THE BELOW CHANNELS