Maine Wedding Was COVID-19 Super-Spreader Event With 147 Linked Cases
A wedding can be dangerous during a pandemic. An Aug. 7 wedding guest list exceeded state guidelines for gatherings, and they became a COVID-19 super-spreader event. The Maine Centers for Disease Control and Prevention traced 147 cases and three deaths back to the wedding.
Maine CDC Director Dr. Nirav Shah confirmed that the 65-person wedding reception in Millinocket has been traced to outbreaks at a local jail and a nursing home. Maine limits gatherings to 50 people during the pandemic.
READ: COVID-19 Death Toll Could Double By Jan. 1
After a staff member at the jail attended the wedding, York County Jail now has at least 72 COVID-19 cases. That includes 46 inmates, 19 staffers and seven family members, CBS reports.
Coronavirus was also carried to a local nursing home in a similar manner. A Maplecrest Rehabilitation Center staff member had a family member who attended the wedding, and now the facility has 19 cases.
"No outbreak is an island," Shah said during a Sept. 3 briefing. "What this really hammers home is that outbreaks are not isolated events. One outbreak can quickly lead to several more outbreaks, especially in a close geographic area."
Shah also explained that the reason the Aug. 7 wedding was a super-spreader event is likely because more than one guest was COVID-19 positive.
"One or more individuals, likely more than one individual, came to the wedding already positive with COVID…That panel of folks are likely to have spread the disease more widely, more efficiently in this case, than if it had been one person. That's our hypothesis right now and it seems to line up with the onset date of symptoms that people experience," he explained.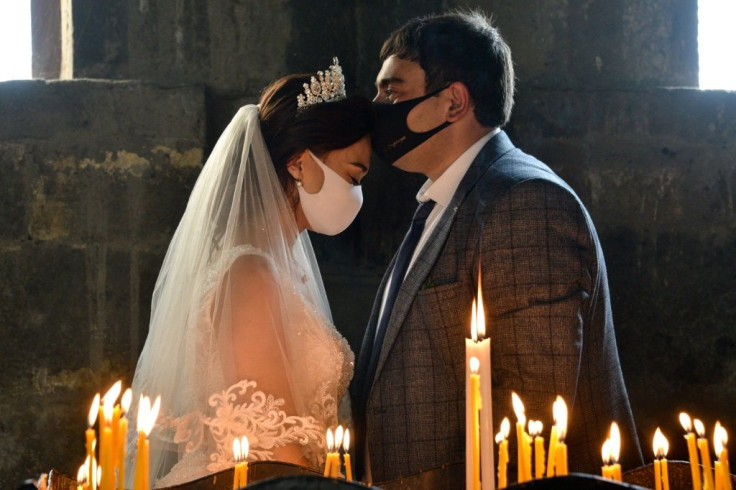 © Copyright IBTimes 2023. All rights reserved.