Mama June Defends Daughter Honey Boo Boo's Relationship With 20-Year-Old Boyfriend
KEY POINTS
Mama June Shannon claimed her daughter Alana is getting "a lot of hate" because she's in an "interracial relationship" with an older man
She reminded fans that her daughter is no longer the child fans used to watch on "Here Comes Honey Boo Boo"
Shannon said Thompson and her beau Dralin Carswell were the same age as Lauryn and her husband when they began dating
Mama June Shannon is firing back at the criticism surrounding her 16-year-old daughter Alana "Honey Boo Boo" Thompson's relationship with a 20-year-old.
Not long after she confirmed that she approves of her daughter's boyfriend Dralin Carswell, the "Mama June: Road to Redemption" star, 42, defended Thompson's relationship with him in an interview with TooFab Tuesday, reminding fans that her youngest daughter is no longer the child fans used to watch on "Here Comes Honey Boo Boo" a decade ago.
"[Alana] is getting a lot of hate because she's in an interracial relationship, he is older," Shannon said. "But at the end of the day, Alana's not that 6-, 7-year-old child y'all fell in love with 11 years ago."
"Alana has grown up, she's graduating high school next year, guys!" she added. "People need to realize that she's going to be 17 in August."
Shannon, who said that she's met Carswell and that her daughter has been dating him for over a year, went on to point out that her third daughter Lauryn "Pumpkin" Shannon and Pumpkin's husband Joshua Efird were around the same age as Thompson and Carswell when they started dating.
In an interview with Entertainment Tonight Monday, the matriarch of the family shared her opinion about her daughter's boyfriend, revealing that while she does not disapprove of Carswell, she does have one gripe about him.
"They've been together [for] over a year. He's good. He needs to hold down a job a little bit more," Shannon shared.
"I mean, he's not bad. He doesn't treat her bad or anything like that," she continued.
Shannon also addressed the couple's four-year age gap. "They're [young] and they've been together [for] over a year. So, if they last? Fine. If they don't, it can be her first love," she said.
Thompson confirmed her relationship with Carswell in September 2021 with a sweet Instagram snap. She later deleted the post after facing backlash for dating someone older.
Pumpkin, who is the legal guardian of her younger sister, is also supportive of the teen's relationship with Carswell, telling ET in a previous interview that her younger sibling's boyfriend is "respectful."
"[Alana] does have a little boyfriend who, like, comes over and stuff, like, he comes over for dinners and stuff, he's very respectful," the 22-year-old reality star said last year. "Everyone approves of him."
"Mama June: Road to Redemption" returns Friday at 9 p.m. EDT/PT on WE tv.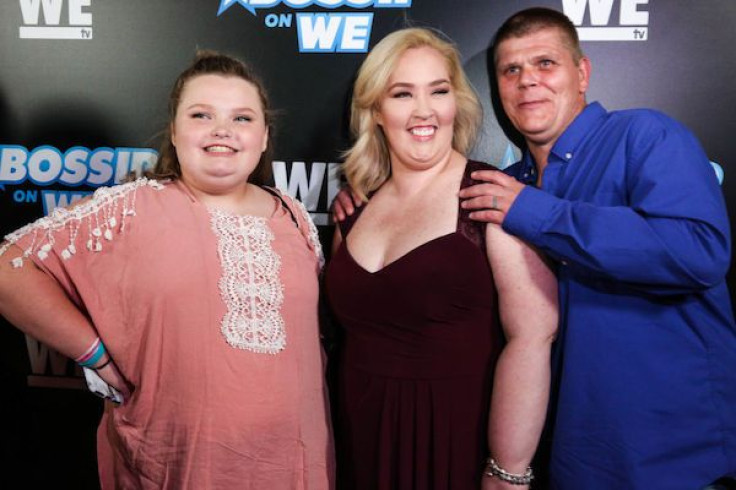 © Copyright IBTimes 2023. All rights reserved.