'Man of Steel': New Superman Movie Costume Revealed [PHOTO]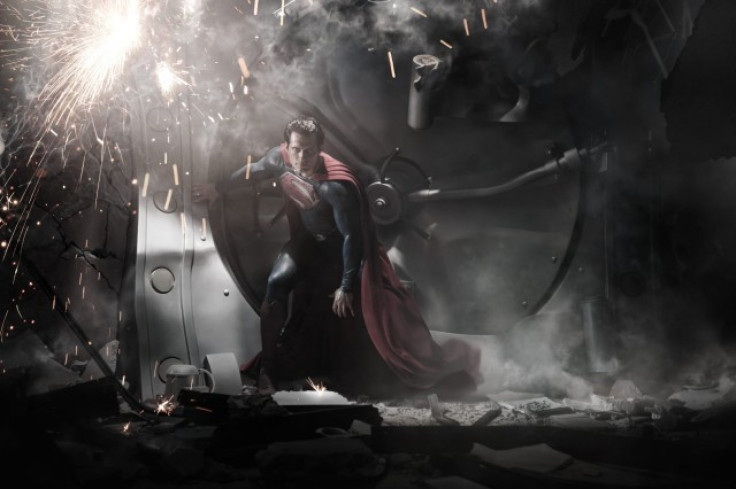 Warner Bros. has released a first look of Henry Cavill donning his Superman suit in Zack Snyder's upcoming reboot, "Man of Steel."
The "Man of Steel" photo keeps in style with the dark, grim tone the "Dark Knight" took with Batman. The costume's typically bright colors are toned down, giving off a more menacing feel. But the overall shape and feel of the costume is there.
Speaking with Total Film, Cavill said he loved wearing the costume.
"It's extremely cool. There's no other feeling like it. They just put it on, I turned around and look in the mirror and you can't really play it cool -- you sort of guffaw and laugh. I thought, 'OK, holy hell, this is real, it's not a joke anymore. This is it, you're doing it, you're right in the middle of it," Cavill said.
The Brit also said he is keeping up with a demanding diet and exercise regimen to get his body Superman-ready.
"I'm on 5000 calories a day. You've got to eat protein first, then a little bit of carbs, you've gotta keep your hunger levels going," Cavill said. "I'm training two and a half hours a day, pushing my body beyond its normal limits, putting a lot of muscle mass and just making myself look like Superman."
The film also stars three-time Oscar nominee Amy Adams as Daily Planet journalist Lois Lane, and Oscar nominee Laurence Fishburne as her editor-in-chief, Perry White. Clark Kent's adoptive parents, Martha and Jonathan Kent are Oscar nominee Diane Lane and Academy Award winner Kevin Coster.
Battling against the superhero are two other surviving Kryptonians, the villainous General Zod, played by Oscar nominee Michael Shannon, and Faora, Zod's evil partner, played by Antje Traue. There is also Superman's native Krypton, Lara Lor-Van, Superman's mother, played by Julia Ormond, and Superman's father, Jor-El, portrayed by Academy Award winner Russell Crowe.
Rounding out the cast are Harry Lennix as U.S. military man General Swanwick, as well as Christopher Meloni as Colonel Hardy. "Man of Steel" is being produced by Charles Roven, Emma Thomas, Christopher Nolan and Deborah Snyder.
© Copyright IBTimes 2023. All rights reserved.