Manchester United 2015-2016: Prediction, Preview, Roster, Betting Odds, Position Analysis For Premier League Season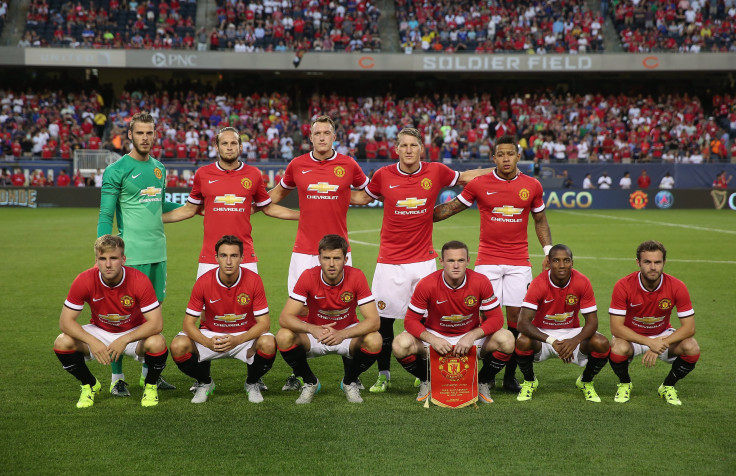 After the ignominy of finishing seventh the year before, Manchester United regained respectability and, crucially, a place in the playoff round for the Champions League with a fourth placed finish. But in his second season in charge, veteran coach Louis van Gaal will know that nothing less than a Premier League title challenge will be good enough this time around.
The Red Devils enter the season with Chelsea, Arsenal, and local rival Manchester City standing in the way of their first Premier League title since 2012-2013. How Van Gaal pieces together a collection of new players, and resolves the curious goalkeeper situation, is one of the most intriguing storylines in Europe.
Who's In? Memphis Depay (PSV Eindhoven), Matteo Darmian (Torino), Bastian Schweinsteiger (Bayern Munich), Morgan Schneiderlin (Southampton), Sergio Romero (Sampdoria)
Who's Out? Nani (Fenerbahce), Robin van Persie (Fenerbahce), Rafael (Lyon), Tom Cleverley (Everton), Ángelo Henríquez (Dinamo Zagreb)
Key matches: vs. Tottenham, Aug. 8; vs. Manchester City Oct. 25; vs. Chelsea Dec. 28; vs. Arsenal Feb. 27, at Manchester City March 19. The complete schedule can be found here.
Squad:
G: David de Gea, Sam Johnstone, Anders Lindegaard, Sergio Romero, Victor Valdes
D: Tyler Blackett, Daley Blind, Matteo Darmian, Jonny Evans, Phil Jones, Michael Keane, Paddy McNair, Marcos Rojo, Luke Shaw, Guillermo Varela, Antonio Valencia
M: Michael Carrick, Sean Goss, Marouane Fellaini, Ander Herrera, Adnan Januzaj, Jesse Lingard, Juan Mata, Nick Powell, Morgan Schneiderlin, Bastian Schweinsteiger, Ashley Young
F: Memphis Depay, Javier Hernández, Wayne Rooney, James Wilson
Goalkeepers: Just three days before the new season, huge doubt still remains about who will be Manchester United's No. 1. De Gea's long-mooted move to Real Madrid could still go ahead and threatens to be a major disruption to the start of the campaign. Meanwhile, the potential successor to De Gea, Victor Valdes, is set to be sold after a fall out with Van Gaal, while Argentina international Romero appears unlikely to be entrusted as the club's first choice. In short, this is the biggest question mark on the squad.
Defenders: De Gea's situation also impacts the defense, given that United have been insistent that he won't leave unless center-back Sergio Ramos arrives from Real Madrid. That now appears unlikely to happen, meaning United have yet to upgrade a position that was a major weakness last season. On the plus side, Darmian offers the reliable, natural right-back lacked last season, while Blind and Shaw provide healthy competition on the opposite side.
Midfielders: After so many years of hard-to-fathom neglect, Manchester United have finally made positive steps to address their central midfield this summer. Schneiderlin has been one of the Premier League's best in his position for the past two seasons, while Schweinsteiger, although physically past his peak, should offer a calming, authoritative presence. With the veteran Carrick, the energetic Herrera and the unique talents of Fellaini United are now well stocked in the middle. Out wide there could be an upgrade, too. While the hugely talented Di Maria looks poised to depart, Barcelona's Pedro -- a far more natural fit in a Van Gaal team -- may replace him. Meanwhile, the 21-year-old Depay, top scorer in the Dutch Eredivisie last season, is capable of producing some moments of individual magic often absent last season. As alternatives, Young improved markedly last season and showed he can provide reliable service from the flanks and Mata is a silky creator, although perhaps not a natural fit for Van Gaal's system.
Forwards: Arguably the area where Manchester United's squad is most lacking in depth. While Rooney should revel in moving back to his favored position, there is little to encourage in the alternative options. Hernández, who could yet depart, is a fine finisher, but struggles to lead the line, while 19-year-old Wilson is still to show that he is ready to make an impact at the top level. A burgeoning star is probably needed to ease pressure off of Rooney.
Coaching: Van Gaal offered much of what the 20-time champions were so sorely lacking during the single-season disaster of David Moyes. The Dutch coach revels in the status of being in charge of one of the world's giant clubs, and, like the great Sir Alex Ferguson, will never let any player believe he is either bigger than the manger or the club. However, his first season was very much a mixed bag. For much of it United somehow achieved positive results despite showing an increasingly concerning lack of fluidity. To his credit, the former Ajax, Barcelona and Bayern Munich manager got the team to play its best when it mattered most to secure a place in a playoff for the Champions League. But, while last season was a rebuilding job after the post-Ferguson calamity, Van Gaal will now be under pressure to show that his squad is fully in tune with his philosophy and ready to return to the very elite.
Betting Odds (via OddsChecker): United are ranked as fourth favorites to claim the Premier League title, at 11/2, behind Chelsea, Manchester City and Arsenal.
Outlook: Manchester United have done some fine business in reshaping a squad that had been allowed to deteriorate in Ferguson's final years and subsequently under Moyes. Yet Van Gaal will surely have wanted to get further key players in before the start of the campaign, notably in defense and attack. He has also given the impression that he is less than pleased that the transfer saga involving his goalkeeper and the club's player of the year for the past two seasons has been allowed to drag on into the opening of the campaign, particularly given the poor start United made to last term.
Competition promises to be fierce among the top four this season, and, as things stand, those issues may just prevent United from pushing hard for the title at the death. But were they to suitably resolve their goalkeeping dilemma, get that top-level center-back, add another quality striking option and secure the signature of Pedro then United really could be a force to be reckoned with once again.
Prediction: Much of the season's hopes rest on Van Gaal's ability to ease the transition for the new players, as well as what reinforcements can be added before the transfer deadline. If Van Gaal can get the most out of his forwards, finishing atop the table is a reasonable possibility. At the moment, it seems as though Chelsea and Arsenal have a slight edge on United.
Predicted Finish: 3rd place (77 points)
© Copyright IBTimes 2023. All rights reserved.