Manchester United News: 4 Managers Who Could Take Over If David Moyes Is Sacked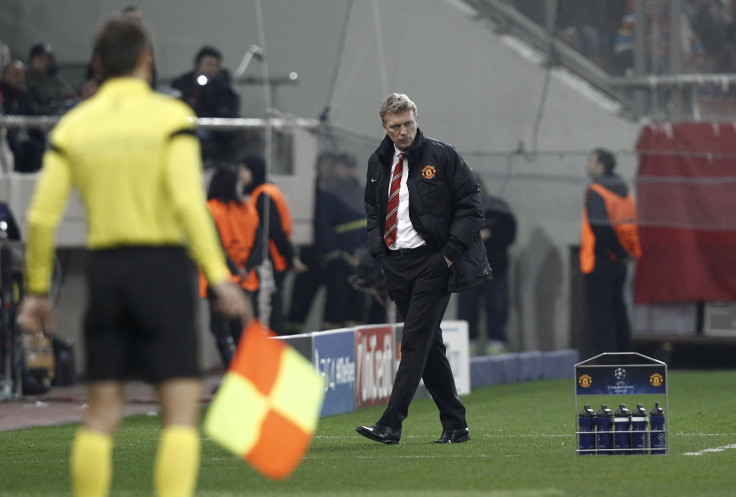 In a torrid first season as Manchester United manager, the one ray of light had been the Champions League. It also promised to be the competition that could bring him some salvation, both in terms of morale and keeping some semblance of hope alive to make it back into the competition next season.
That was all shattered on Tuesday evening after what must rank as one of United's worst ever performances in Europe. A 2-0 defeat to Olympiakos and the meek, shambolic nature of it was Moyes's latest nadir in the Old Trafford hot seat and brought rumors that it could prove to be the final straw for United's owners. The club has denied reports that the former Everton manager was set to be sacked on Wednesday morning, but the bookmakers are not taking any chances and have made him a clear favorite to be the next Premier League manager to bite the dust. Some have him as short as evens to be the next to go.
Given the faith that continues to be shown in Moyes by the club's hierarchy against all evidence on the pitch, it remains highly unlikely that there is any depth to which United could sink that would precipitate his departure this campaign, or indeed before the start of next season. Yet, the subject of Moyes's potential replacement is surely one now worth considering and could well be a topic now at least being broached in United's board room. Here are four men who could potentially get the job.
Jurgen Klopp
There is so much about the idea of Klopp as Manchester United manager that makes sense. At Borussia Dortmund, Klopp has built a side that attacks with the same devastating fast-paced transitions that were the hallmark of United at their best under Sir Alex Ferguson. While many have understandably focused on the results, it is the starkly uninspiring and directionless manner in which United have played under Moyes that has been at least equally concerning to the fans. Klopp would bring excitement in abundance, both on and off the pitch.
The German's personality, charismatic yet fiery and steely determined, means he is perfectly suited to the United hot seat. What's more is that he has developed his Dortmund team, which has succeeded both domestically and in the Champions League, largely organically. United wanted a man to continue Ferguson's legacy of trusting in young players and Klopp has done just that.
Klopp has continued to state that he intends to stay at Dortmund, but this summer could be the natural point for him to leave. With Robert Lewandowski departing and much speculation that Ilkay Gundogan and Marco Reus could follow suit, some serious rebuilding appears to be needed on the back of what has thus far been a disappointing season. With the ominous prospect of having to do all that and compete with Bayern Munich, the chance to manage Manchester United may prove too tempting for him to resist.
Louis van Gaal
Odds on the experienced Netherlands manager taking over at Manchester United have shortened of late. Van Gaal will leave his current post after the World Cup and has made no secret of his desire to work in the Premier League, with talks already believed to have taken place with Tottenham. Could United yet swoop in and take him to Old Trafford?
The 62-year-old's credentials are mightily impressive. He came to prominence when winning the Champions League with Ajax in 1995. After two La Liga titles with Barcelona, he led AZ Alkmaar to their first ever Dutch championship and then coached Bayern Munich to a Bundesliga crown as well as the Champions League final. His attractive philosophy, which has influenced the likes of Pep Guardiola, would also count in his favor. Notably, from his days at Ajax to his current role with the Netherlands, he has not been afraid to put his faith in youth.
Counting against Van Gaal, though, is a reputation for being a difficult personality. His frostiness as well as some of his unconventional methods have contributed to him being seen as a coach with a fairly short lifespan at any one club.
Sir Alex Ferguson
If Moyes were to go during this season, or even next, then it's hard not to think that a request would not be put to the club's greatest manager, who still sits in the stands, to take over on a temporary basis. While he has said that this decision to retire is for good, Ferguson is also a man with a sizable ego and who could relish one last challenge to turn around a sinking ship. Manchester United is also a club for which Ferguson has a deep affection and he would surely be tempted by the prospect of helping them out on a shirt-term basis.
Putting Ferguson back in charge would certainly do nothing to help the club go forward in the long term. But there can't be many people who think that United's chances of turning the tie around against Olympiakos in three weeks time and staying alive in the Champions League would not be enhanced with Ferguson in the dugout rather than watching on from the directors' box.
Ryan Giggs
If the club opts against going back to Ferguson, or if the 72-year-old chooses against returning, then a temporary solution could be found in another United legend. As his playing days finally near their end, Giggs has taken an increasingly active involvement in coaching. Currently a member of Moyes's backroom staff, Giggs has already attained his UEFA A and B Licenses and has been studying to get his Pro License.
So beloved is he by United fans that he would enjoy a large wave of support, while his standing in the game and at the club would also likely see him command immediate respect from players. Of course, it would be a huge job for Giggs to begin his management career and arguably not ideal for either party. Still, if he is handed the reins on a temporary basis then the risk would be minimal.
© Copyright IBTimes 2023. All rights reserved.