Manchester United Transfer News: 4 More Signings Set To Join Mata?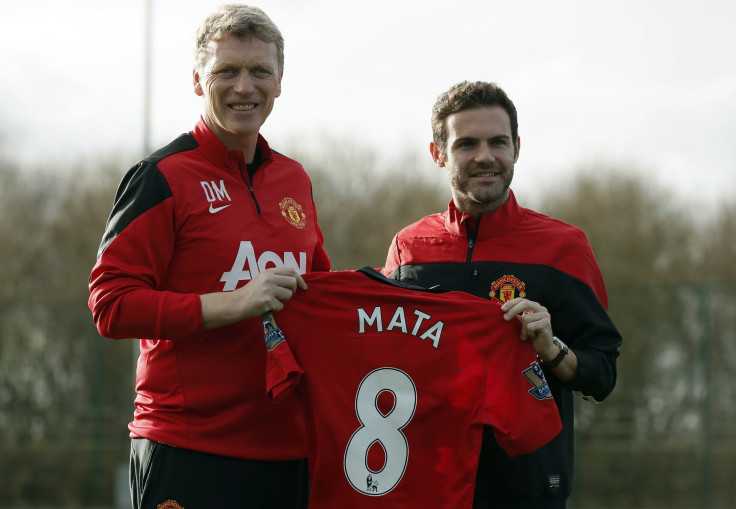 Juan Mata was publicly unveiled as a Manchester United player on Monday and speculation suggests that he will not be the last signing through the door before the transfer window closes on Friday. Speaking at the press conference to present the £37.1 million signing from Chelsea, Moyes explained that Mata's arrival was just the start of his plans to overhaul his squad, although he did cast a cautious tone about whether there would be more business done this month.
"I am not going to accept it," Moyes said the disappointing start to his reign, according to Manchester United's official website. "I am disappointed we are not in a much stronger position. I am disappointed with how we have played. I ultimately take the rap for that -- and I will do. But what I will do is make it right. I am going to get better players in. There will be more.
"Unfortunately, I don't think there will be more in January. But it will change. We will change and alter it around. I have said many times, I have given every player the opportunity to play and show what they can do. We have nearly done that now."
Given that Moyes was similarly pessimistic in public about any signings in January before the club-record deal for Mata, his comments certainly do not mean that there will be no further purchases. The Guardian is among the publications that believe that Manchester United are weighing up an offer for Newcastle United midfielder Yohan Cabaye. Moyes is known to be keen to further strengthen the center of his midfield and Cabaye, although not falling in the superstar category, would not have the problems of adopting to the Premier League in midseason and would doubtless be available for the right price.
That price will be in excess of £14 million, with Newcastle having rejected an offer for that amount from Paris Saint-Germain. It is believed it would take at least £20 million to secure the 28-year-old.
Having chased Leighton Baines during the summer, a left-back is also known to be among Moyes's targets. But, with Baines having just signed a new contract at Everton, United look to have turned their attentions elsewhere.
According to an ESPN source, the Premier League champions have already made a big-money offer to Southampton for their starlet Luke Shaw. Rated as one of the best prospects in England, the 18-year-old is also being tracked by the team he supports, Chelsea, and United appear to be attempting to steal a march on their rivals ahead of an anticipated bidding war in the summer.
Southampton, who were rocked by the recent exit of executive chairman Nicola Cortese, have insisted that none of their players will be sold against their will this month. Yet, ESPN believes the size of United's offer could lead them to reconsider.
With a larger degree of speculation, Metro has suggested that Moyes is sizing up deals to bring Bundesliga duo Marco Reus and Toni Kroos to Old Trafford in the summer. Interest in Bayern Munich midfielder Kroos has been mooted since Moyes was spotted in the stands watching the Germany international in action against Borussia Monchengladbach last Friday. The prospect of tempting away a key player from the Champions League winners looks a highly unlikely prospect, however.
The chance of a departure for Reus appears more realistic, with the attacking midfielder potentially disheartened by the continued big-name departures from Borussia Dortmund. Still, there will be plenty of competition for the 24-year-old's services.
© Copyright IBTimes 2023. All rights reserved.