Manchester United Vs. Liverpool: Luis Suarez Set For Return; Shinji Kagawa, Adnan Januzaj To Start? Probable Lineups And Early Preview For Wednesday's Capital One Cup Third Round Tie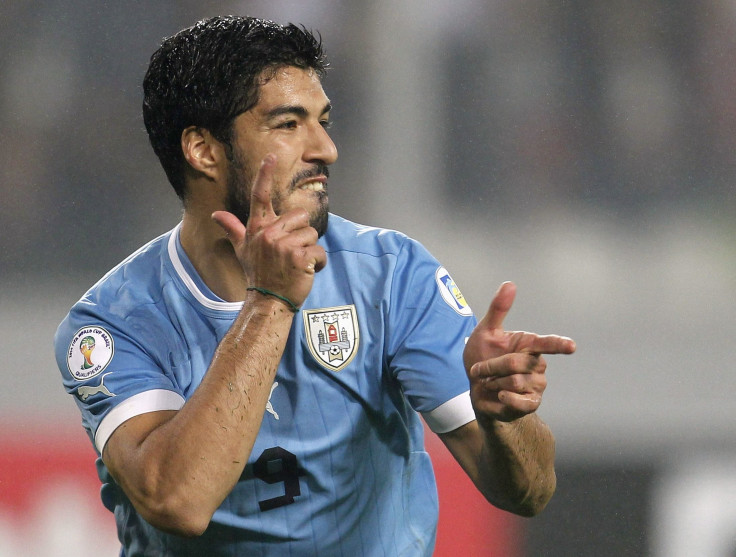 A third round tie in the Capital One Cup had not featured prominently on the calendars of either David Moyes or Brendan Rodgers not long ago. That, though, was before the draw paired England's two most successful clubs: Manchester United and Liverpool. Still, it is far more than the renewal of one of the country's greatest rivalries that means the match's importance transcends a competition that is often seen more of a hindrance than an opportunity for the top clubs.
Perhaps most notable of the added storylines is the return of Luis Suarez. The Uruguayan has not been seen in competitive action in a Liverpool shirt since wrapping his mouth around Branislav Ivanovic's tricep five months ago. But with a 10-match ban finally served, Suarez is now eligible to take the field and ironically is likely to do so against the club that he committed his other great transgression in England.
Ignoring the hostile reception he is sure to get from the Old Trafford crowd, Suarez's return comes at a most welcome time for Rodgers. A couple of weeks ago, the comeback of one of the world's best players was viewed with a degree of uncertainty in terms of how he would fit into a team that was performing well and leading the early Premier League table. But the loss of key creator Philippe Coutinho and a poor display in defeat to Southampton later and it is a very different story.
Still, with Daniel Sturridge having scored in each of his first four league games, the question of how to get the best out of both the former Chelsea man and Suarez remains. Sturridge is clearly of the mind that he wants to play as the main striker and there is little doubt that it's in that position where he gives most to a team.
Suarez is also at his best when the main man. His unique qualities mean that he can adapt to any forward position, but he also lacks the tactical discipline to fit into a rigid system, regardless of the question of why you would want to limit a player of his ability. Uruguay have struggled with a similar conundrum and when played wide, Suarez's influence has been minimal. After Sturridge arrived in January, Suarez was deployed in a slightly withdrawn role and, especially with Coutinho out, that is likely to be his position for the time being.
Unfortunately for Manchester United they cannot welcome back a player of Suarez's quality to fix their issues. A 4-1 trouncing at the home of their local rivals Manchester City, coupled with a 1-0 defeat to Wednesday's opponents and a goalless draw with Chelsea earlier in the season, mean that Moyes badly needs to get a win against Liverpool -- in a meaningless competition or not.
Sunday's abject display exposed several problems: Rio Ferdinand has had a poor start to the season, Chris Smalling is not comfortable as a right-back, the central midfield is at best a work in progress following Marouane Fellaini's arrival and out wide Ashley Young and Antonio Valencia are playing well below the level that should be expected in a side with aspirations as lofty as Manchester United.
Many of the troubles lie in the failure to add to a squad that has had its notable cracks papered over in recent seasons by the superb management of Sir Alex Ferguson. However, the lack of creativity the side has shown thus far under Moyes make his treatment of Shinji Kagawa all the more bizarre.
United did not see the best of the Japan international last season, but he showed enough, and certainly did so in his time at Borussia Dortmund, to show that it is a virtual crime against the game to have Ashley Young starting ahead of him. Indeed, in his only start this season, against Bayer Leverkusen, Kagawa was a not-insignificant part in what was United's best performance under Moyes.
Moyes has clearly put his faith in Wayne Rooney to play in Kagawa's best position behind Robin van Persie, which is a not an unreasonable decision. His selection of Young, though, surely due to the winger's stricter adherence to a rigid four-main midfield, reflects Moyes's conservative tendencies. It is that mindset that meant there were some fans of his previous club, Everton, that were not overly sad to see him go.
He may still be adapting to life at Old Trafford, but those reactive tactics will go down even less well with his new club's supporters. Moyes could make a statement to get back on the front foot by handing Kagawa a starting berth against Liverpool.
The League Cup has been traditionally used by United, and other big clubs, in recent years as a testing ground for the club's up-and-coming players. There is not bigger young talent at United currently than Adnan Januzaj. Although to a lesser extent than the more established Kagawa, the 18-year-old Belgian has also been called for by United fans to provide an inventive spark that has been sorely lacking.
It would be folly to suggest that Januzaj is ready for a regular starting role in the United side, but he showed in a cameo against Crystal Palace recently that it's not only his development that would benefit from being given more game time this season. A Capital One Cup tie would be an ideal place for Januzaj to continue his education and help his team overcome the weekend's tribulations.
Here, though, is a look at the probable lineups for Wednesday's match:
Manchester United
G: De Gea
D: Smalling, Evans, Vidic, Evra
M: Cleverley, Fellaini
Nani, Rooney, Kagawa
F: Welbeck
Liverpool
G: Mignolet
D: Wisdom, Toure, Skrtel, Sakho
M: Lucas, Gerrard
Henderson, Suarez, Moses
F: Sturridge
© Copyright IBTimes 2023. All rights reserved.