Manchester United Vs. Tottenham: Prediction And Preview For Sunday's Key Premier League Clash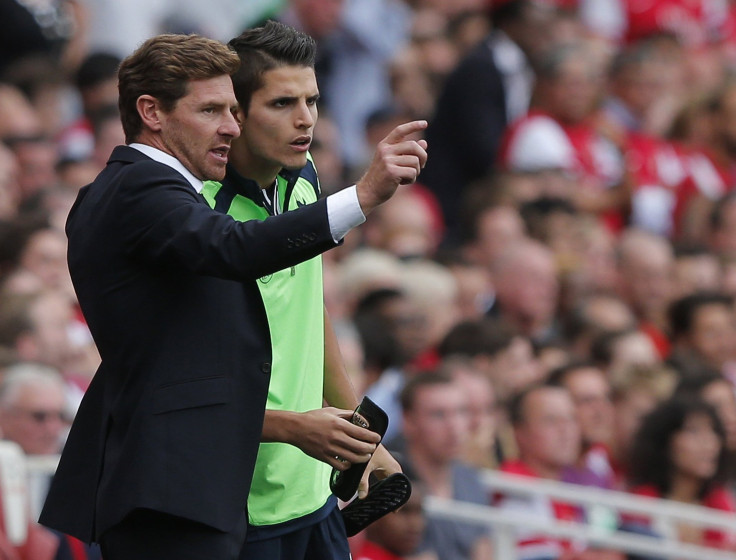 Just a single point separates Manchester United and Tottenham Hotspur in the Premier League table, but the clubs' managers could hardly be coming into their crunch fixture on Sunday being subjected to more contrasting headlines.
The always sharpened knives have been out in force for Andre Villas-Boas from the British press, which has largely been eagerly awaiting an opportunity to knock the analytical Portuguese since he replaced a man never short of a tabloid-friendly quote, Harry Redknapp. Of course, that's not to say that there isn't a place for a reasoned criticism of Villas-Boas.
He has an extremely talented squad at his disposal and yet only the league's bottom two clubs, Sunderland and Crystal Palace, have scored fewer goals than Spurs' nine, after 12 games. What's more, Tottenham's previously impressive defensive record was shattered last Sunday when Manchester City inflicted upon them a humiliating 6-0 defeat.
It highlighted the problem of Villas-Boas's high defensive line being deployed with the pedestrian Michael Dawson at the heart of it, while the failure to sign a left-back in the summer leaves their best center-back, Jan Vertonghen, playing in place of the injured Danny Rose. What was also worrying was how brittle Spurs were in allowing the game to drift away from them. Rumors of dressing-room unrest are certainly a concern given how Villas-Boas's tenure at Chelsea came to an abrupt end.
However, it is also far too premature for him to have his job under serious threat. It is the same man, after all, that led Tottenham to their highest ever point total in the Premier League last season. Meanwhile, Villas-Boas did not, as has been commonly ascribed to him, spend over £100 million in the summer. The majority of that outlay was, of course, recouped by the sale of Gareth Bale. Tottenham's "splurge" hardly compares to those made by Chelsea and Manchester City when they came into cash or even Liverpool's unwise outlay under Damien Comolli and Kenny Dalglish. It is also interesting how Director of Football Franco Baldini was lauded for Tottenham's signings in the summer, but now that things aren't going as smoothly as expected, they are now attributed to Villas-Boas.
Not only was it always going to take time for so many new players to adapt, but the majority of them are young and still developing, as well as experiencing life in the Premier League for the first time. There are undoubted problems, but some restraint is needed.
And it might be wise for the same advice to be heeded in the case of David Moyes. The Scot comes into the clash at White Hart Lane on the back of Manchester United's finest display under his leadership with a 5-0 mauling of Bayer Leverkusen in Germany in midweek.
And, while that is perhaps not saying much given the uninspiring fair that has been served up since Moyes took the reins, it was certainly a fine performance. Wayne Rooney was again superb and his revitalization this season has been Moyes's biggest success. Shinji Kagawa was also outstanding, although that inevitably raises the question of why that match was the first time he had been used in his preferred central role this term.
At the heart of the action, Ryan Giggs was the creative hub in a display where he once again defied the ageing process. Yet, that a now 40-year-old put in a performance that was comfortably superior to any of those supplied by any other United midfielder this season raises more questions about the squad's weakness in that crucial area of the pitch.
The efforts of the opposition must also be taken into account. Bayer Leverkusen were woefully meek in preventing their own downfall. They were there for the taking. It is no coincidence that United's previous best showing of the campaign came in the first match against Leverkusen in September. United's display was more complete on Wednesday than then, but that first encounter hardly heralded a dramatic turnaround in their performances. Indeed, they were thumped just five days later in the Manchester derby.
Manchester United still have a squad weaker than their achievements in the last few years under Sir Alex Ferguson suggests and his replacement is still adapting to the responsibilities of leading one of the world's biggest clubs, who are expected to take the initiative in almost every match.
It would be no surprise were the current narratives surrounding both managers in need of being dramatically rewritten after Sunday's encounter. And, if they are, a bit of perspective might be wise.
Prediction: Tottenham 1-1 Manchester United
© Copyright IBTimes 2023. All rights reserved.