Mardi Gras 2022: Traditions, History And How Christians Celebrate Fat Tuesday
Mardi Gras or Fat Tuesday is a historic cultural celebration that dates way back to the end of the 17th century. It's a day that's marked with revelry and a time to indulge in your favorite food and treats, more so this time because the parades are back in full swing after being halted due to the pandemic.
The date for Mardi Gras keeps changing. This year, it falls on March 1. Fat Tuesday started as a Catholic tradition of revelry before the beginning of Lent, which is a 40-day-long fast when Christians give up some of the things they most enjoy.
The carnival season begins on the Christian holiday of Epiphany, during which parades take place in Catholic strongholds like Brazil, Venice, Uruguay, Trinidad and Tobago, and New Orleans. However, the parades were not held these last two years due to the threat of COVID-19.
People can also celebrate this day with Mardi Gras house floats, king cakes and special Mardi Gras cocktails in bars and restaurants.
Below are some facts about Mardi Gras.
"Mardi Gras" is French for Fat Tuesday, which is also known as Shrove Tuesday.
The first Mardi Gras ever was held in 1703.
People celebrate this day by drinking and binging on all the rich, fatty foods made with meat, eggs, milk, lard and cheese.
Purple, green and gold are the Mardi Gras colors selected by Rex, the King of Carnival. Purple stands for justice, green for faith, and gold for power.
Mardi Gras was officially recognized in the U.S. after Frenchman Nicholas Langlois brought the celebration in 1703 in Mobile, Alabama.
New Orleans is the most popular place to mark the day in the U.S. with over a million people pouring in to witness the parades and enjoy the food and drinks.
In Pennsylvania Dutch Country, Mardi Gras is known as Fastnacht. The Dutch call it Vastenavond while Denmark and Norway refer to it as Fastelavn.
While it began as a Catholic holiday, Mardi Gras today is mostly celebrated by Christian denominations, including Methodists, Roman Catholics, Presbyterians, Anglicans, Lutherans and Episcopalians.
Fat Tuesday traditions include burning palm fronds from the previous year's Palm Sunday to use as ashes on Ash Wednesday.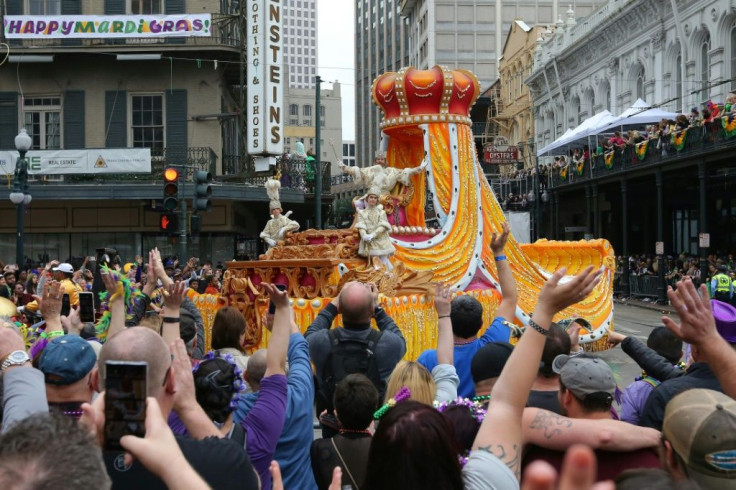 © Copyright IBTimes 2023. All rights reserved.