Mardi Gras Cocktails: 7 Drink Recipes To Celebrate Fat Tuesday At Home
Traveling to New Orleans for Mardi Gras isn't ideal this year since all the in-person parades and celebrations have been canceled due to the pandemic. But revelers can still experience a small taste of the holiday at home.
The week-long Mardi Gras celebration ends Feb. 16, also known as Fat Tuesday. It's the final day for indulging in food and drinks before those who observe Lent begin to fast for Ash Wednesday.
To get ready for the holiday, here are seven cocktails that you might be found in the famed bars on Bourbon Street that are easy to make and delicious to drink.
1. Hurricane
2 oz light rum
3 oz dark rum
6 oz passion fruit juice
6 oz orange juice
2 tbsp grenadine
Ice
2 orange slices
2 maraschino cherries
Instructions
Combine all liquid ingredients and pour over ice. Garnish the rim with orange slices and top with cherries.
2. Té Recuerdo Mezcal
1.5 oz Recuerdo Mezcal Joven
3 oz black tea
1 oz peach juice/nectar
.5 oz lime juice
.5 oz simple syrup
Instructions
Add all ingredients, except for the soda, into a shaker with ice. Once it's shaken, pour into a cup over more ice. Top with a splash of club soda, a peach slice and a lime.
3. King Cake Shots
1.5 oz cake vodka
1.5 oz Irish cream (or RumChata)
1.5 oz cinnamon schnapps
Garnish: gold, green, and purple sugar (for rimming), whipped cream, ground nutmeg
Instructions
Take a shot glass, dip the rim in liquor and dip in the colored sugar for a decorative rim. Add all liquid ingredients to a cocktail shaker, shake and pour into the shot glasses. Top the shot with whipped cream and a dash of ground nutmeg.
4. Tod & Vixen's Six Seeds
1 oz Tod & Vixen's Dry Gin 1651
.75 oz Grapefruit Juice
.5 oz Lemon Juice
.5 oz Grenadine
2 dashes Peychaud's bitters
Instructions
Add all ingredients and two orange peels to a shaker and strain into a glass. Top it off with sparkling wine.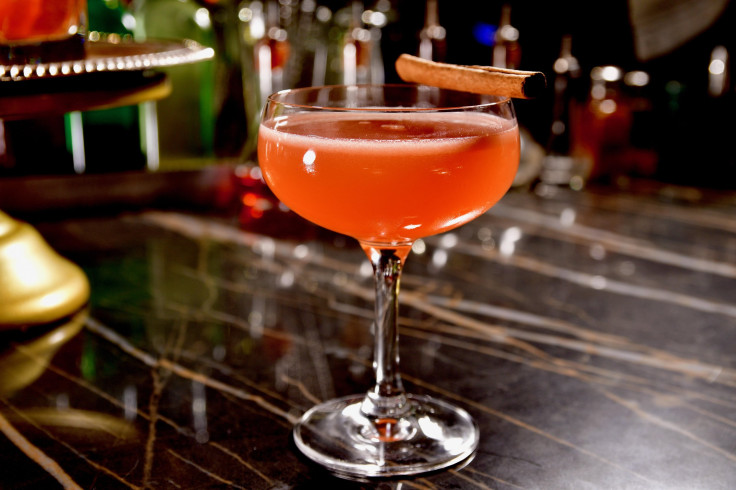 5. The Mardi Totem Pole
1.5 oz kiwi puree
.25 oz lime juice
.25 simple syrup
1.5 oz Absolut Mandarin
1 oz passionfruit puree
Peychaud bitters
Instructions
Mix the kiwi puree, lime juice, simple syrup and one ice cube together in one shaker and shake, and then add the mandarin vodka, passion fruit puree and one ice cube in a separate shaker and shake. For the finished product, pour the kiwi mixture into a glass first, followed by ice and finished off with the passionfruit puree mixture. Top it with the bitters and a fresh kiwi slice.
6. Strawberry Daiquiri
4 oz. light rum
1/2 cup fresh strawberries
1/2 cup frozen strawberries
Juice of 1 lime
Garnish: lime slices
Instructions
Pour the rum, strawberries and lime juice into a blender/mixer, and blend until smooth. Top it off with a fresh strawberry or lime slice.
7. Red Berry Rosemary Ultra Tonic
1.5 oz Tequila Herradura Ultra
Tonic Water
Red Berry Tea
Grapefruit
Rosemary
Instructions
In a big wine glass, add the tequila and add a red berry tea bag and allow it to infuse. After three minutes, this recipe from Ultra Tonic explains to remove the bag and add ice and tonic water to the infused tequila and garnish with grapefruit and rosemary.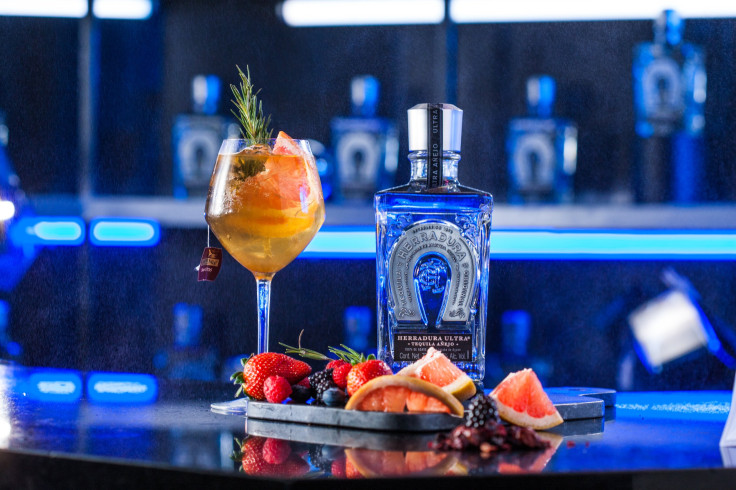 © Copyright IBTimes 2022. All rights reserved.
FOLLOW MORE IBT NEWS ON THE BELOW CHANNELS