Marianne Williamson Criticizes DNC For Not Holding Debates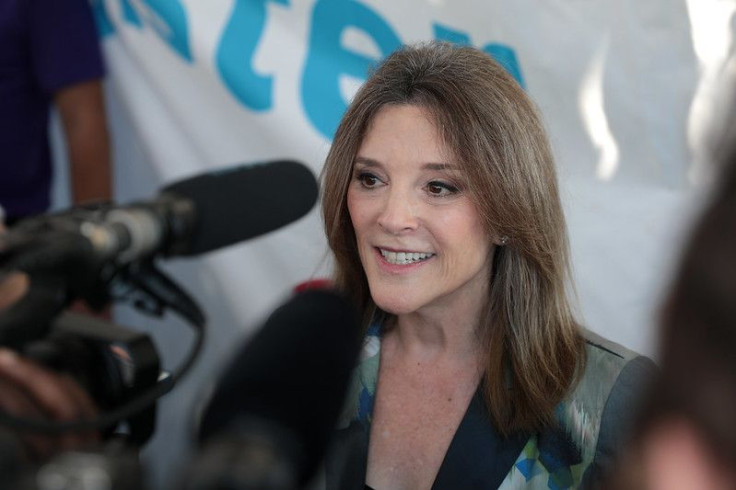 KEY POINTS
Long-shot candidate accuses Democratic National Committee of disregarding voters
Williamson says the DNC is openly supporting President Joe Biden
Robert F. Kennedy Jr. is also mounting a challenge to the incumbent on the Democratic ticket
Long shot presidential hopeful Marianne Williamson accused the Democratic National Committee of flouting "democratic principle" by openly supporting President Joe Biden in the 2024 race.
The self-help author sounded off on a Washington Post report from April indicating the Democratic Party will "support Biden's re-election" and "has no plans to sponsor primary debates" despite polls showing that most Americans didn't want the 80-year-old incumbent to be in for another term in the oval office.
On Monday, Williamson told Fox News, "I don't think it's good for democracy."
"I do think they should recognize that people are watching, and people don't like this," she said of the DNC. "It's kind of outrageous how overt they are about absolutely admitting that they are doing what they can in the primary season to support the president."
According to the latest RealClearPoltics average of polls, Williamson is receiving about 5.7% support from voters, compared to Biden's 64%. Robert F. Kennedy Jr., nephew of former President John F. Kennedy, is pulling in an average 14.4% support from voters in his long shot bid to gain the Democratic nomination.
Hank Sheinkopf, of Sheinkopf Communications, said in an interview with the International Business Times that "the DNC knows the organ of the party is the incumbent."
Sheinkopf, a longtime political consultant with former clients including former President Bill Clinton and former Mayor of New York City Michael Bloomberg, said the party knows Biden's approval numbers are not great.
"They also know (Vice President) Kamala Harris' are as well, therefore the DNC is in a tough spot as far as choice selection," Sheinkopf said.
The DNC is using a new primary calendar for the 2024 race. It may not be able to comply with voting dates in the traditional early presidential nominating states of Iowa and New Hampshire.
That might be the elixir for Williamson's success for 2024. According to various reports, the Biden campaign is indicating the president won't be listed in Iowa and New Hampshire if they vote before South Carolina. The DNC voted to move South Carolina ahead of Iowa for the first state in Democratic primary process.
"There's something bigger at stake here than what the DNC wants and that's the democratic process itself," Williamson said.
Williamson's 2024 presidential campaign platform calls for a federal minimum wage increase, reparations for racial injustice, addressing climate change and creating a U.S. Department of Peace.
Despite her status as a fringe candidate, Williamson was one of the most Googled democratic candidates of the 2020 race.
© Copyright IBTimes 2023. All rights reserved.