Marijuana Ice Cream Is A Thing: Cannabis Creamery In Sausalito Serving Up THC-Laced Sweets
Ben & Jerry's Homemade said it was considering making pot-flavored ice cream "where it was legal," but it's been beaten to the punch. Isaac Lappert, a third-generation ice cream purveyor and graduate of the Culinary Institute, has started Cannabis Creamery in (rich) hippie and hot-tub central: Sausalito, California.
Cannabis Creamery's mission, as described on its Facebook page: "To give you first and foremost a high quality tasting ice cream with a kick to it ;)." (Pun no doubt intended.)
The legal, nonprofit collective has been supplying cannabis ice cream to medical marijuana dispensaries for about a year-and-a-half, "with a healthy dose of pot inside" -- or around 60 milligrams per pre-packaged 4-ounce cup -- and it promises even stronger doses in the future. Lappert told International Business Times that in the summer, he sells an average of 4,000 to 5,000 cups of THC-laced ice cream a week. (THC, or tetrahydrocannabinol, is the psychoactive compound that gives marijuana users a high.)
And he emphasizes that it cannot be bought at Lappert's Ice Cream shop in Sausalito.
Because Lappert knows both his weed and his flavors, he balances the strong taste of cannabis with flavors that can hold up to it, like mint chip, coffee and citrus, he told IBTimes. And because it's from California, EdiblesList makes sure to note that the ice cream is also organic, contains no genetically modified organisms (GMOs) and comes in vegan flavors, including passion fruit sorbet.
Who is buying weed ice cream? Lappert told IBTimes that around 90 percent of his customers are recreational users -- and around 10 percent eat the stuff for medicinal purposes.
"I know someone who has an eating disorder, and it helps her with her appetite," Lappert said. "And my aunt is recovering from chemo, and the ice cream hits fast, and goes down easy." He adds, "For someone inexperienced with pot, 60 milligrams is a lot. Edibles affect different people in a different way. Because THC binds to fat cells, it can affect people differently depending on what they weigh, in the same way alcohol does."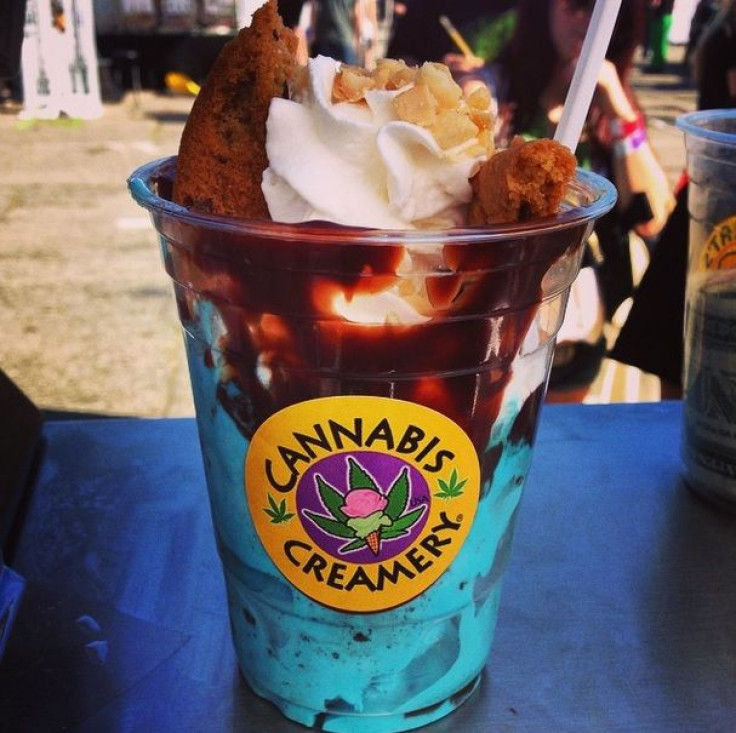 Vice's Abdullah Saeed recently visited Lappert to see how he creates the weed-infused ice cream. First, Lappert takes about 2 ounces of marijuana and adds it to grapeseed oil. THC is extracted from the marijuana and infused into the oil. After 4 to 8 hours, Lappert adds three teaspoons of THC-extracted grapeseed oil to an ice cream base, the more traditional Lappert family ice cream flavor: chocolate mint chip.
"Ice cream will hit faster than something that takes your body a while to digest," Lappert told Saeed. "When it comes to marijuana, you can always eat more, but there's no turning back once you have."
Lappert told IBTimes that although he's become aware of around nine other THC-infused ice cream makers since he started creating THC ice cream, he thinks its production should be regulated.
"Food-borne illnesses like listeria come up in dairy products," Lappert said. "If you're leaving it up to an inexperienced stoner to make THC ice cream, that's good way to kill someone."
© Copyright IBTimes 2023. All rights reserved.