Marissa Mayer Net Worth: Yahoo! CEO To Get $23 Million In Verizon Deal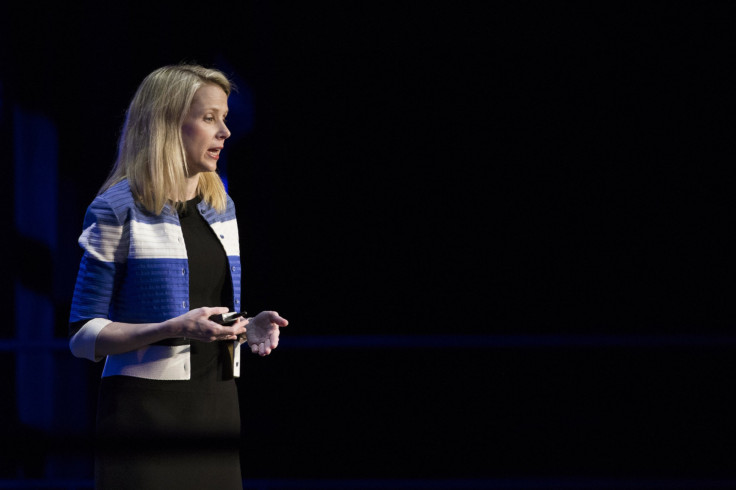 Yahoo! CEO Marissa Mayer will qualify for a severance package worth around $23 million if she is fired without cause or steps down for "good reason" from the search company, Yahoo! confirmed in a filing Monday.
Mayer is one of four Yahoo! executives who will receive large severance packages from the company. Other executives receiving similar golden parachute packages include chief financial officer Ken Goldman ($9.5 million), co-founder David Filo ($66,415), and chief revenue officer Lisa Utzschneider ($16.5 million).
According to the filing, Mayer and other key executives will receive the package if they are terminated without cause or "terminated by the executive for good reason" within a year of Yahoo!'s sale to Verizon closing.
If Mayer qualified for the package, it would add considerably to Mayer's net worth since she joined Yahoo! as CEO. Mayer earned around $36 million in 2015 and, as CNN notes, the package would come alongside an estimated $150 million Mayer has earned since she was hired in 2012.
Read: Yahoo Inc. To Sell Core Business To Verizon Communications Inc. For $4.8 Billion
The specific conditions for the golden parachute package reflect the shaky ground Mayer and Yahoo! currently find themselves on. For Yahoo!, the search company is starting to stabilize following its sale to Verizon last year. After revelations about two massive breaches involving Yahoo! user data emerged, the sale was in potential jeopardy, but the two companies agreed to continue with the acquisition on a $250 million discount. As part of the sale, Verizon only plans on taking on core assets from Yahoo! to bolster its own online advertising offerings.
Read: What is Yahoo's New Name? New Chairman, Internet Company To Change After Verizon Deal Completed
Verizon's piecemeal approach to the merger plays a major role in Mayer's murky longterm future with Yahoo!. The search company previously confirmed that Mayer would step down from Yahoo!'s board of directors following the closing of the Verizon sale and Altaba — the holding company for Yahoo's remaining assets — would take on another CEO.
Variety notes that Mayer is expected to work on at least an interim basis with Verizon after the sale closure. Previously, Mayer has also expressed public support for the sale. In a blog post after the sale was announced, Mayer said that she considered it important "to see Yahoo into its next chapter." But as of yet, Yahoo! hasn't confirmed what role Mayer would play in Yahoo! once it's fully acquired by Verizon.
© Copyright IBTimes 2023. All rights reserved.