Marjorie Taylor Greene Downplays Freedom Caucus Issue, Says 'Has No Time For Drama Club'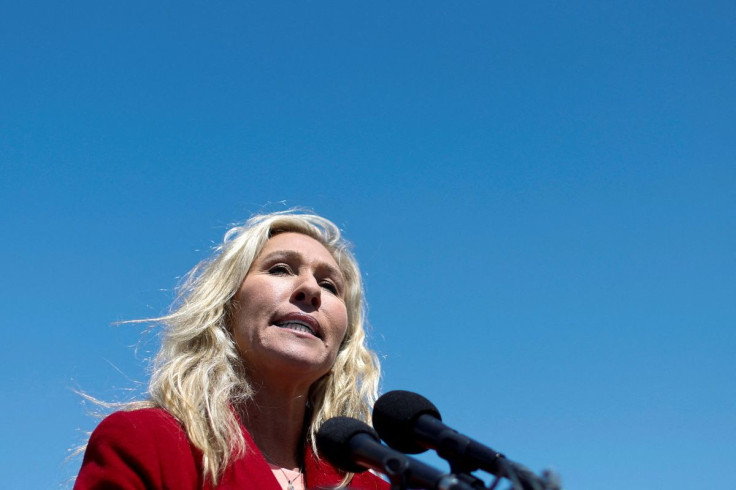 KEY POINTS
The House Freedom Caucus reportedly voted to remove Greene last month
Greene says she hasn't been informed about her status with the group
The conservative group hasn't issued any official statement on Greene's membership
Rep. Marjorie Taylor Greene, R-Ga., is unfazed by reports that she's been kicked out of the House Freedom Caucus, saying she hasn't been informed about her status with the conservative group.
"I'm not really concerned about it," Greene told reporters Tuesday, adding she doesn't have time "for the drama club," the Hill reported. "Congratulations, y'all did a great job. And I guess the Freedom Caucus does a good job of talking to you more than your members."
Politico earlier reported that the caucus, considered to be the most conservative in the House Republican Conference, voted late last month on whether Greene should stay or not as she was at odds with some members and her close alliance with House Speaker Kevin McCarthy of California drew internal criticism.
Last Thursday, Rep. Andy Harris of Maryland confirmed that the group did take a vote to remove Greene, citing "some of the things she's done." Harris added that Greene is no longer allowed to attend weekly meetings, CNN reported.
If the reports are true, Greene's ousting marks the first time a member has been removed from the eight-year-old caucus.
Rep. Ken Buck of Colorado told CNN's Dana Bash on Tuesday that reports about the group's vote to remove Greene were "accurate." Though he wasn't able to vote, Buck said caucus chair Scott Perry of Pennsylvania had been trying to inform Greene about the matter.
"The chairman has been trying to call her to let her know, but there haven't been any returned phone calls," Buck said. When asked how he would've voted if he was present at the meeting, Buck said he doesn't want Greene in the Freedom Caucus but he "wouldn't vote to kick her out."
Greene has been at odds with some Freedom Caucus members, including Rep. Lauren Boebert of Colorado, who, like Greene, introduced a resolution to impeach President Joe Biden. The two representatives allegedly got involved in an explicit-laden exchange in June over the competing resolutions.
During the altercation, Greene allegedly cursed Boebert and accused her of "copying" her impeachment articles.
Aside from her issues with Boebert, there has also been concern about Greene potentially revealing floor tactics to McCarthy, an unnamed GOP lawmaker told CNN earlier this week. "People don't feel comfortable talking in Freedom Caucus meetings because of Marjorie and others, so the group has sort of broken up," the lawmaker said.
A source familiar with the matter also told CNN that Rep. Jim Jordan of Ohio, who has forged close ties with McCarthy, opposed the idea of booting Greene from the group.
Meanwhile, Speaker McCarthy has come to Greene's defense, telling Axios he believes the Georgia representative was "one of the most conservative members and one of the strongest legislators" in the Republican Party. "I support Marjorie Greene very strongly," he said.
He told reporters later Tuesday that he believes kicking Greene out would be "a loss for the Freedom Caucus."
Other caucus members, like Boebert, Rep. Chip Roy of Texas and Perry himself, have declined to talk about Greene's supposed removal from the caucus, NBC News reported.
Rep. Ralph Norman has said Greene decided to leave the group.
"She left the Freedom Caucus. Her views were not the same, which is fine. She's a good friend. We just disagree," the congressman from South Carolina said.
© Copyright IBTimes 2023. All rights reserved.