House GOP 'Gone Rogue' As McCarthy Leads Opposition Against Boebert's POTUS Impeachment Push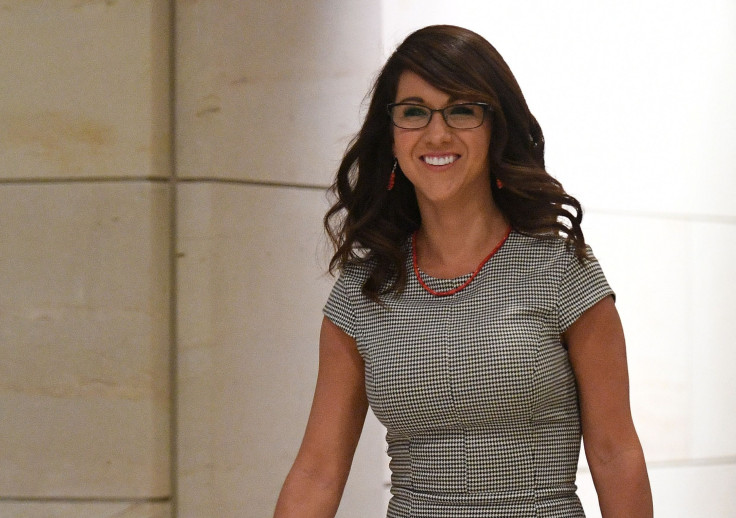 KEY POINTS
Boebert reportedly skipped a Wednesday closed-door meeting where McCarthy opposed her plan
McCarthy believes the impeachment bid is premature, especially with ongoing probes into Biden
At least five other House GOP members have publicly rejected a quick impeachment vote
The bid of Rep. Lauren Boebert, R-Colo., to impeach President Joe Biden has triggered infighting among Republicans as some GOP leaders have reportedly "gone rogue."
Some Republican representatives are pushing back on Boebert's efforts to force House members to vote on a Biden impeachment, including House Speaker Kevin McCarthy, R-Calif, Axios reported.
McCarthy argued against Boebert's resolution that seeks to impeach the Democratic president during a closed-door conference meeting Wednesday, sources who attended the meeting told the outlet.
"I think they've kind of gone rogue," Rep. Ken Calvert, R-Calif., said of the internal arguments among GOP House members. Calvert is an ally of McCarthy, as per Axios.
Boebert wasn't present at the Wednesday meeting even though McCarthy invited her to speak, multiple sources revealed.
McCarthy reportedly argued during the meeting that investigations into the Biden administration, which have been launched by the Oversight Committee and Judiciary Committee, need to play out first and resolutions like the one Boebert pushed have to undergo normal committee processes before voting takes place.
Boebert introduced articles of impeachment against Biden over the president's alleged "negligence of duty" in handling the U.S.-Mexico border crisis.
The Colorado representative noted that her articles of impeachment require the House to hold a floor vote within two legislative days since she introduced the articles through a "privileged" resolution, but McCarthy believes that a quick vote would not work in favor of the party.
McCarthy told reporters Wednesday afternoon that pursuing an impeachment vote "prematurely" would undercut the Republican party's efforts to investigate the president. "It's very serious. That's why I don't want to do anything that harms the investigation we're going through right now," McCarthy said.
McCarthy is not the only Republican who believes the committee system should be honored. Rep. Tim Burchett, R-Tenn., said efforts to force a House floor vote swiftly "frustrates me," according to Axios.
Rep. French Hill, R-Ark., told the outlet he does not intend to vote on Boebert's resolution. Rep. John Duarte, R-Calif., said Boebert's "motion is not going to pass," adding that it would meet "quite a bit of opposition from both parties."
Rep. Carlos Gimenez, R-Fla., agrees that the resolution is "premature," signaling that he has not decided whether or not to vote. "I may vote to impeach the president, but we need to go through a process," the outlet quoted him as saying.
Rep. Garret Graves, R-La., argued that impeaching a government official is "not something you should flippantly exercise in two days," Axios reported.
"Impeachment shouldn't be something that is frivolous and treated in that way," Rep. Don Bacon, R-Neb, said, according to CNN.
McCarthy also lamented how Boebert "never told members" and "never talked to me" about her bid to unseat Biden. "Before you put something forward, shouldn't you first talk to the conference about it?" he said, as per CBS News.
Boebert isn't the only House GOP member who has pushed for a Biden impeachment as Rep. Marjorie Taylor Greene, R-Ga., introduced articles of impeachment against the president last month. Greene said she gave the GOP a heads-up about her plans to convert her articles into privileged resolutions.
In Greene's articles of impeachment, she accused the president of "deliberately" compromising U.S. national security by allowing millions of "illegals" into the country and "refusing to enforce immigration laws" to secure the border.
Greene previously introduced a Biden impeachment resolution in 2021, a day after Biden took oath as the new president, calling the former vice president "unfit" to lead the country.
However, the two lawmakers pushing to get Biden impeached reportedly had an explicit-laden exchange Wednesday over their competing resolutions to unseat Biden.
Two sources that saw the exchange and a third source familiar with the matter said Boebert first approached Greene to confront her about "statements" Greene made about her publicly. Greene then reportedly cursed at Boebert and accused Boebert of "copying" her impeachment articles.
Meanwhile, political observers commented that a quick resolution to impeach the president would likely fail as House Democrats would only need a few Republicans to oppose the impeachment.
© Copyright IBTimes 2023. All rights reserved.