GOP Will 'Shatter' If Trump Is Nominated, Cheney Warns As Indictment Amplifies Division Within Party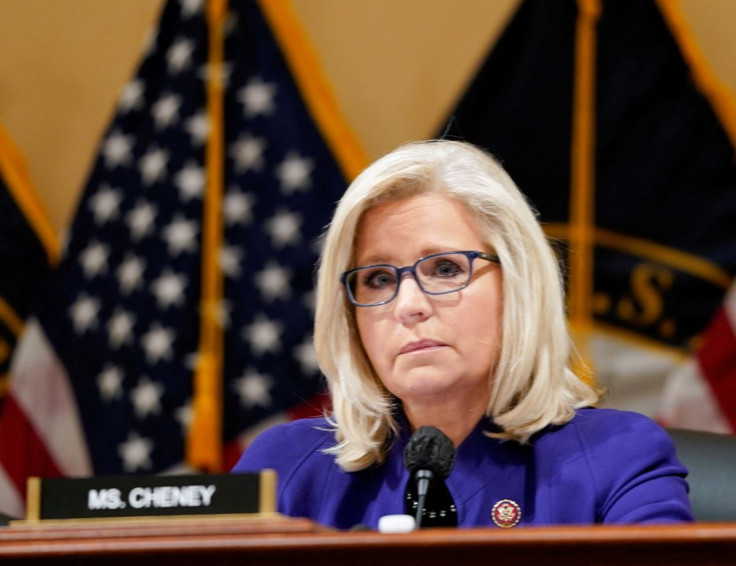 KEY POINTS
Cheney says a 'whole new politics' will emerge from a crumbled GOP
The stout Trump critic also said the problem is 'we're electing idiots'
A growing number of GOP leaders are calling out Trump for alleged mishandling of classified documents
Former Wyoming congresswoman Liz Cheney has said the Republican Party will collapse if Donald Trump is nominated in 2024, further exposing the division within the GOP over the ex-president's candidacy.
"We're at a moment in our country where there is a tectonic shift going on in our politics. And, I think in particular if the Republican Party – I'm not sure if it is salvageable now – if the Republican Party nominates Donald Trump it will shatter and we will have a whole new politics, as we should," Cheney said during an interview with Duke University's chair of the board of trustees David Rubenstein on Monday. "What we've done in our politics is create a situation where we're electing idiots."
The former congresswoman reiterated that she will not do "anything that could help Donald Trump," establishing her stance on not getting the business mogul reelected.
"I really believe, and I've never believed something as strongly as I know this, that the single most important thing for the country is that Donald Trump can't be anywhere near the Oval Office again," she said.
Cheney also pointed out that due to "the situation that we're in" where a major frontrunner is "trying to unravel our democracy," politicians should think of "what kinds of alliances are necessary to defeat him, and those are the alliances we've got to build across the party lines."
Cheney released an ad last month attacking the former president.
"Donald Trump has proven he is unfit for office. He is a risk America can never take again," she said in the video.
She also claimed late last month that her "fellow Republicans wanted me to lie" about the 2020 election and the Capitol riot that led to five deaths.
The Republican Party is going through tough times as a growing number of GOP leaders appear to be unsure if Trump is still the right frontrunner for 2024.
The GOP divide is amplified further by the latest indictment of Trump for illegally hoarding classified documents after leaving office.
On Tuesday, House Speaker Kevin McCarthy, R-Calif., told CNBC's "Squawk Box" he wasn't sure if Trump was the "strongest" GOP candidate to challenge President Joe Biden in 2024. "Anybody can beat Biden," he added, seemingly alluding to the crowded GOP cluster for 2024.
McCarthy's latest stand is a stark contrast to his 2016 comments when he said he wants to see a "unified" party. "A House divided cannot stand," he claimed after calling on other House Republicans to support the then-presumptive presidential nominee Trump.
In recent weeks, several former Trump loyalists jumped the boat to support the candidacy of Florida Gov. Ron DeSantis, including ex-Trump administration official Ken Cuccinelli and former senior campaign adviser Steve Cortes.
Several Republicans have also acknowledged the severity of the classified documents indictment.
Ex-CIA chief Mike Pompeo said Trump "shouldn't have had them [documents]," while former Arkansas Gov. Asa Hutchinson noted the case was "serious," and that the GOP shouldn't dismiss it.
Rep. Ken Buck, R-Colo., made it clear he "certainly won't support" Trump if he is convicted of his alleged crimes in the classified documents case.
Sen. Mitt Romney of Utah and Sen. Lisa Murkowski of Alaska also acknowledged the severity of "mishandling" classified documents. Both senators voted to convict Trump in an impeachment trial initiated after the Jan. 6 riot.
Meanwhile, it appears that even voters are starting to take Trump's case seriously, as a recent Quinnipiac poll revealed that a combined 65% of Americans believe documents-related charges against Trump are either very serious or somewhat serious.
The poll also found that 68% of Americans are worried that political divisions may affect the country's future, and 60% of the respondents believe Trump acted inappropriately in his handling of classified files.
© Copyright IBTimes 2023. All rights reserved.