Mark Esper Reveals 'Most Shocking And Troubling Event' Of Trump's Presidency
KEY POINTS
Esper claims Trump questioned why the military cannot shoot at Black Lives Matter protesters
The former defense secretary was fired after he refused to send troops to quell the protests
Esper also slammed Trump for refusing to attend the inauguration of Joe Biden
Former President Donald Trump once asked why officers could not just shoot at protesters who joined the Black Lives Matter demonstrations in the wake of George Floyd's murder, former Defense Secretary Mark T. Esper has revealed in a memoir.
In the summer of 2020, Trump threatened to send in the military to quell the unrest over the African-American man's death if officials in the cities and states failed to control the protests. However, Esper claimed that the former president had other ideas about how to stop the protests, including shooting the demonstrators in the legs.
"Can't you just shoot them? Just shoot them in the legs or something?" Trump said, according to Esper's book, "A Sacred Oath: Memoirs of a Secretary of Defense During Extraordinary Times," a copy of which was obtained by Axios. The book was released Tuesday.
In an interview with PBS' Judy Woodruff, the former defense chief doubled down on his claim and said it was the most "shocking and troubling event" during Trump's time as the U.S. president.
"Look, it was obviously a very shocking and troubling remark for the president to suggest that we shoot protesters, we shoot Americans in the streets of the nations capital," Esper said. "And needless to say, I and I suspect others there, were all taken aback by that notion, and successfully were able to push back on that and come up with a proposal that didn't call for that."
Esper revealed other challenges he experienced while serving in the Trump administration. In his new book, the former defense secretary described Trump as a volatile leader who was obsessed with his self-image. He also slammed the former president for refusing to attend the inauguration of Joe Biden, calling it a "final act of petulance" that undermined Biden's standing.
"It was a final act of petulance that defied tradition, tarnished our democracy, and further damaged Biden's legitimacy with millions of Americans," he said in the book, according to an excerpt obtained by the Business Insider.
Esper joined the Trump administration in 2017 and was later named defense secretary in 2019. However, he was fired by Trump in an abrupt tweet posted on Nov. 9, 2020, after he refused to send military troops to quell the protests.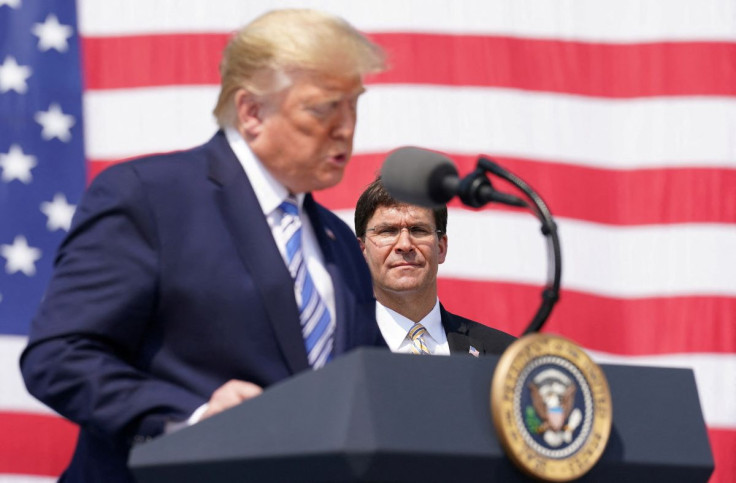 © Copyright IBTimes 2023. All rights reserved.