Matthew McConaughey Reveals How 'Alright, Alright, Alright' Got Stuck With Him
KEY POINTS
Matthew McConaughey's "alright, alright, alright" line was born from an unscripted scene in 1993's "Dazed and Confused"
The actor said he made up the line during his "first time on a film set"
McConaughey revealed that the line still follows him "everywhere" to this day
Oscar-winning actor Matthew McConaughey recently recalled how and when the iconic "alright, alright, alright" line was born.
The 50-year-old star opened up about his personal as well as professional life in the new memoir "Greenlights," where he talks about the iconic line that turned into a phenomenon later in his illustrious career. In his book, McConaughey shared that the "alright, alright, alright" line was born after he was put in a scene in the 1993 movie "Dazed and Confused" that was not in the initial script, The Hollywood Reporter has learned.
He said that in this particular scene, director Richard Linklater suggested his character, David Wooderson, would try to pick up Cynthia, who was played by Marissa Ribisi. The "True Detective" star revealed that he got "anxious" when he was not given lines, especially since it was his first time being on the set of a movie.
"Now, there were no lines written and this was my first time on a film set. I'd never done this before. Anxious, I started going back in my head who my man is. A film that my character had only three scripted scenes in, a film that I ended up working on for three weeks," McConaughey revealed.
While trying to think of what to say, McConaughey reflected on his character's personality. His triple "alright" was then inspired by the three things his character loved: his car, music and "getting high."
The "Interstellar" actor said he is amazed that the line is so popular even to this day. McConaughey said those were the first three words that he uttered on the "first night of a job" that he thought was just a "hobby" for him.
"Now, 28 years later, those words follow me everywhere. People say them. People steal them. people wear them on their hats and T-shirts. People have them tattooed on their arms and inner thighs. Those three words are the very first words I said on the very first night of a job I had that I thought might be nothing but a hobby but turned into a career," McConaughey said in the book.
The actor said the iconic line while accepting the best actor trophy at the 86th Academy Awards in 2014 for his performance in "Dallas Buyers Club."
In his memoir, McConaughey also talked about the infamous "naked arrest" scenario that took place in 1999 and shared that he was taken into custody for "disturbing the peace, possession of marijuana, and resisting arrest."
"It was time for a jam session. What I didn't know was that while I was banging away in my bliss, two Austin policemen also thought it was time to barge into my house unannounced, wrestle me to the ground with nightsticks, handcuff me and pin me to the floor," the actor wrote in the book.
"Greenlights" is available on Amazon and Audible.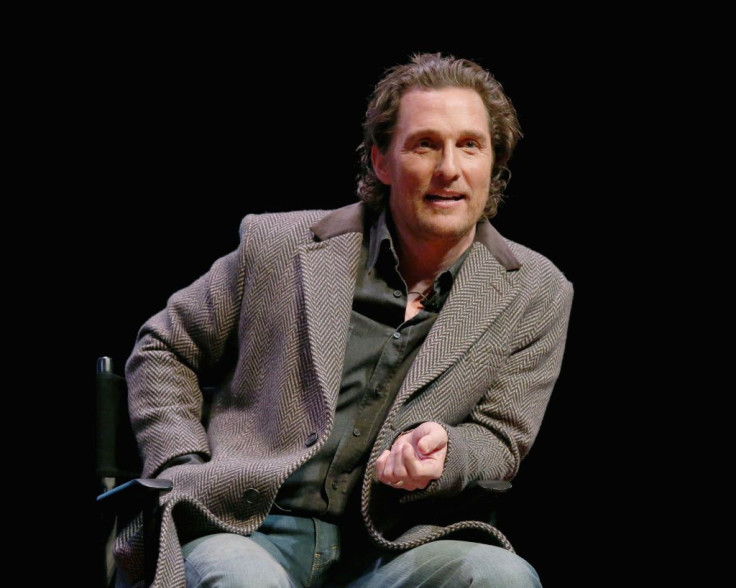 © Copyright IBTimes 2023. All rights reserved.