Matthew McConaughey Talks Jennifer Aniston, Brad Pitt 'Palpable' Sexual Tension During Table Read
KEY POINTS
Matthew McConaughey joked that he could feel the heat between Jennifer Aniston and Brad Pitt
McConaughey clarified that he didn't actually notice anything through the screen
The former couple reunited for the "Fast Times At Ridgemont High" virtual table read in September
Matthew McConaughey has chimed in on the "sexual tension" between exes Jennifer Aniston and Brad Pitt during their recent virtual reunion.
Aniston and Pitt reunited in September for the virtual table read of "Fast Times at Ridgemont High." McConaughey, who played the character of Mike Damone, joked that the heat was "palpable" between the two when he appeared on "Watch What Happens Live With Andy Cohen" Thursday.
"Could I feel the heat through the screen of Brad? So palpable. Yeah, yeah, it was so palpable," the 50-year-old actor told host Andy Cohen.
"I noticed that after, that a lot of the topics were about that, or about them," he said, adding, "No, I actually didn't notice anything through the screen, but that made for a good topic the next day."
Last month, Pitt and Aniston got flirty when they acted out a scene as Brad Hamilton and Linda Barrett during the table read, which also included Jimmy Kimmel, Dane Cook, Shia LaBeouf, Julia Roberts and more. In the scene, Pitt's character, who has a crush on Aniston's Linda, fantasizes about her emerging from the water in a red bikini top.
"Hi Aniston … how are you doing?" Pitt said, smiling.
Aniston, who also had a smile on her face, responded while twirling her hair, "Good honey, how are you doing?"
Cook — who organized the "Fast Times" table read — told Entertainment Tonight that Pitt and Aniston's reunion wasn't really intentional and just happened "as it started to come together."
"I wish I could say that was my plan all along," he joked.
"They're fascinating people, and also because of the level of talent and philanthropy, when you have fascinating figures like that, of course you want to see them together," he said of the former couple. "That's the magic, right? You want to see that spark."
Pitt and Aniston are reportedly aware that fans want them to get back together. It initially bothered them because it has been 15 years since they divorced, but they eventually learned to just laughed it off, a report said.
"It used to bug them how everyone pulls for them to get back together, but now they laugh it off," an unnamed source told Us Weekly.
"The truth is they have each other's backs," the insider added. "They constantly bounce ideas off each other and share happy news when they have it. They have such a natural, easy energy together."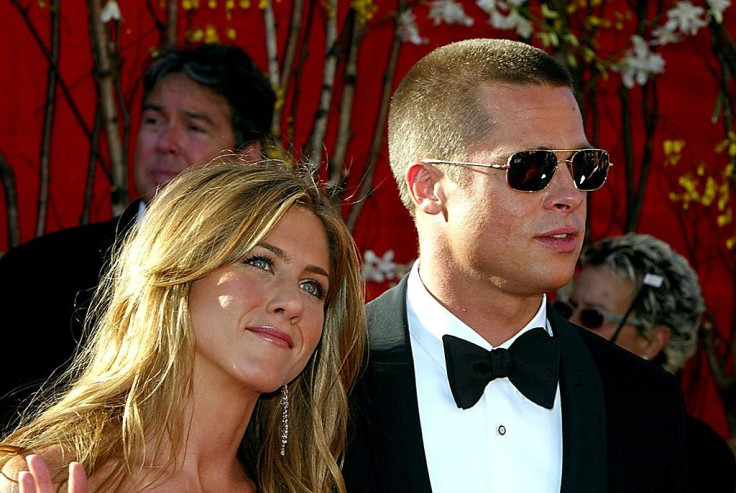 © Copyright IBTimes 2023. All rights reserved.
FOLLOW MORE IBT NEWS ON THE BELOW CHANNELS