Meet The 12.9-Inch iPad Pro, Apple Inc.'s Big Bet On The Future Of Tablets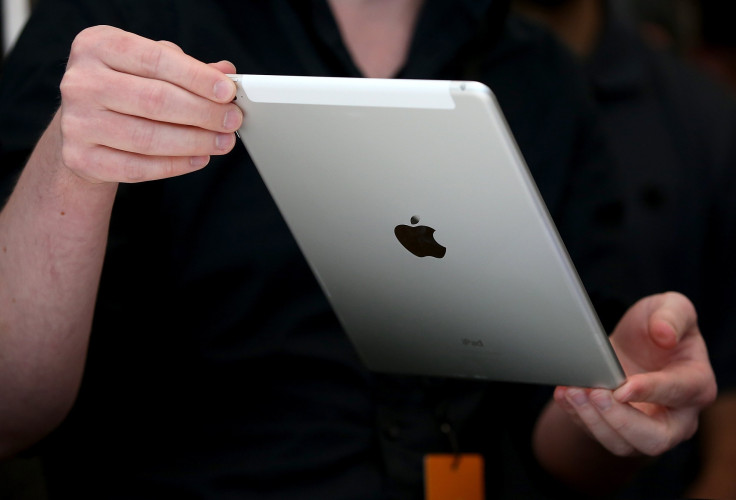 If tablet sales are declining -- go bigger. That's the strategy Apple is expected to employ when it unveils the anticipated 12.9-inch iPad Pro later this year. The iPad Pro could appeal to business users and road warriors, who may appreciate the extra screen real estate and stylus support. But it also could cannibalize sales of the MacBook Air, analysts caution.
Apple hasn't officially announced the tablet. But a research note released late Wednesday by KGI Securities analyst Ming-Chi Kuo now points to the iPad Pro entering production in September or October, according to MacRumors. The larger tablet is expected to come with features that could infuse new life into the declining tablet market, including a pressure-sensitive 12.9-inch Force Touch display, Bluetooth stylus, upgraded processor and 2GB of RAM.
Apple's iOS 9 also will contribute to the tablet's feature set by adding additional software functions, such as split-screen multitasking and picture-in-picture viewing. The iPad franchise could use the boost. Unit sales of the tablet fell by 18 percent during the most recent quarter as consumers opted for phablets like the iPhone 6 Plus, which features a display size that's less than 3 inches smaller than the iPad mini.
Cannibalization Risk
The iPad Pro's new features could offer a compelling reason for customers to ditch their older iPads and upgrade. But it also could result in some cannibalization of Apple's other products, such as its smaller tablets and MacBook Air.
"I think Apple has the enlightened approach that if they don't cannibalize their own business, someone else will," said Roger Entner, principal analyst at Recon Analytics. "They're interested in growing the overall pie, not how the pie is sliced."
Apple CEO Tim Cook even acknowledged as much in April, when he said sales of the iPhone 6 Plus and Mac were eating away at iPad share. "We're clearly seeing cannibalization from iPhone and on the other side, from the Mac," said Cook during the call. "And of course, as I've said before, we've never worried about that. It is what it is. That will play out, and at some point, it will stabilize. I'm not sure precisely when, but I'm pretty confident that it will."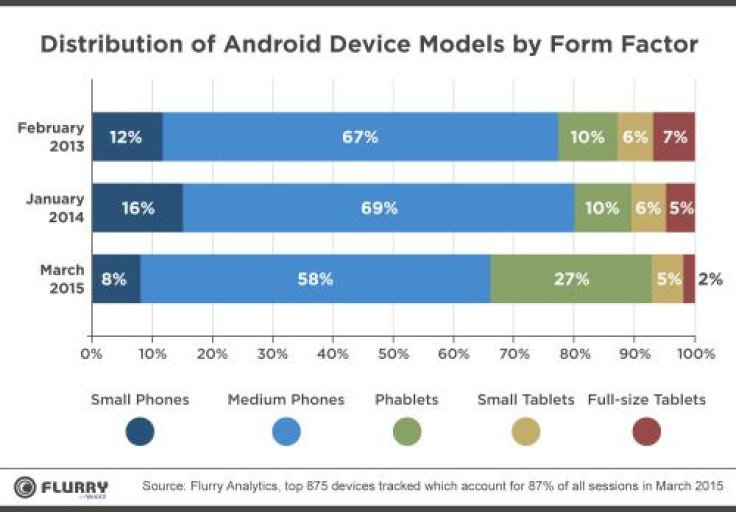 While Apple has seen some of the sharpest drops in tablet sales, it isn't the only one impacted by phablets. According to data from Flurry in March, tablets only accounted for 7 percent of Android devices, while phablets took 27 percent of Android device share. At the time, larger tablets were the most impacted by phablets. But now even smaller tablets are losing share.
"The smaller slate form factor is being impacted by larger smartphones," said Jean Philippe Bouchard, research director for tablets at IDC. "But if you look at the larger slates, they are actually growing. This is because there's an appetite for a productivity value proposition."
Enterprise Appeal
Enterprise and productivity is an area Apple has taken an increased interest in through its partnership with IBM. The alliance has allowed the companies to develop apps and tools to use in various industries, such as healthcare and airlines. The launch of an iPad Pro may help Apple further tap into the enterprise market.
"Although there's all this volatility in the consumer tablet market, the percentage of tablets purchased by businesses is and will continue to increase over time," said J.P. Gownder, principal analyst at Forrester Research. "These are company-owned assets, given to employees for specific work tasks."
Apple will face stiff competition from Microsoft in the business tablet market. The Surface Pro 3 is targeted at the enterprise, and numerous companies are buying in bulk, including Delta Air Lines. Delta plans to deploy the device in aircraft cockpits for pilot use. Windows 10, which corrects many of the problems that made Windows 8 less than user friendly, also could give Microsoft a leg up over Apple.
Forrester Research expects tablet sales to reach 218 million units by the end of the year, compared with the estimated 205 million units sold last year. By 2018, it forecasts the enterprise segment to make up 20 percent of the tablet market, up from 6 percent in 2010.
While the iPad Pro may go into production in September, it isn't likely to make an appearance the week of Sept. 7, when Apple is expected to host an event to unveil its rumored iPhone 6S, upgraded iPads and a revamped Apple TV set-top box. Instead, Apple may follow the trend of previous years and announce the iPad Pro during a separate event sometime in October. KGI anticipates Apple will sell as many as 5.5 million units of the tablet in 2015.
© Copyright IBTimes 2023. All rights reserved.
FOLLOW MORE IBT NEWS ON THE BELOW CHANNELS