Meghan Markle Allegedly Unhappy About Empty Seats During Harry's UN Speech, Royal Commentator Claims
KEY POINTS
Meghan Markle was allegedly unhappy about the empty seats during Prince Harry's U.N. speech, royal commentator Neil Sean claims
Sean claimed that the couple didn't get the "positive PR" they expected from their trip
Photos from the July 18 event showed that many of the seats at the U.N. General Assembly were empty as Harry gave his speech
Meghan Markle allegedly wanted answers over the size of the crowd during her husband Prince Harry's appearance at the United Nations General Assembly last month, a royal commentator has claimed.
Photos from the July 18 event published by News.com.au showed that many of the hundreds of seats at the General Assembly at the United Nations headquarters in New York City were empty as Prince Harry gave a special address in honor of Nelson Mandela Day.
Neil Sean, a royal commentator and reporter who has been featured on Fox News, Sky News Australia and other outlets, claimed on his YouTube channel that Markle was unhappy due to the empty seats at the auditorium. International Business Times could not independently verify his claims.
"When they started to do this, it was put out like it was the main speech, a great sort of thing that Harry and Meghan were doing. ... The world was going to listen," Sean said in the video uploaded Tuesday.
He continued, "It must have been very difficult for Prince Harry when he turned up to look at ... all of those empty seats. Never a good look. I'm a performer myself. When you look out into an auditorium and it's not full, you are counting those empty seats, so there's no way that he wouldn't have known that he wasn't a draw, wasn't a sellout."
Sean cited the U.N. as saying that Prince Harry's speech wasn't "well-publicized." News that the Duke of Sussex was going to be the keynote speaker at the U.N. event made headlines days before the event was held.
"Why is Meghan angry? Well, apparently it has nothing to do with the fact that Prince Harry wasn't the No. 1 draw. She wants answers, naturally so, because they've made that big effort to come all the way from California to spend time in New York, and then when they arrive, there isn't the glory welcome that they both anticipated," Sean claimed, citing an unnamed insider.
He continued, "This could have massive reverberations for the people working closely with Meghan because how are you going to back up the fact that sadly, you weren't able to fill up these seats and get the positive PR that they truly expected from this particular venture?"
Sean's claims came after British journalist Jonathan Sacerdoti told Us Weekly that he "wasn't impressed" with Prince Harry's U.N. appearance, claiming that the 37-year-old royal has "no qualifications" to be discussing worldwide issues.
"Why was he speaking at the U.N.? Because he's Prince Harry, otherwise, without meaning to be too offensive, no one would be interested in a guy who scraped through high school's opinion on world affairs," Sacerdoti said.
Despite this, Prince Harry and Markle made the most of their time in New York City last month. They stepped out for dinner with pals at the Italian restaurant in Lower Manhattan after the prince gave his speech.
Photos of the outing showed the couple smiling as they walked out of Locanda Verde hand-in-hand.
Markle looked chic in a Gabriela Hearst black strapless jumpsuit with white fold-over trim and her hair pulled back, while Prince Harry kept cool in a navy button-down and dark jeans.
During his speech, Prince Harry gave a shoutout to his wife and to his late mother Princess Diana while talking about his love of Africa.
"For most of my life, it has been my lifeline, a place where I found peace and healing time and time again," he said. "It's where I felt closest to my mother and sought solace after she died, and where I knew I had found a soulmate in my wife."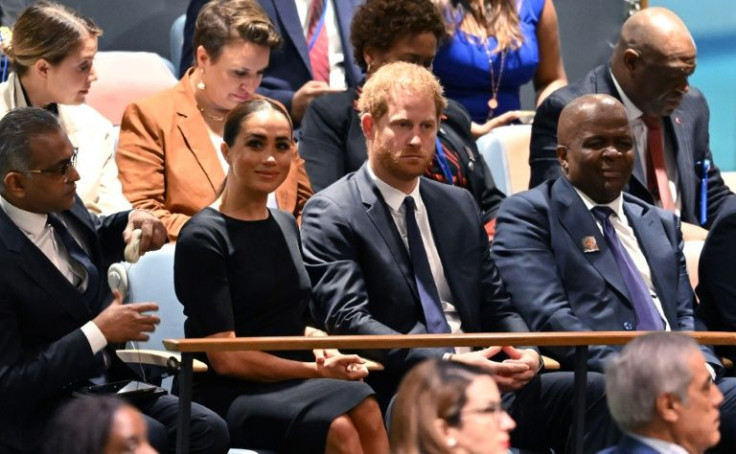 © Copyright IBTimes 2022. All rights reserved.
FOLLOW MORE IBT NEWS ON THE BELOW CHANNELS