Meghan Markle Could've Gotten Princess Diana's Ring If Harry Hadn't Done This
When Prince William proposed to Kate Middleton in 2010, he presented her with his late mother Princess Diana's sapphire ring. This would understandably invite fans of the British royal family to believe that the ring had previously belonged to the Duke of Cambridge. However, in the new Amazon Prime documentary "The Diana Story," a new claim is made that it actually had belonged to his brother Prince Harry before William's engagement. So, why did it end up on Kate's hand and not his wife Meghan Markle's?
Princess Diana's former butler Paul Burrell revealed in the documentary that both the Duke of Cambridge and the Duke of Sussex had the opportunity to choose their favorite pieces of jewelry from her collection following her 1997 passing, as reported by Express. It is said that Harry chose the sapphire piece, but ultimately gave it to his older brother in honor of their mother as he saw it fitting that Kate would receive Diana's ring.
Harry's decision, which the royal expert called "selfless," illustrated the character that was instilled in him by the People's Princess. "His one thing he kept from his mother, he gave to his brother," added Burrell.
According to Cosmopolitan, the ring is special not only for its history but also for its design. The 12-carat oval blue Ceylon sapphire is surrounded by 14 solitaire diamonds and was presented to Princess Diana by Prince Charles in 1981.
READ: Prince William, Prince Harry Almost Given These Names Before Diana Rejected Them
Another special part of the ring's history is that the Princess of Wales chose the style from a catalog instead of having it customized, which was one of the first times that Diana broke protocol as it had previously been a tradition to have unique designs.
Fortunately, this decision didn't mean that Meghan would miss out on something that belonged to the late princess as she was given a pavé diamond eternity ring in 2017. The specific piece houses two diamonds that belonged to Diana, along with stone that was sourced from Botswana.
At the time of their engagement, Harry said he wanted to make sure that his mom was with them "on this crazy journey together." Meghan additionally echoed those sentiments, adding, "It's so important to me to know that she's a part of this with us."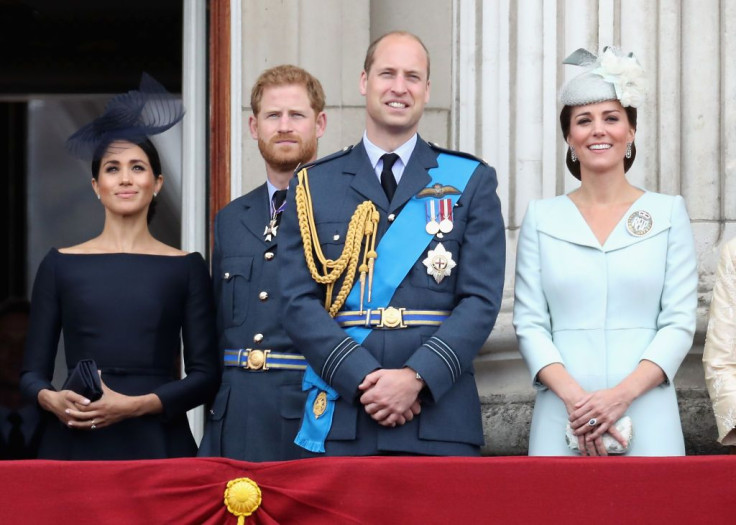 © Copyright IBTimes 2023. All rights reserved.