Meghan Markle Isn't 'At War' With Camilla Parker Bowles Over Prince Harry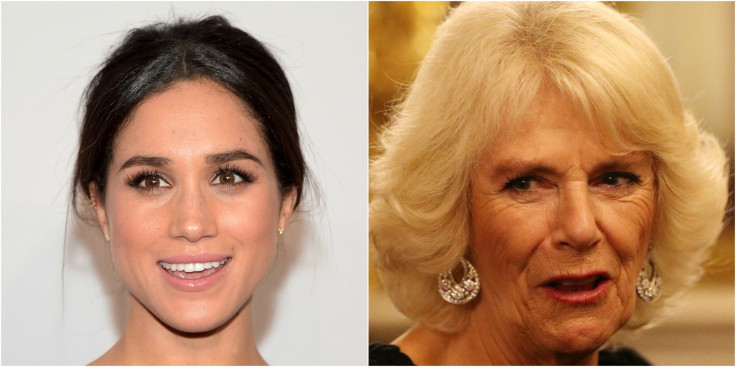 Britain's royal family can't seem to escape rumors they're feuding. However, one site has uncovered the truth about new claims Prince Harry's girlfriend Meghan Markle is feuding with his father's wife, Camilla Parker Bowles.
Life & Style recently published a claim that the 70-year-old Duchess of Cornwall, who is married to Charles, Prince of Wales, doesn't approve of Markle, an American actress and divorcee.
"She is spreading the word that Meghan is totally unsuitable to be a royal because she is an American," the magazine wrote. The report went on to state that according to an unidentified "insider," Camilla has "refused to even meet" Markle, 36.
The magazine also suggested that Harry, who has long been thought to soon be proposing to Markle, is upset by Bowles' alleged comments. "Harry is very upset about Camilla's smear campaign against Meghan. If it were up to him, Camilla might not even be invited to the wedding," stated Life & Style.
So, is there a feud brewing within the royal family? Gossip Cop, which recently debunked claims of a feud between Catherine, Duchess of Cambridge, Prince William and Queen Elizabeth II, says the Markle-Bowles claims are also untrue.
"A source close to the situation tells Gossip Cop the report is 100 percent 'false,'" the site reported Thursday. "Markle and Bowles are not feuding, nor is Prince Harry 'upset' over the Duchess of Cornwall's supposed 'smear campaign' against the star. It's nothing more than a fabrication."
With no actual family feud to worry about, if Markle and Prince Harry do decide to wed, the event will be one fans of the Windsor brood won't soon forget.
Earlier this month, "Prince Harry: The Insider Story" author and former The Sun royal editor Duncan Larcombe said there are still a lot of "unanswered questions" about the speculated wedding, including a possible guest list, but stated it will likely be a "dramatic lead-up to a unique and mind-blowing wedding."
© Copyright IBTimes 2023. All rights reserved.