Meghan Markle 'Made Conscious Effort' Not To Dress Like Kate On Christmas
Meghan Markle and Kate Middleton may have had a twinning moment during their Christmas Day church service, but it has now been revealed that the Duchess of Sussex made a conscious effort to not look like Middleton.
A source told Elle that despite the duchesses' rumored feud, the Duchess of Cambridge has been on hand to guide Markle on which designers to trust and what to wear.
The insider also said that there was a conscious effort between the two female royals to not look like each other because they didn't want Prince Harry's wife to be dubbed as a copycat. The goal of the two royals was to give Markle her unique wardrobe and a time to shine.
Markle's good friend and stylist, Jessica Mulroney, has also kept an eye on Middleton's style because she is a great role model and has not been photographed wearing an unflattering outfit.
During their Christmas Day church service, Markle and Middleton both opted to wear block colors such as red and navy blue. They both donned coats to protect them from the cold, and they also stunned in their stylish hats. But even though the female royals' clothes looked similar, they were actually quite different.
Markle's whole ensemble was designed by Victoria Beckham, while Middleton wore a Catherine Walker creation. Markle kept her coat open while walking to St. Mary Magdalene Church, and Middleton closed all of the buttons of her coat. Prince Harry's wife, who is pregnant with their first child, also wore a visible inner dress. Middleton's inner dress, if she wore one, was not visible during her outing.
Middleton and Markle's attire also differed when it came to their shoes. Markle opted to wear black knee-high boots, while Middleton wore red stilettos. Middleton also wore matching crimson gloves, but Markle simply carried hers on her way to church, and she went with black.
If clothes are to be compared, it is Prince William and Prince Harry that looked quite alike. The royal siblings both wore a coat and tie to their church service in Sandringham. However, Prince William donned a scarf, and Prince Harry didn't.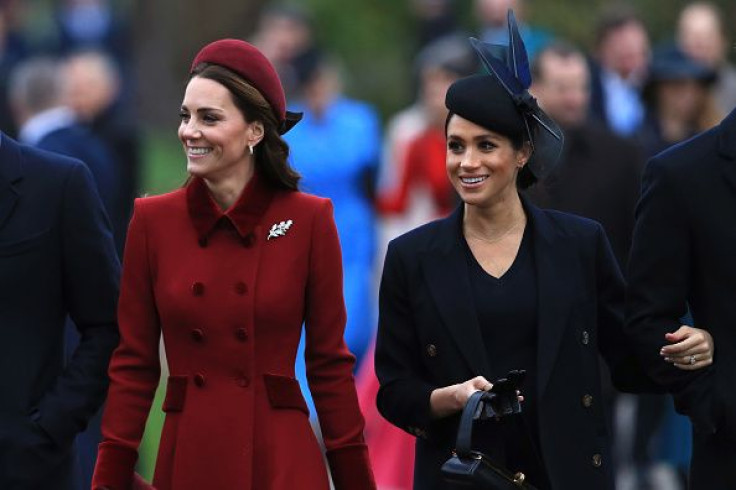 © Copyright IBTimes 2023. All rights reserved.