Meghan Markle, Prince Harry Did Not Attend Jubilee Concert To Keep A 'Low Profile': Report
KEY POINTS
Prince Harry and Meghan Markle opted to spend Saturday privately as a family to celebrate their daughter Lilibet's first birthday
The Sussexes decided it was more important for them to be together as a family than to attend the Jubilee concert, a report says
Queen Elizabeth reportedly spent the day with the couple's children after the monarch also pulled out of attending the concert
Meghan Markle and Prince Harry prioritized their family over making an appearance at a Platinum Jubilee event last week, according to a report.
While nearly all of Prince Harry's immediate family members attended the "Platinum Party at the Palace" concert in Buckingham Palace in London Saturday, the Duke and Duchess of Sussex were notably absent from the star-studded event.
An unnamed insider told Us Weekly that Prince Harry and Markle chose to skip the concert in order to "keep a low profile" Saturday, which was also their daughter Lilibet's first birthday.
"Harry and Meghan could've gone to the Party at the Palace, but decided to keep a low profile on Lilibet's birthday and celebrate in private," the source said. "It was more important for them to be together as a family than attend the concert, especially as the Queen couldn't make it."
Queen Elizabeth did not attend the concert due to her ongoing "mobility issues," People reported. The 96-year-old monarch watched the show on TV at home in Windsor Castle, according to the outlet.
Despite her absence, the Queen still stole the show with a surprise cameo, appearing in a humorous sketch with Paddington Bear.
The live audience at the concert watched in delight as Paddington Bear explored the corridors of Buckingham Palace and sat down for tea with Her Majesty. The beloved character poured Queen Elizabeth a cup of tea before they compared their marmalade sandwiches, Deadline reported.
Prince Harry and Markle returned to the U.K. for the first time as a family of four for the Platinum Jubilee, which marked the Queen's 70th year on the throne. While there, the couple visited the monarch at Windsor Castle with Lilibet and their 3-year-old son Archie, a second unnamed source told Us Weekly.
After canceling her attendance at Saturday's concert, the Queen reportedly spent the day with Prince Harry and Markle's children.
"After reluctantly pulling out of Party at the Palace, spending time with her great-grandchildren and seeing Lilibet turn 1 added some light to her day. She thinks they're adorable and gave Lili and Archie gifts," the insider added.
Queen Elizabeth was first introduced to her namesake great-grandchild when the Sussex family landed in London Wednesday, Page Six reported. Prince Harry, Markle and their children then spent more time with the Queen at Windsor Castle Friday evening.
The monarch and the Sussexes all attended the Trooping the Colour parade Thursday, but Prince Harry and the former "Suits" star watched from the Major General's Office instead of the Buckingham Palace balcony.
Markle and Prince Harry made their first and only official appearance at the Jubilee Friday while attending a Service of Thanksgiving at St. Paul's Cathedral. The couple returned to California with their kids Sunday, missing the Platinum Jubilee Pageant that closed out the four days of festivities, Page Six reported.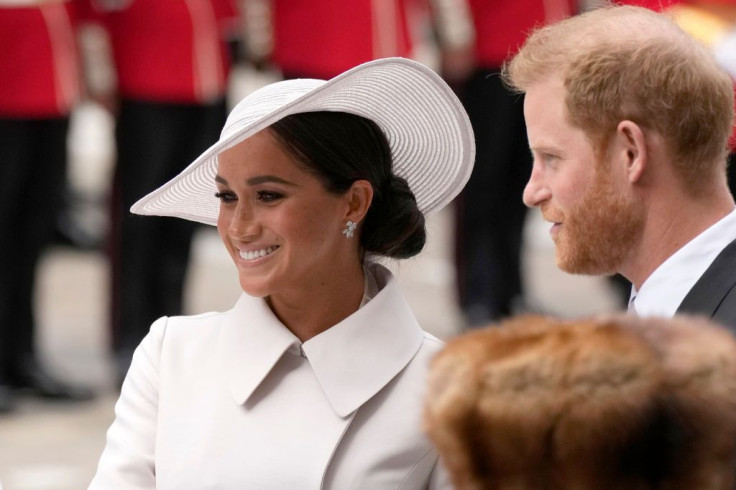 © Copyright IBTimes 2023. All rights reserved.