YouTuber Claims Prince Harry, Meghan Markle Wore Mics During Jubilee Service; Twitter Reacts
KEY POINTS
Prince Harry and Meghan Markle did not publicly interact or spend time with his immediate family members during a recent church service
A YouTube personality claimed the Sussexes allegedly wore mics during the service and that the royals were aware of it
Prince Harry and Markle did not bring along Netflix cameras when they returned to the U.K., a report says
Meghan Markle and Prince Harry's lack of interaction with his immediate family members during a church service has triggered some speculation on social media, including rumors that the Sussexes wore microphones during the event.
On Friday, the Duke and Duchess of Sussex attended a service of thanksgiving honoring Queen Elizabeth at St. Paul's Cathedral in London as part of the monarch's Platinum Jubilee celebrations. But while Prince Charles, Camilla, Duchess of Cornwall, Prince William and Kate Middleton were also present at the service, Prince Harry and Markle did not publicly interact or spend time with them, People reported.
When they arrived at the church, Prince William and Middleton kept looking forward as they passed Prince Harry and Markle's pew, where they were already seated. Prince Harry also kept his eyes forward, according to the outlet.
In a video uploaded to his channel, YouTube personality Trevor Coult MC, who is also an author and former military serviceman, claimed he was told by unnamed sources that the royals appeared distant because Prince Harry and Markle were allegedly wearing mics. International Business Times could not independently verify this information.
In addition to the lack of interaction between the senior royals and the Sussexes, Coult also claimed that the Duke of Kent, Zara Tindall and Peter Phillips, who were spotted with Prince Harry and Markle at the service, did not say much to the couple.
"Why do you think no one in the royal family spoke to Harry and Meghan? It's simple. The royals and the people in St. Paul's Cathedral were fully aware that Harry and Meghan were wearing microphones," he alleged.
It was previously reported that Prince Harry and Markle have been followed by Netflix cameras in recent months as they film a docuseries for the streamer.
The YouTuber speculated that the royals knew the couple was there to get content, but rather than ignore Prince Harry and Markle, they chose not to speak to them.
Some social media users posted similar speculations on Twitter, with one writing: "Looking at footage of Meghan, it crossed my mind she kept fiddling with her collar, and I thought she might be wearing a mic (to record for Netflix) and then I saw this and felt even more suspicious."
"I caught some of those weird moments where both of them fix their clothes, but she fixes more than once. See the wires of a hidden mic under too," another user alleged.
Others slammed the speculation, with Christopher Bouzy, the founder of BotSentinel.com, calling the rumor "nonsense."
"Of course, she put the huge recording device on her chest for everyone to see, instead of, I don't know, maybe her lower back where it would be less visible. They actually believe this nonsense," he wrote, adding a facepalm emoji.
"Haters are going to hate, and that is exactly the reason why the Duke and Duchess left the Firm," another Twitter user opined.
Last month, an unnamed royal source told Page Six that Prince Harry and Markle won't be bringing along cameras when they return to the U.K. for Queen Elizabeth's Platinum Jubilee.
As part of the so-called "Sandringham agreement" made when the couple quit their royal roles in January 2020, they are banned from filming in any palaces or royal residences, the insider claimed.
"I highly doubt they would even think about [filming while in the U.K.]. It would be such a bad look," the source said. "Even if they could sneak a camera in, they wouldn't be able to use any of the footage. I guess they could do home video on their phones, but I honestly don't think they would."
Prince Harry and Markle kept a low profile during the four-day celebrations to mark the Queen's 70-year reign. During the Trooping the Colour Thursday, the couple watched the Royal Air Force flypast from the Major General's Office, while the Queen and other members of the royal family appeared on the Buckingham Palace balcony.
Prince Harry and Markle opted to skip the star-studded "Platinum Party at the Palace" concert Saturday, which was their daughter Lilibet's first birthday, and stayed away from Sunday's Platinum Jubilee Pageant as well. The couple's two children, Lilibet and 3-year-old son Archie, were not photographed at any jubilee event.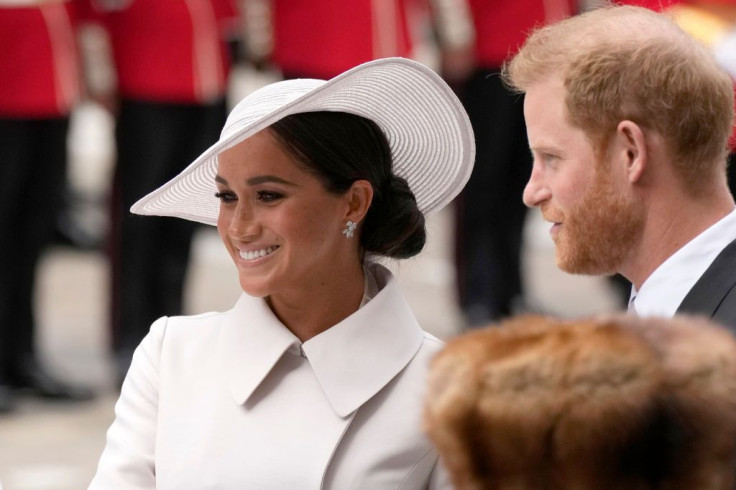 © Copyright IBTimes 2023. All rights reserved.