Meghan Markle, Prince Harry's Popularity Continues To Drop Ahead Of Queen's Platinum Jubilee
KEY POINTS
Meghan Markle and Prince Harry's popularity in the U.K. dropped ahead of their return
Markle's popularity dropped by three points while Prince Harry was down by a point
Bianca Stone speculated that the latest poll reflected a "pity vote for the Queen"
Meghan Markle and Prince Harry will fly back to the U.K., but they are not very welcome based on their latest popularity scores.
A recent poll showed that the Duke and Duchess of Sussex's popularity continued to drop ahead of Queen Elizabeth's Platinum Jubilee. According to Natali Barr of "Sunrise," Her Majesty was the most popular after gaining 69 points.
Prince William and Kate Middleton followed suit with 59 and 55 points, respectively. Prince Charles got 19 points while Camilla, Duchess of Cornwall, secured 9 points.
On the other hand, Prince Harry received -26, and Markle scored -42. Prince Andrew was the least popular with -80 points.
Barr noted that the Duke of Sussex's popularity dropped by a point. On the hand, Markle's slipped three points down from the previous poll.
For Bianca Stone, another "Sunrise" reporter, the poll reflected a "pity vote for the Queen."
"I think it's because everyone secretly loves Harry and Meghan. Who needs Netflix when you've got Harry and Meghan?" she said. "It's the Jubilee, it's all about Queenie. Seventy years on the throne, everyone's like 'Let's just look, she hasn't got long to go, let's just pump her up and make her feel good. She'll be gone soon.'"
Stone added that "people secretly love the drama" that the Duke and Duchess of Sussex brought to the royal household. Barr noted that it was what exactly Netflix hoped for — "that people will love the drama."
Prince Harry and Markle will not be joining the Queen on the balcony for Trooping the Color. Her Majesty decided to limit the royal line-up to those still serving the firm.
"After careful consideration, the Queen has decided that this year's traditional Trooping the Color balcony appearance on Thursday 2nd of June will be limited to Her Majesty and those members of the Royal Family who are currently undertaking official public duties on behalf of the Queen," a Buckingham Palace spokesman said in a statement.
However, the Duke and Duchess of Sussex are expected to attend the Thanksgiving Service at St. Paul's Cathedral in London Friday.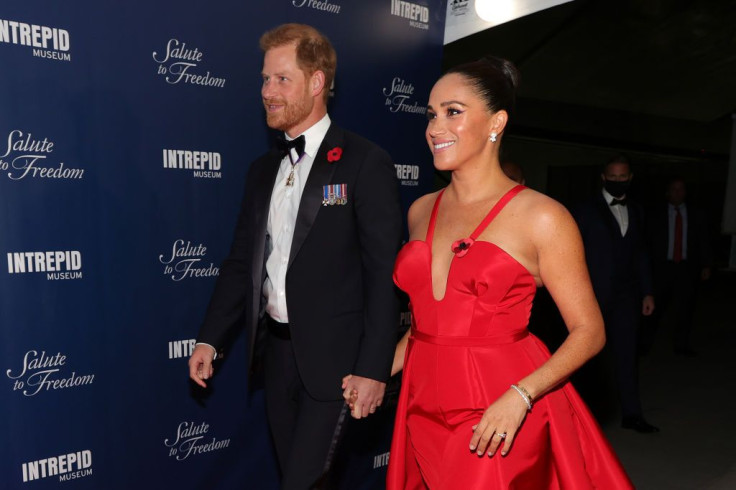 © Copyright IBTimes 2023. All rights reserved.