Meghan Markle 'Rescues' Little Girl Pushed Over During Her Sussex Visit
Meghan Markle just saved the day in Sussex when she rescued a little girl after being pushed over in the heaving crowds.
The Duchess of Sussex was seen walking briskly towards the young girl in Peacehaven, East Sussex, yesterday just before they left their last stop in the country.
Kara Fairhall, 10, was obviously upset, and Markle walked up to her and held her hand. The former "Suits" star also talked to the young royal fan for a few minutes.
"When Meghan came over, everyone rushed forward and I got pushed over. I started to cry as I was a bit upset, but I wasn't hurt. Meghan saw I was crying and came over to me to see if I was ok. She took my hand and said, 'Are you OK?' I said 'yes,' and she said, 'It's going to be OK.' I felt a lot better afterward and said thank you. She's really nice and I was really happy I got to meet her," she told Express.
The Duke and Duchess of Sussex made five stops during their recent trip to Sussex. Most of their time was spent on young people and children. According to People, the royal couple is still not over their honeymoon phase since they held hands almost throughout their entire trip.
While at the Joff Youth Center, the husband and wife sat side by side on the couch holding hands. They also held hands while walking outdoors. Mark Stewart, a royal photographer, previously told the publication that Markle and Prince Harry are not afraid to hold hands or show their affection in public.
Prince William and Kate Middleton rarely hold hands in public just like Princess Diana and Prince Charles, and Queen Elizabeth II and Prince Philip.
Dickie Arbiter, a former palace spokesman, told the publication that Markle is used to being touchy-feely, and Prince Harry is just like her.
"Harry has always been tactile," Arbiter said.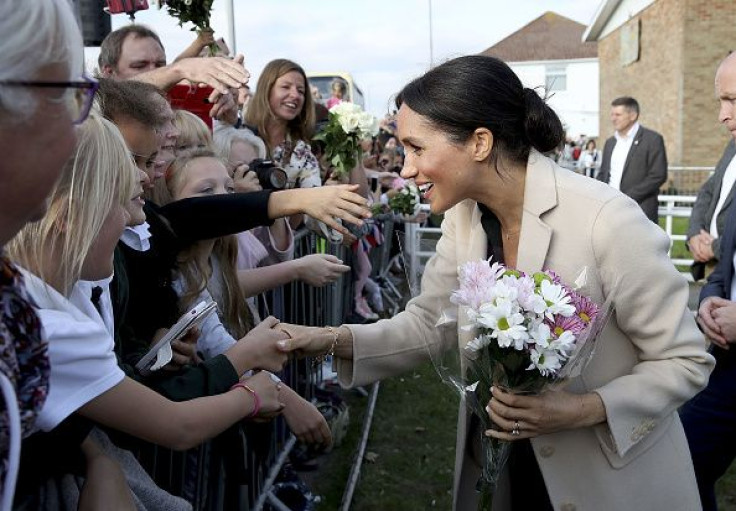 © Copyright IBTimes 2023. All rights reserved.