Meghan Markle Is Training To Be Like Kate Middleton, Etiquette Expert Says
Kate Middleton is now a global symbol of royalty, and Meghan Markle is soon to be one as well.
Sophia Money Coutts recently tried The Duchess Effect, a one-day course offered by Myka Meier. It is designed to help one become more polished, elegant and sophisticated. Initially, Coutts thought that she didn't need the etiquette lessons. However, her meeting with Meier made her realize that she did a lot of things wrong.
According to Coutts, Meier told her that Prince Harry's fiancée is undergoing the same training. Markle has to transform herself "from foxy starlet into demure duchess" before her royal wedding.
"She's literally having training right now," Meier told Coutts. "It will be event-dependent. If she has a big event that week, someone will go through it with her beforehand."
Coutts asked Meier who is teaching Markle. According to the expert, the palace's internal aides are assigned to do the job.
"It's internal aides. They don't bring anyone in. They already have the best in the world," Meier continued. "And they'll be helping her family. Think about it — her mother's a yoga teacher coming to the wedding from California."
Markle's training is noticeable. In fact, when she joined Prince William, Middleton and Prince Harry during their first joint engagement, she was photographed doing "the duchess slant."
"Typically the 'duchess slant' is used when a lady has to sit for an extended amount of time while keeping poise and posture," Meier said. "It is the perfect pose for when a camera is shooting directly in front of you because by slightly slanting the knees to create a zig-zag effect when wearing a dress or skirt, your legs are angled so that the camera only shoots the sides of your legs and protects your modesty."
However, Markle was also seen crossing her legs. According to Grant Harrold, former royal butler, Middleton sat in a more ladylike way during the event compared to Markle.
"Her Royal Highness The Duchess of Cambridge is sitting in a correct and ladylike manner, which she would have been taught at an early age," Harrold said. "This sitting posture is not only the correct and ladylike manner, but is also a practical way of protecting ones modesty when wearing a dress or skirt. Ladies wouldn't normally cross their legs and certainly would not cross at the knees."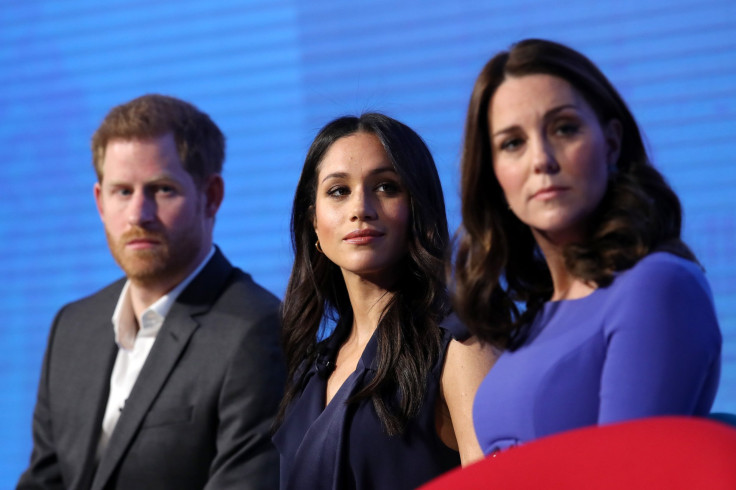 © Copyright IBTimes 2023. All rights reserved.
FOLLOW MORE IBT NEWS ON THE BELOW CHANNELS