Is Meghan Markle's Diamond Cross Bracelet A Gift From Harry After Baptism?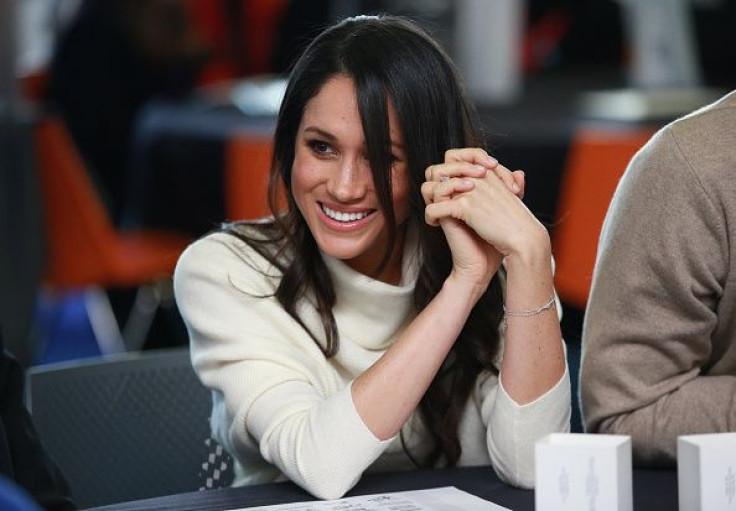 Meghan Markle was recently spotted wearing a diamond cross bracelet during her visit to Birmingham.
According to People, this was the first time that Markle was spotted with the stunning accessory. The publication is speculating on the possibility that the bracelet was given to Markle by Prince Harry.
Last week, the former "Suits" star was also baptized into the Church of England, and it is possible that Prince Harry gave him the jewelry as a gift to mark the momentous occasion.
The publication noted that the diamond cross bracelet is a common baptism gift or keepsake because of what it symbolizes. The cross on the bracelet also serves as a biblical reference and may be given to a woman who is expecting a boy.
Markle also wore the engagement ring Prince Harry gave to her on their engagement day in November 2017. The three-stone diamond engagement ring was designed by Prince Harry and was crafted by Queen Elizabeth II's jewelers Cleave and Company.
The stunning engagement ring consists of one large stone that was sourced out from Botswana, a place that's also very close to Markle and Prince Harry's hearts. The two smaller stones on Markle's engagement ring came from Princess Diana's personal collection.
Meanwhile, Markle's baptism into the Church of England took place for about 45 minutes. It was attended by Prince Harry, Prince Charles, and Camilla Parker-Bowles. However, Queen Elizabeth II, Prince William and Kate Middleton did not make it to the private ceremony.
According to Vanity Fair, Markle was not required to join the Church of England so she could marry Prince Harry. However, she decided to do so to pay her respects to the queen, who is an active member of the church.
Queen Elizabeth II has a crucial role in the Church of England. According to the royal website, she is the one responsible for appointing bishops, archbishops, and deans of the Church of England, who are then expected to show their allegiance to the queen.
© Copyright IBTimes 2023. All rights reserved.