Meghan Markle's Wedding Gown Featured This As Nod To Prince Harry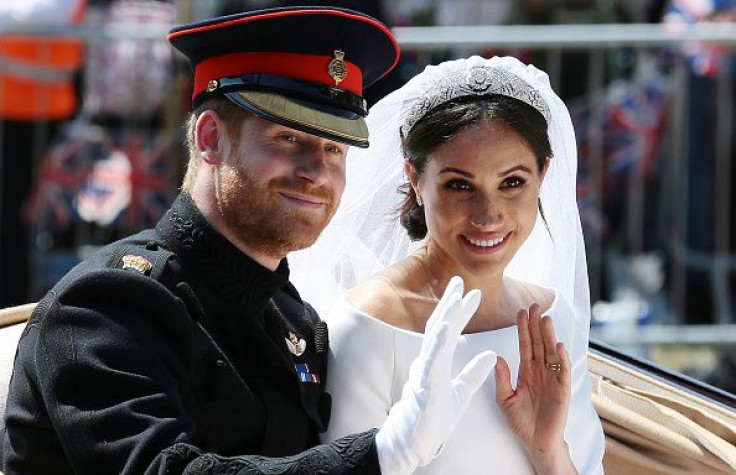 Meghan Markle has just revealed that her gown featured a secret as a nod to her and Prince Harry's relationship.
In her interview on "Queen of the World," Markle said that she decided to follow the tradition of wearing something old, something new, something borrowed, and something blue on her May 19 wedding day.
While speaking with Hannah Belcher, the coordinator for the Royal Collections Exhibit, Markle said, "My goodness, it's amazing, isn't it? Somewhere in here, there's a piece of… did you see it? The piece of blue fabric that's stitched inside? It was my something blue. It's fabric from the dress I wore on our first date," she gushed (via Express).
Even though Markle didn't say exactly what her something old and new was, it seems that her something borrowed was the tiara she wore on her special day. The headpiece was owned by Queen Mary, and it's a classic, antique piece that has long been part of the royal collection.
Markle and Prince Harry first met on a blind date at London's SoHo House in June 2016. They were set up by their mutual friend Violet von Westenholz. In the documentary, the Duchess of Sussex also talked about the intricate details found on her wedding veil, which was designed by Claire Waight Keller.
The 16-feet trail featured the wintersweet, the California poppy, and flowers from each of the 53 Commonwealth nations.
"It was important for me especially now being part of the Royal Family, to have all 53 Commonwealth countries incorporated, and I knew that it would be a fun surprise as well for my now husband, who didn't know, and he was really all over the moon to find out that I would make this choice for our day together. I think the other members of the family had a similar reaction, so, yeah, it was good news all around, I think. I hope people like it as much as I liked helping to create it," she said.
© Copyright IBTimes 2023. All rights reserved.