Meghan Markle's Wedding Video Sparks 'Sweet, But Incorrect' Kate Middleton Moment
Meghan Markle's royal wedding video is recently making headlines after royal fans thought that she shared a sweet moment with Kate Middleton on her special day.
In the clip, a woman wearing a light pink dress hands Markle her bouquet, and she gladly accepts it. Royal fans thought that it was Middleton that gave Markle the bouquet, but People said that this wasn't the case.
The publication noted that it was probably Samantha Cohen, Queen Elizabeth II's former assistant private secretary, that gave Markle her bouquet. Cohen wore a light pink ensemble to the royal wedding, which was quite similar to the Duchess of Cambridge's off-white bespoke Alexander McQueen coat dress.
Cohen is expected to get closer to Prince Harry and Markle since she will become the Duke of Sussex's private secretary when the current head of his household leaves this summer.
Prior to the royal wedding, it was reported that Cohen has been on hand with regards to guiding Markle about the royal rules and protocols she has to follow. She was also the one responsible for teaching the former actress how to address people and manage her new role in the British clan.
"She will make sure Meghan is as happy as she can be without ruffling feathers. She will represent her voice both internally and externally and fight her battles," a source said.
However, even though it wasn't Markle and Middleton that shared the sweet moment during the former's royal wedding, this doesn't mean that the two duchesses aren't close to each other.
According to Judi James, a body language expert, Markle has also been mirroring Middleton especially while they were at this year's Wimbledon.
"Meghan was twinning herself to Kate by using the same, almost balletic palm-up hand in her lap while the other hand came up in a face-concealing cut-off as both women shared a giggle over a comment. Both sets of hands fell into a hand clasp gesture as they listened to Harry talking," she told Express.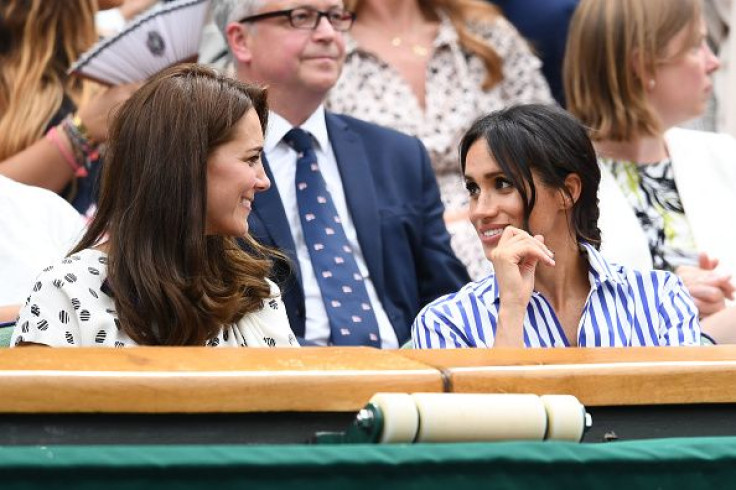 © Copyright IBTimes 2023. All rights reserved.