Melania Trump Slammed After Saying She's 'Honored' To Join National Christmas Tree Lighting
KEY POINTS
Melania Trump joined President Donald Trump when he lit the National Christmas Tree on Thursday
The first lady said she was "honored" to attend the 98th Annual National Christmas Tree Lighting
Some Twitter users mocked Melania for her statement, pointing out her alleged past complaints about Christmas
Melania Trump's recent National Christmas Tree lighting ceremony appearance did not impress her critics, who brought up her alleged past complaints about Christmas.
On Sunday, Melania shared snaps of her and President Donald Trump from the annual ceremony, which was held virtually Thursday. The couple lit the Colorado blue spruce from Palmyra, Pennsylvania, earlier in the week at the Ellipse, which is located in President's Park between the White House and the Washington Monument.
"Lighting the National Christmas Tree is one of America's oldest holiday traditions. @POTUS & I were honored to virtually join @NatlParkService & @NationalParkFdn for their 98th Annual Tree Lighting Ceremony," the first lady tweeted.
However, some critics mocked Melania over her post, pointing out that she allegedly previously said, "Who gives a f--k about Christmas?" She allegedly made the comment in a recording leaked by her former friend Stephanie Winston Wolkoff, author of "Melania & Me: The Rise and Fall of My Friendship With the First Lady," in October.
"Honored to not giving a f--k about Christmas I'm sure!" one person wrote.
"Why do you keep posting about this when we have clearly heard you tell us how much you hate doing it? Remember? Kids in cages and such," another user posted.
"lol you don't give a s--t about this," political host Brian Tyler Cohen wrote.
"Who gives a f--k about Christmas stuff?" Brad Wollack commented, referring to Melania's alleged statement.
Despite the criticisms, many also showed their support for Trump and Melania, praising the couple and sending them well-wishes for the holidays.
"Our FLOTUS and POTUS are amazing," one commented with red heart and U.S. flag emojis. "Our First Lady is a beautiful shining angel," another user wrote.
"Absolutely beautiful like you Mrs. First Lady!" a third netizen tweeted.
"God bless you and your family the patriotic people are praying this election will not be stolen," another wrote.
The 98th annual National Christmas Tree lighting also featured musical performances by singer Colton Dixon, Kellie Pickler and Jillian Cardarelli, as well as "The President's Own" United States Marine Band, CBS News reported.
The annual ceremony started in 1923 when then-President Calvin Coolidge lit the first national Christmas tree to grace the White House grounds.
Meanwhile, the president and first lady attended a campaign rally over the weekend in Georgia, his first since losing to President-elect Joe Biden.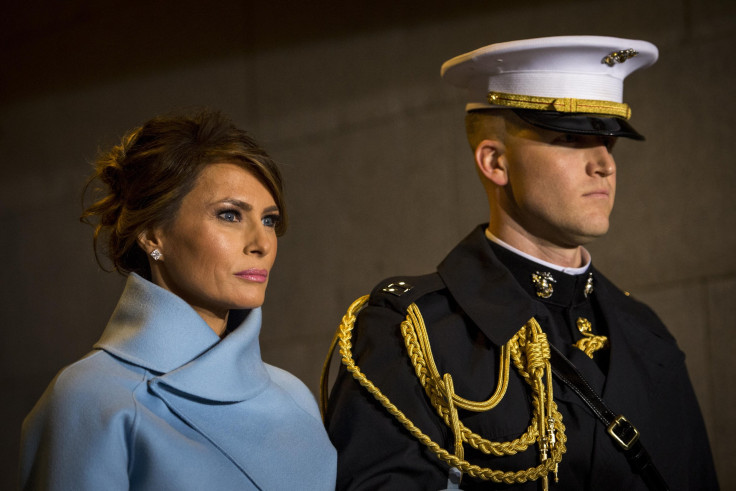 © Copyright IBTimes 2023. All rights reserved.