Melania Trump Sues Daily Mail, Blogger For $150M Over Escort Claims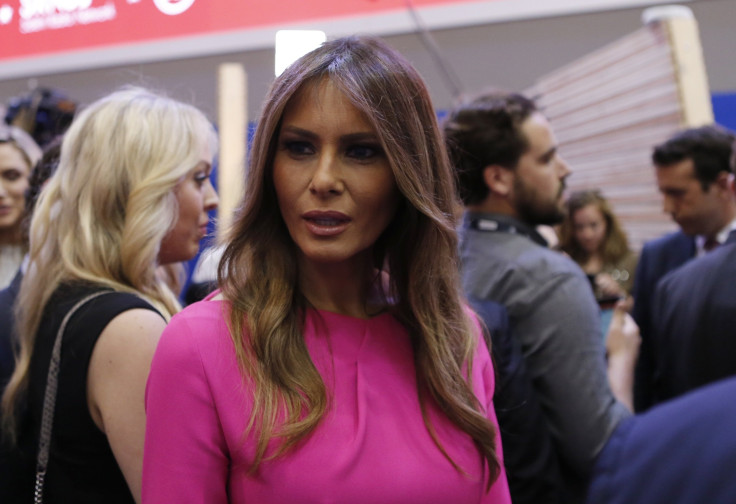 Melania Trump, wife of Republican presidential nominee Donald Trump, has filed a lawsuit against British newspaper Daily Mail and a U.S. blogger for $150 million over allegations she was an escort in the 1990s. Last month, Charles J. Harder — the person responsible for winning Hulk Hogan $140 million and the shutdown of Gawker's website — said legal action had been initiated against news outlets.
The Daily Mail had reported that Melania may have worked as an escort in the mid- or late-1990s in New York. Blogger Webster Tarpley wrote that she feared her past becoming public.
Melania's lawyer Harder said that the claims were "outright lying."
"These defendants made several statements about Mrs Trump that are 100% false and tremendously damaging to her personal and professional reputation," Harder said in a statement. "Defendants' actions are so egregious, malicious and harmful to Mrs Trump that her damages are estimated at $150 million dollars."
The Daily Mail had also quoted claims published in Slovenian magazine Suzy that the modelling agency the 46-year-old was working for in her early days of her career also functioned as an escort agency, according to court documents. The article also quoted Slovenian journalist Bojan Pozar who claimed Melania had posed for nude photos in New York in 1995 and alleged that she had met Donald Trump that year.
In late July, the New York Post ran a front page nude image of Melania from her modeling days with the headline "Menage a Trump." In a similar fashion, the Rupert Murdoch-owned tabloid ran another front page nude image with the headline "The Ogle Office."
Both the photos were taken in 1995 when Melania Trump was 25. The pictures were taken by photographer Jarl Alé Alexandre de Basseville and published in 1996 in the now-defunct French magazine Max.
Melania, who was born in Slovenia and moved to the US to work as a model in the 1990s, married Donald Trump in 2005.
Meanwhile, blogger Tarpley alleged that Melania was "reportedly obsessed by fear of salacious revelations by wealthy clients from her time as a high-end escort" and had suffered a "full-blown nervous breakdown."
Tarpley is said to have removed the blog post on Aug. 22 and published an apology and retraction. The Daily Mail also later issued a retraction on their website, titled "Melania Trump: A retraction."
© Copyright IBTimes 2023. All rights reserved.