Members Of Congress Also Received Paycheck Protection Program Loans
KEY POINTS
More than $521 billion out of the $660 billion available under the Paycheck Protection Program has been lent to a wide range of borrowers
SBA said some 87% of the loans amounted to less than $150,000
Politicians and political groups also benefited from PPP
Close to 80%, or $521 billion, of the $660 billion available under the Paycheck Protection Program (PPP) launched in April went to its intended beneficiaries: small businesses, non-profits and other organizations with up to 500 employees. More than 4.9 million of these business firms and organizations received some financial relief from the PPP loans.
Also of this total, about 8% ($53 million) went to companies in the grievously hurt food and hotel sectors. At least 2,234 PPP loans worth $812 million went to Catholic organizations such as the Archdiocese of Washington. The average loan size was $107,000.
But what's eye-opening in the data provided Monday by the Small Business Administration (SBA) responsible for doling out PPP loans is that millions in loans were also provided to members of Congress, other politicians, politically connected firms and media organizations.
SBA data shows some members of Congress or their families received PPP loans, CNN noted. One of these was Rep. Vicky Hartzler, a Republican from Missouri, whose family farm supply business got a PPP loan.
Hartzler said the family business applied for the loans to ensure employees remain employed and the business stays alive. She correctly noted the loans are allowed for members of Congress and were acquired in accordance to the provisions of the CARES Act. Rep. Mike Kelly, R-Pa., got three loans ranging up to $1 million for the car dealerships he owns.
Businesses linked to two Trump administration cabinet secretaries also received PPP loans. Transportation Secretary Elaine Chao, the wife of Senate Majority Leader Mitch McConnell, R-Ky, saw her family business, Foremost Maritime, receive a loan ranging from $350,000 to $1 million. Agriculture Secretary Sonny Perdue saw the trucking firm he co-founded, Perdue Inc., get a $150,000 to $350,000 loan.
Political groups and think tanks also benefited, as did nonprofits associated with congressional groups. One of the more recognizable nonprofits is the Congressional Black Caucus Foundation (which received $350,000) and the Congressional Hispanic Caucus Institute ($1 million).
Other political organizations that also got loans were the Ohio Democratic Party ($150,000), the Florida Democratic Party Building Fund ($350,000) and the Women's National Republican Club of New York ($350,000).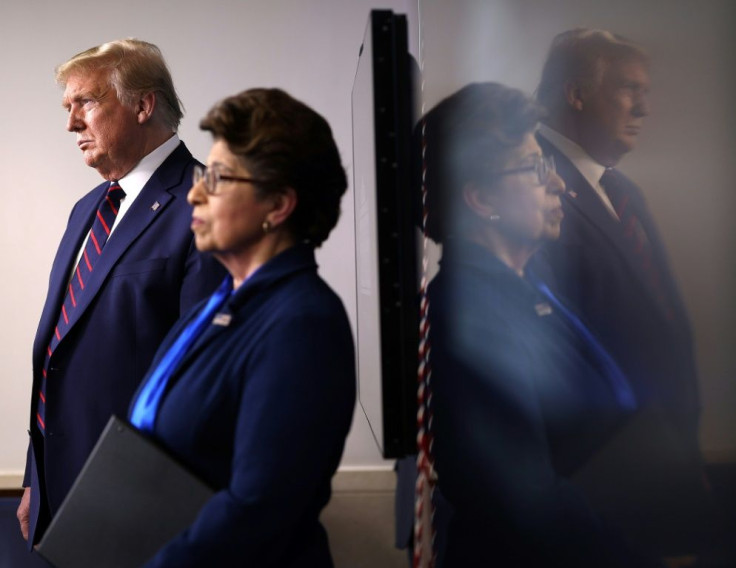 Right-wing news and opinion website Newsmax, founded by Christopher Ruddy, an ally of President Donald Trump, received between $2 million and $5 million from PPP, CNN noted. The conservative newspaper, The Washington Times, received between $1 and $2 million.
The Daily Caller also got a loan as did liberal media watchdog, Media Matters, which received up to $2 million.
PPP was established as part of the $2 trillion CARES Act President Trump signed into law on March 27. The amount released by the SBA and the Treasury Department on Monday only covers loans above $150,000.
SBA said some 87% of the loans amounted to less than $150,000. Democrats previously demanded Treasury release the list of companies in this classification. Treasury has now said it will do so after previously denying the demand by Congressional Democrats. These smaller loans represent nearly three-fourths of total loan dollars approved.
© Copyright IBTimes 2023. All rights reserved.
FOLLOW MORE IBT NEWS ON THE BELOW CHANNELS