Mermaid Parade 2015: Date, Route, Time, Facts And Everything You Need To Know About Coney Island Celebration
What better way for New Yorkers-- and out of town travelers-- to ring in summer than with the Mermaid Parade? The Coney Island event is one of the freakiest festivals in NYC and has been celebrated for more than 30 years. Coney Island USA founder Dick Zigun started holding it in 1983. There will be no shortage of cars, motorized floats, marchers and fun at this freaky display. Even better, it's free!
The Mermaid Parade 2015 takes place Saturday, June 20. For those who haven't registered yet, make sure to bring legal tender because it's cash only. Get there early, because registration will end at 1 p.m. EDT. Time Out magazine noted the best time to get a good spot is at 11 a.m. EDT.
The parade starts at West 21st Street and Surf Avenue and will run down West 10th Street. When the parade reaches Steeplechase, it will end. Usually, this occurs at 4 p.m. EDT.
The Mermaid Parade was invented with three stated goals: to bring mythology to life, promote self esteem and allow New Yorkers to discover their creativity in a public space.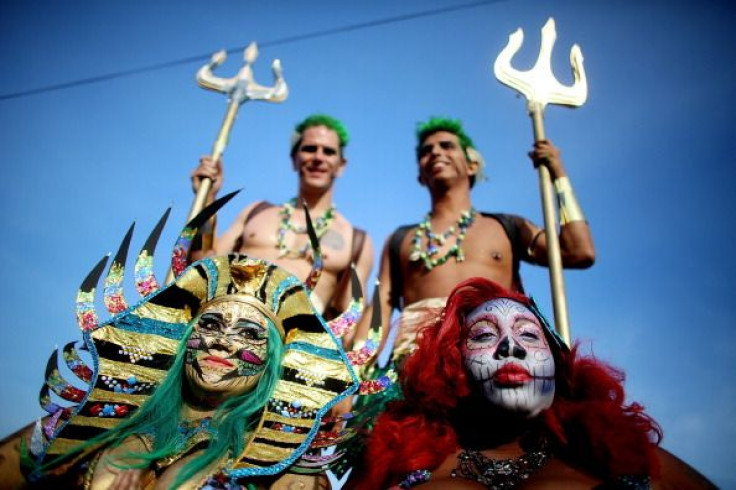 Kids are welcome to come -- and tons too -- but just remember that people dress like mermaids and mermen who traditionally don't wear much.
The Mermaid Parade, which was started by artists, is "a celebration of ancient mythology and honky-tonk rituals of the seaside, it showcases over 3,000 creative individuals from all over the five boroughs and beyond, opening the summer with incredible art, entrepreneurial spirit and community pride," according to Coney Island's FAQ section. "The parade highlights Coney Island Pageantry based on a century of many Coney parades, celebrates the artistic vision of the masses, and ensures that the summer season is a success by bringing hundreds of thousands of people to the amusement area in a single day."
For those who are familiar with the Mermaid Parade, there's a little bit of sad news. The after-party, also known as the "Mermaid Parade Ball," was canceled. A proper venue was not found in time.
Spectators are encouraged to wear costumes, and the glitzier the costume the better!
Follow me on Twitter @mariamzzarella
© Copyright IBTimes 2023. All rights reserved.